Westlake Village, Thousand Oaks, and Agoura Driving School Services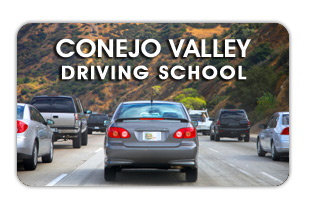 Finding a close-to-home, economically priced, and safety first minded driving school in the Conejo Valley is finally a reality! Drivers Ed Direct's DMV licensed driving school (Lic. # E4141) has always provided their DMV approved on-line driver's ed class to teens in Thousand Oaks, Lake Sherwood, Oak Park, Westlake Village. But now get the complete driving school package with our well respected behind the wheel driving-lessons. This is welcomed news for every sophomore, junior, and senior high school student from the Conejo Valley Unified School District, Oak Park Unified School District, and the Las Virgenes Unified School District who can now complete both their DMV driver's ed requirements and in-car driver training requirements all at one place: Drivers Ed Direct! If you take home-study courses in Agoura Hills, Newbury Park or Westlake Village, you are also able to use our convenient online driving education class to obtain your driver's education certificate. In fact, HS students from these Conejo area high schools have already been taking advantage of Drivers Ed Direct's online courses and behind the wheel driver's training: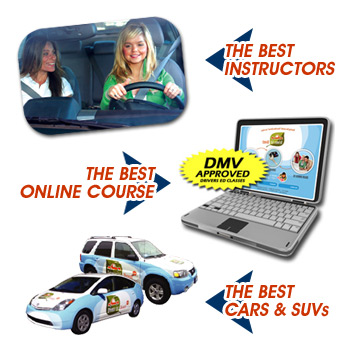 Thousand Oaks Driving School
Thousand Oaks High
Thousand Oaks, CA 91360
Hillcrest Christian
Thousand Oaks, CA 91362
La Reina High School
Thousand Oaks, CA 91360
Agoura Hills Driving Education
Agoura High
Agoura Hills, CA 91301
Westlake Village, CA Driver's Ed
Westlake High
Westlake Village, CA 91362
Century High
Westlake Village, CA 91362
Oaks Christian
Westlake Village, CA 91362
Newbury Park Driving Schools
Conejo Valley High
Newbury Park, CA 91320
Newbury Park High
Newbury Park, CA 91320
Newbury Park Adventist Academy
Newbury Park, CA 91320
Oak Park High School Drivers Education
Oak Park High School
Oak Park, CA 91377
Oak View High School
Oak Park, CA 91377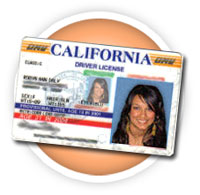 Conejo Valley Full Service Driving School | T.O., Agoura, Westlake, Oak Park, & Newbury Park
If you are enrolled in one of the area public, private, or home-study high schools in Westlake Village, Newbury Park, or Thousand Oaks then you can reap the rewards of Drivers Ed Direct's California Best driving school. Use our DMV Approved online drivers ed course to get your DMV drivers education certificate and complete our licensed CA driver lessons to obtain your DMV driver's training certificate. These two DMV certificates are exactly what you need to get a first-class education, first-class in-car instruction, and absolutely everything the Thousand Oaks DMV requires for teens wanting to earn a learning permit and CA provisional driver license. Get all the advantages:



Our CA driver education program is DMV approved by the Thousand Oaks Dmv Office and every other DMV in California - We went through the approval process because we put our customer's safety first!
Westlake and Agoura students will love our online flash lessons, interactive quizzes, and FREE practice permit tests
Take our online course from anywhere in Newbury Park, Oak Park, Thousand Oaks, or anywhere you can get an internet connection
Complete the course at your own pace by logging in and out as you go. Also, students can go back and study previous lessons at anytime!
We hire the top instructors in the business: your son or daughter will spend each two hour lesson with a thoroughly trained, background-checked, patient, and friendly male or female instructor
Students have the option of taking lessons in a car or an SUV - you choose, either way, all of our training vehicles are Hybrid powered and equipped with an assortment of extra safety features
Take lessons designed for residential, business district driving, freeways, canyons, and DMV Test review - each lesson has a uniquely developed lesson plan
We can accommodate your demanding schedules with over 20 phenomenal instructors and a variety of training vehicles stationed throughout Ventura County and LA County
So if you're a highschool student or young adult living in Agoura Hills, Thousand Oaks, Oak Park, Westlake Village, Newbury Park, or Lake Sherwood - let Drivers Ed Direct wow you with our CA DMV approved on-line drivers education course and our California best drivingschool lessons!
Supplemental Driving School Resources:

With DrivingLinks.com you will find online T.O. DMV forms, teen driving resources, Texas defensive driver classes, and more. They can also help you with driver's licensing, car buying, and auto insurance.
Try DrivingLinks.com to find more info about: