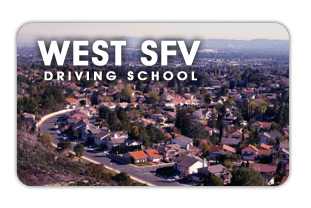 Calabasas, Chatsworth, and West Hills Driver's Ed
Getting an inexpensive yet advanced online driver's ed course in the West part of the San Fernando Valley is now as practical as ever because the California DMV has approved Drivers Ed Direct's all-inclusive online driver ed class for areas like Woodland Hills, Canoga Park, Chatsworth, and Calabasas! That's music to the ears of high school teens from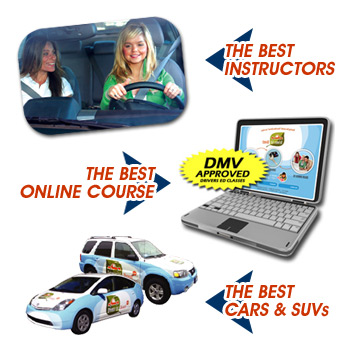 the Las Virgenes Unified School District, the Los Angeles Unified School District (LAUSD), and the many area private high schools located in Calabasas, Woodland Hills and Tarzana who may now satisfy CA DMV teen driving requirements using approved online drivers ed courses. Home school students from Reseda, Canoga Park, and Winnetka also love our DMV approved class because it allows them to secure their California drivers education certificate without leaving the comfort of home.
Additionally, Drivers Ed Direct has rapidly developed into the leader when it comes to in car driving lessons for West Hills, Granada Hills, Porter Ranch, and surrounding cities; providing behind-the-wheel training for literally thousands of California students and making our fleet of Prius hybrids and hybrid SUVs the most identifiable in the San Fernando Valley. We are pleased to provide highschool students with full service drivers ed and driving lessons in:
Calabasas Drivers Ed Classes
Calabasas High School
Viewpoint School
Arbor Academy
West Hills Driving School
Chaminade HS
New Community Jewish High School (New Jew HS)
West Valley Christian School
Parkhill School
Crane Academy of Excellence
Tarzana Driver Education
Sherman Oaks Center for Enriched Studies (SOCES)
Woodland Hills Drivers Ed Classes
El Camino Real High School (ECR) - ElCo
William Howard Taft Senior High School (Taft HS)
Louisville High School
Northridge Driving Schools
Cornerstone Christian Academy
East Valley Academy
Northridge Academy High School (NAHS)
Canoga Park Online Drivers Ed
Canoga Park HS
Trinity Lutheran High School
Faith Baptist
Coutin School
AGBU Manoogian-Demirdjian School
Chatsworth Driving School Classes
Chatsworth High School
Sierra Canyon School - SCHS
Granada Hills Driving License Classes
Granada Hills Charter (GHCHS)
John F. Kennedy High School (JFK)
Hillcrest Christian School
Reseda Drivers Education
Cleveland HS (Grover Cleveland High)
Reseda High School
John R. Wooden High School
Drivers Ed in Porter Ranch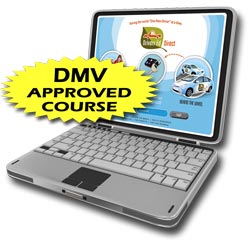 The majority of Calabasas and Chatsworth High students want to get their DMV permit the day they turn fifteen and a half so they can earn their California Provisional Drivers License the exact day they turn sixteen. Before a CA learners permit can be earned, however, students in Woodland Hills, Canoga Park, and Winnetka must obtain their driver's education completion certificate from the Department of Motor Vehicles. When it comes to satisfying the CA drivers education requirement, we know that teens dread spending four long days in a crammed Northridge or Reseda classroom with 200 other fidgeting students, trying to absorb CA traffic laws and vehicle codes. From a parent's perspective, we also appreciate that the safety and thorough education of their teen is of utmost importance. With both teenagers and their caring parents in mind, Drivers Ed Direct presents an unparalleled online drives ed course that is easy to use, highly educational, and is preferred by teens in Granada Hills, West Hills, and Porter Ranch. This well-rounded educational program has been approved by the Winnetka DMV, Thousand Oaks DMV, and every DMV in California. So get online and start your free driving school trial that is praised by parents and loved by teenagers in Calabasas, West Hills, and Chatsworth for several reasons:


DMV Approved Drivers Education Classes
We didn't take any shortcuts when it came to the education part of our "drivers education" course online. We created our very own 30-hour equivalent driver's ed course and had it poured over and approved by the CA Department of Motor vehicles. There's one thing you can be sure of that separates us from our competitors: our online course isn't just a rewrite of the CA DMV handbook. It covers the handbook in detail, explains the driving concepts to make sense of the theories, and draws from newspaper stories and examples to help drive points home. Combine this with interactive videos that demonstrate key driving concepts and you have a driver's ed course that is second to none in Tarzana, Woodland Hills, and Winnetka!



Driver's Ed from Wherever You Want in Calabasas, Granada, or Chatsworth
When you select on-line driver ed with DriversEdDirect.com, you choose convenience and flexibility! Rather than making several trips to and from a driving school classroom, online students can finish their online course from school, at home, or from anywhere in Calabasas, Chatsworth, Woodland Hills, or West Hills they can get on the Internet. Now that is convenience!



Drivers Ed on Your Schedule
We know that today's West Hills teens are busy with different activities, sports, homework, and life in general. Also, we know that no two children in Calabasas learn at the same speed. Our online Chatsworth driving school class allows each student to go at their own individual pace, doing a small or large portion of the course at a time. You can easily save your work as you go along and simply logout and log back in whenever you choose!



We Want You To Pass
We won't charge you an additional $17, $19, or $24 to access our practice permit tests like others might. Our practice DMV exam center is online and comes 100% free with our online drivers education course. Furthermore, our DMV practice test module can generate hundreds of unique practice exams to allow Granada Hills, Tarzana, and Reseda teens to be better prepared for the written exam at the Winnetka DMV.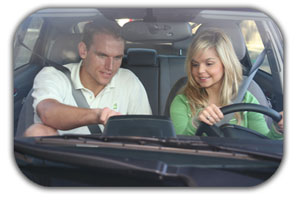 Minors throughout West Hills and Woodland Hills are rapidly making Drivers Ed Direct the top driving school in their city and other surrounding areas like Calabasas, Granada Hills, Canoga Park, and Porter Ranch. Besides having many of our drivers education and driver training programs priced below our main competitors (like Valley Bobs), our driving school has distinguished itself with well constructed curriculum, our top-notch crew of instructors, and advanced training cars and SUVs. Chances are if you talk to any of our past driving students in Bell Canyon, Hidden Hills, or Calabasas - they will have nothing but wonderful things to say bout their driving school experience with Drivers Ed Direct. Here's why thousand of new drivers have chosen us:


Patient, qualified, and friendly in car instructors with extensive backgrounds for teaching high school teens
Carefully designed course that allows students to learn at their own level, better absorbing the course material.
Training vehicles that are equipped with dual-brakes, front airbags and side airbags, Anti-Lock Braking Systems, traction control, and more.
Choose a driving schedule that best fits your schedule...Unlike other local driving schools such as Valley Bobs who don't offer lessons on Saturdays, we have driving lessons available 7 days a week from 7am-8:30pm. We know we will have a timeslot that will fit your needs.
Detailed progress reports that are sent after each lesson to help parents when driving with their child.
Front door pick-up and drop-off service to Hidden Hills, Bell Canyon, West Hills, Granada Hills, Porter Ranch, Calabasas, Northridge, Winnetka, Reseda, Woodland Hills, and more!
Choose a car or SUV for your lessons - all Drivers Ed Direct vehicles are hybrids (not to be confused with Valley Bobs or other local driving schools that have just one or a few cars/SUV's of their fleet being a hybrid while all the rest are standard gas only vehicles)!
SFV Driving Schools:

Choose DrivingLinks.com to find CA DMV on-line forms, online auto ins. quotes, and driver safety information. Defensive drivers, trafficschool, and driving stats also available.
So visit Driving Links to get more help with: