Miracle Mile, Culver City, and Venice Beach Driving School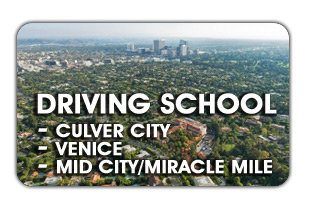 Sick of typing "Culver City Driving Schools" or "Cheap Venice drivers ed" in search engines in an attempt to find a driving school for your high school teen? Well your extensive driving school search is over because you've found Drivers Ed Direct: a top quality driving school with affordable drivers ed classes for Venice, Culver City, and Mid City teens! Drivers Ed Direct has CA licensed driver safety classes that are completely online and approved by the DMV for fulfilling drivers education requirements in Mid City, Culver City, West Culver, Miracle Mile, Venice, Mar Vista, Palms, and the Pico - Robertson area. On top of that, teens living or going to school in our behind the wheel service area can sign up for our highly in demand "Combo Package" where teens get the best of both driving school worlds: on-line driver's ed and in-car driving lessons, all bundled into one lower priced package. This is welcomed news for tomorrow's drivers who go to schools in the Culver City Unified School District, LA Unified School District, and all students attending school through the various private schools in Palms, Mid City, Culver City, and the Miracle Mile. Or maybe you are a home-schooled teen? We've got you covered as well because any area teen that is of age can fulfill their Department of Motor Vehicles driver's training requirements by using Culver City's most acclaimed driving instruction: Drivers Ed Direct! Have a look at some of the area Los Angeles County high schools that we're happy to service: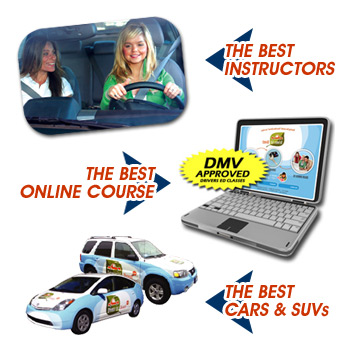 Culver City Driving Schools
Culver City High School
Culver Park HS
Culver City Independent Study
Venture School / Venture College Prep
Kayne Eras Center
Windward School
Venice Drivers Education
Mid City / Miracle Mile / Hancock Park Drivers Education Online
Marlborough School
Loyola High School
Dorsey Senior HS
Los Angeles High School
New Designs Charter School
Bishop Conaty - Loretto High School
New Village Charter High
Mar Vista Driving School
Summit View School
Wildwood School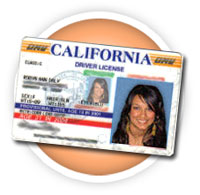 Culver City Driving School | Mid City Driving School
If you are nearly 15½ years of age and reside in the Hancock Park, Mar Vista, or Culver City area, then you are eligible to enroll in the best driving school California has come to know: Drivers Ed Direct - a State DMV Licensed drivers education provider. Teens love our online driver's ed class because it is simple, educational, and earns them their official DMV drivers ed certification. Also, if students live in or near our driving training boundaries, they can also earn the 'DMV Gold Slip' required before taking their DMV road test at your local DMV. When both driving school completion certificates have been gained, not only will students be safe and well-informed drivers, they will be set to go to the Hollywood, Culver City, or Los Angeles DMV and perform well on their driver's license exam. Choose our course and you get all the incentives:



Choose internet programs that have been appraised by and approved by the California Department of Motor Vehicles! Beware of cut-rate courses from non-approved driving schools so you can steer clear of the royal driving school dissatisfaction of taking a program that will not earn you the certificates the state requires.
We invite you to check out what you are buying before you give us a single penny or give us any of your credit card info. Use our absolutely FREE trial to truly "try before you buy" your drivers ed program - what other Mid City, Culver City, or Venice driving schools can say that?
Because our driver's education course is wholly online, students don't have to get rides to and from a driving school class somewhere in Mar Vista, Miracle Mile, or Mid City - you can literally earn your official DMV driver education certificate from home, school, or anywhere there's online access.
Our Mid City and Miracle Mile teens are thankful that we don't simply rephrase the DMV driver's handbook and call it an "online drivers ed course". Instead we actually EDUCATE our students by covering the driving hand book with a thoughtful approach, using our own words and examples to help illustrate key driving concepts. Not to mention we also go above and beyond that with our state of the art dynamic chapters, interactive pop quizzes, and FREE practice permit tests!





Palms, Venice, and Culver City teenage students have their choice of what training vehicle to use: either a Toyota Prius or a SUV Hybrid - either way you go, you get a training vehicle equipped to the fullest with plenty of supplemental safety features
We employ the very best instructors for our driving school team; your high school teen will be in great hands on every two-hour lesson as they sit next to a dynamically trained, credential-checked, and relaxed instructor. Drivers Ed Direct is the safe way to learn to drive in Culver City, Venice, and Mid City!
Prevent the royal headache of waiting over a month before you get to take your first in-car lesson in MarVista or CulverCity. We often get calls from exasperated teens who can't find a driving school with sufficient numbers of driving instructors or driver training vehicles to get them their first lesson. At Drivers Ed Direct, we have a qualified pool of skilled instructors and plenty of instructional cars and SUVs located near the West Los Angeles and Central LA area - we are ready to schedule your driving lesson when suitable for you!
Benefit from Venice Beach driving training lessons tailored to your teen's specific learning needs; we teach residential Mar Vista driving lessons, how to park, defensive driving techniques on Culver City and Venice Beach streets, highway driving, canyon and freeway driving - each 2-hour driving lesson has an individualized lesson plan!
So if you are a Culver City HS student, high school student in Mid City, or go to Venice HS, let us provide you with a safe way to fulfill your DMV driving school requirement!
Culver City Driving School Resources:

With DrivingLinks.com you get a safe way to download online Culver City DMV forms, Los Angeles driver school hand-books, LA DMV service tips, and more. Also get help with Baldwin Hills vehicle registrations, Venice vehicle records, and Hancock Park driving permits.
Try DrivingLinks.com to find more information on: