West Hollywood and Beverly Hills Driving School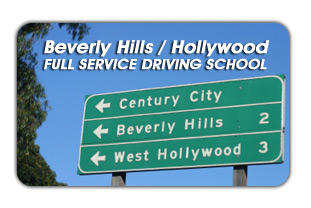 Your goal of finding a local, highly-respected, and lowest cost driving school in the Westwood, Hollywood, and Beverly Hills area is finally over! Drivers Ed Direct has California licensed driving school classes that are online and approved by the DMV for earning a learner's permit in Westwood, Beverly Hills, Bel Air, West Hollywood, Melrose, Hollywood, and La Brea. In addition, teens in Beverly Hills, Westwood, Beverlywood, and surrounding areas can also make the most of our all encompassing driving school experience when signing up for Drivers Ed Direct's infamous "Combo Package" where students get the best of both worlds: online drivers ed and behind-the-wheel driving lessons. This is wonderful news for future drivers attending high school in the Beverly Hills Unified School District, LA Unified District, as well as students getting educated in any of the variety of private schools in Hollywood, Westwood, Beverly Hills, and West Hollywood. Or maybe you are an independent home study student? No problem, ALL area 15-18 year olds can fulfill their DMV drivers training requisites by using Los Angeles' favorite driving school: Drivers Ed Direct! Check out some of the Los Angeles area high schools that we're happy to provide outstanding service to: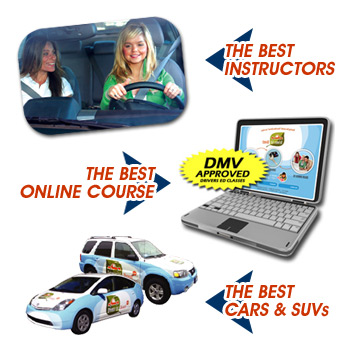 Beverly Hills Driver Ed
Beverly Hills High School
Los Angeles & Melrose Driving School
Fairfax Senior High School
Hamilton Senior High School
Marymount High School
University High School
Yeshiva University High Schools of LA
Ateret Isreal High School
Bais Chana Chabad High School
LA Center For Enriched Studies - LACES
Notre Dame Academy Girls' High
Lycee Francais De Los Angeles
West Hollywood & Hollywood Driver Ed
Hollywood High
Pacific Hills
Helen Bernstein High School
Westwood Driving School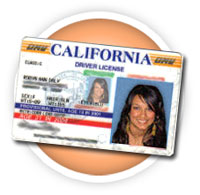 Beverly Hills Driving School | Westwood Driving School
If you are just about to turn fifteen-and-a-half and attend school in the West Hollywood or Beverly Hills area, then you qualify to sign up for the prestige driving school services of Drivers Ed Direct - a California DMV Licensed top driving school. First, with our online drivers education class, teens can earn their official CA driver ed certificate. Secondly, if residing or going to school in our driving lesson area, teens can earn the 'Gold Certificate of Completion ' they need to learn to drive and take their road test at the Culver City DMV. The moment both completion certificates have been obtained, not only will you be a safe, knowledgeable driver, you will equipped to go to the Santa Monica DMV or Culver City DMV and be successful on your driver license test. Take our course to get all the good stuff:



Get online courses that been reviewed by and officially approved by the CA DMV! Beware of second rate courses from unapproved schools and skip the royal driving school frustration of taking a course that won't get you the certificates you need.
You can do a free-trial of our driver ed course without any charge, except for the final exam. We invite you to see what you are purchasing before you give us a dime or even any credit card info; how many other Westwood, Beverly Hills, or Melrose driving schools can say that?
Our drivers education component is entirely online and does not require the student to leave home in order to earn their DMV drivers ed certificate.
West Hollywood teens appreciate that we don't dole out a dull regurgitation of the CA driving handbook. Instead we discuss the handbook material in a thoughtful manner, using our own words. Couple that with dynamic lessons, interactive quizzes, and totally FREE DMV tests for practice and you have it all!





W Hollywood and BHHS students have their selection of receiving instruction in a Prius or a SUV Hybrid - either choice is a wise one because all of our driver training motor vehicles are equipped to the fullest with an abundance of additional safety features
We employ the very best instructors for our driving school team; your high school teen will be in great hands on every two-hour lesson as they sit side by side with a roundly trained, credential-checked, and relaxed instructor. Drivers Ed Direct is the safe way to learn to drive in Beverly Hills, Melrose, and Westwood!
Avoid the royal migraine of waiting week after week before scheduling your 1st driver lesson. We often get frustrated calls from teens who can't find a company with enough driving instructors or training vehicles to get them a timely lesson. At DriversEdDirect.com, we have a wealth of trained instructors and more than a few instructional vehicles stationed throughout the greater West Hollywood, Beverly Hills, and Westwood area ready to schedule your lesson when convenient for you!
Experience driver lessons customized for your child's specific learning needs; we teach residential lessons, driving in parking lots, defensive driving on major streets, highway driving, canyon navigation, and freeway driving - each driving session has a unique lesson plan
So if you are a Beverly Hills High School student, high school student in Westwood, or Hollywood High student, allow Drivers Ed Direct to give you a safe way to fulfill your DMV driving school requirement!
Westwood Driving School Resources:

With DrivingLinks.com you get a safe way to access online Culver City DMV forms, Westwood driving school handbooks, Hollywood DMV tips, and more. Also get help with Beverlywood vehicle registrations, Melrose vehicle records, and Bel Air permits.
Try DrivingLinks.com to find more info about: