The Best South Bay Driving School Is Here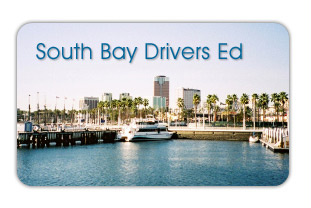 Getting a quality and reasonably priced drivers ed course in South Bay, California has never been this effortless. In today's Internet driven society, the CA Department of Motor Vehicles has approved DriversEdDirect.com's unrivaled online driver's ed course for the South Bay area of Los Angeles county! That means high school teens from the Manhattan Beach Unified School District, the Torrance Unified School District , the Palos Verdes Peninsula Unified School District and the El Segundo Unified School District can all meet their California DMV driver ed requirements with simplicity using our online South Bay driver's education courses. Are you a home study teen in South Bay? Then our on-line driving school course is ideal for you also - take your drivers education entirely from your home and on your own busy schedule. Here's just a sample of highschools Drivers Ed Direct is proudly serving in your area:
Mira Costa High School
Palos Verdes High School, Palos Verdes Estates
Palos Verdes Peninsula High School, Rolling Hills Estates
Rancho Del Mar High School, Rolling Hills
Redondo Union High School
Bishop Montgomery High School
El Segundo High School, El Segundo
South Bay Faith Academy
Redondo Shores High School
Torrance High School, Torrance
North High School, Torrance
South Bay High School
West High School, Torrance
Kurt T. Shery High School, Torrance
Environmental Charter High School
Leuzinger High School
Lawndale High School, Lawndale
Get the Best South Bay Driving School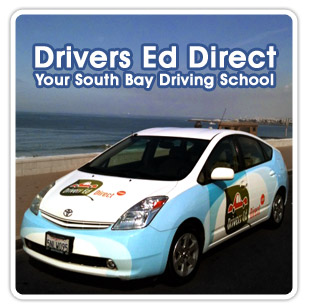 Why is Drivers Ed Direct the fastest growing Drivers Ed provider in South Bay and all of Southern CA? It's simple really: we understand what both teens and parents want out of their driver's ed program. We are committed to providing a driver's ed class that is both informational and holds your interest, otherwise teens will zone out and not fully learn the vital traffic safety laws and road rules. That's why our Internet courses don't require teens to sit through boring 8-hour lectures like in days of old. By utilizing an online class, South Bay teenagers are able to take the course at their own tempo, completing the course in sections and saving their work as they go. This allows our students to actually absorb the lesson material before being forced to move on to the next section. To help keep things fresh, out course is jam-packed with interactive animated lessons, drivers ed videos, realistic parking games, and DMV-like practice test questions!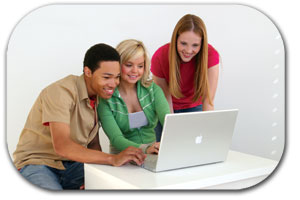 Drivers Ed Direct has thought of everything you could want and need from your drivers ed experience. You get more than just a boring drivers ed course when you register for our DMV Approved drivers education class:
Our online course is not "on loan" from other South Bay driving schools. We designed it entirely ourselves and had it painstakingly evaluated and APPROVED by the CA DMV. Ask other South-Bay driving schools if they have their own core curriculum... you'll be shocked by what you hear!
Want unlimited access to practice DMV quizzes for your upcoming permit test.. AT NO COST? Yep, included with our internet course you get access to practice permit tests for FREE - we will never ask you for an additional $14.95 to access our practice exams!
Did we point out that our South Bay driver's education course is entirely online? That means teens can finish their drivers ed requirements from wherever they can get online: from home, highschool, a cafe, or while they're away on vacation.
Get more bang for your buck with our supplementary driver training resources. Watch online videos (see us on NBC!), play drivers ed games, download our very own drunk driving brochures, join contests, get referral bonuses, and much more!
Our El Segundo driving lessons only come with the best driving instructors in the business: choose your favorite well-trained, professional and personable male or female driving instructors from the Torrance and Palos Verdes area.
Choose to take your Redondo driving school lessons in a hybrid SUV or Prius; select the vehicle that you want to help you prepare for the kind of car you will actually be driving when you get licensed.
Each driving lesson follows a carefully constructed curriculum to cover all areas of driving from residential streets to freeway driving, and all lessons take place in the greater Torrance, Redondo Beach, and Rancho Palos Verdes area.
We know teens in El Segundo, Hermosa Beach, and Manhattan Beach are busy and can't wait forever to schedule your driving lessons. That's why we employ over 25 highly qualified and requested instructors who are ready to help you get started when you want to, offering lessons as early as 7am and as late as 8:30pm.
So if you're a teen and you live in Manhattan Beach, Hermosa Beach, Redondo Beach, El Segundo, Palos Verdes, Lawndale, or Torrance - get online and get started on your drivers ed today!
Further South Bay Driving School Resources:

With DrivingLinks.com you will find online CA DMV forms, safe driver resources, defensive driving classes, and more. They can also help you with drivers license renewal, selling your car or SUV, and finding driving statistics.
Try DrivingLinks.com to find more info about: