Get on the Road with Drivers Ed Direct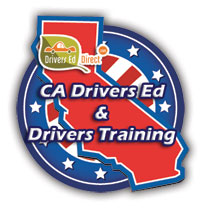 Looking for a driving school in southern California that will help you learn the skills necessary to become a safe and competent driver? Look no further than Drivers Ed Direct. Our California driving school for new drivers offers behind the wheel instruction and online courses in the Los Angeles area. Our school is designed to help you meet California's drivers ed requirements.
If you are a parent helping to weigh your teenager's drivers ed options, it is important to find a driving school that you yourself feel comfortable with. Please read our For Parents page to learn more about the philosophy behind our California driving school.
Discover What Makes Our California Driving School Different
So, what makes Drivers Ed Direct different than other California driving schools? In a nutshell, it's our commitment to the environment. We are dedicated to reducing vehicle emissions and helping the environment, all while providing quality drivers training.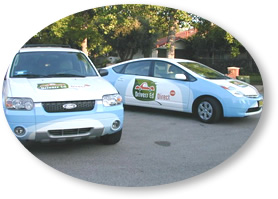 How do we do this? We use hybrid gas-electric vehicles, fresh off the assembly line, to train all of our students. In addition to outstanding gas mileage, our Toyota Prius and SUV hybrid vehicles offer advanced safety features and navigational systems. Learn more about our hybrid drivers ed vehicles and how they play an integral role in the principles of our California drivers training school.
Drivers Ed Direct also has a full tank of driving instructors who love to teach in the driving school environment. Research shows that teens learn more when they are taught within a comfortable environment by instructors who are patient and relaxed. Our instructors are able to convey the finer points of driving, in a manner that teens are most comfortable with. Also, for your convenience, our instructors pick you up and drop you off at home, work or school. Learn more about our California Driving School Instructors and the drivers training advantages they contribute to Drivers Ed Direct.
Learning Opportunities at Our Southern California Driving School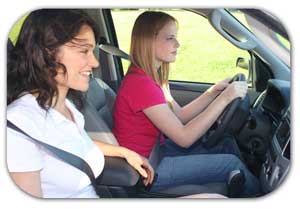 We offer two distinct learning opportunities at our California driving school: Behind the Wheel Drivers Training Classes and Online Drivers Ed Courses. For southern California drivers these course paths can be completed separately or as a combined California driving school package.
Our 6 and 10 Hour Behind the Wheel programs accomplish the following:
Meet 6 Hour California DMV Teen Training Requirement
Teach Basic Driving Skills in Different Driving Environments
Introduction to Freeway and Canyon Driving
DMV Practice Test
10 Hour Program Emphasizes Canyon, Freeway and Advanced Defensive Driving Skills
Accepted by the California Department of Motor Vehicles, our Online Drivers Ed Course offers everything you need in preparation for the learner's permit exam. Our online course provides a comprehensive review of traffic laws, defensive driving techniques, and important driver concepts. Once you sign up for the online course,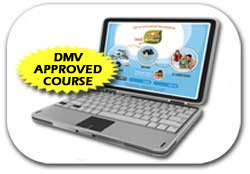 you can conveniently log in and out at anytime and anywhere you have access to the internet. Also, there aren't any time constraints associated with this portion of our California traffic school; you complete the course entirely online, at your own pace. Traffic safety researchers actually recommend at-your-own-pace classes over traditional classroom teaching. Once you have successfully completed the course, an original DMV Drivers Ed Certificate will be mailed directly to you. When you are ready to take your learner's permit exam, bring this certificate to the DMV as proof that you have completed the Driver Education requirement. In addition to receiving your certificate, a confirmation of completion will be posted online.
You can learn more about our online driving school courses for California drivers, by visiting our Help & Resources section. Not interested in taking a drivers education class online? Contact us to learn about Drivers Ed Direct classes in select cities.
A Driving School for Today's Drivers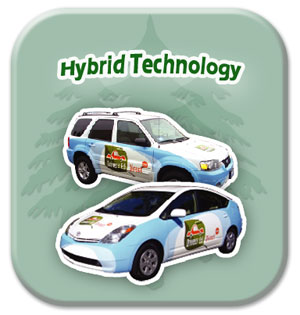 The vehicles driven by today's new drivers are not quite the same as your parents' first set of wheels. Chances are good that many of today's first time drivers will find themselves behind the wheel of a bulky SUV with numerous electronic devices at their disposal. Our California driving school addresses the safety concerns associated with SUV handling and distracted drivers. We offer behind the wheel training in SUV's, outfitted with new technologies such as navigation systems, PDA's and cell phones. This training is designed to teach the special skills associated with driving a large SUV with a higher center of gravity and to get students into the habit of pulling over when making a phone call or searching for information. By offering this unique training we hope to provide our California driving school students with the skills needed to drive safely in today's world with today's vehicles.
Contact Drivers Ed Direct for Course Information
Please feel free to contact Drivers Ed Direct if you have any questions about our California driving school classes that are not answered on our website. Call us toll-free at (800) 728-1048 or send us an e-mail at info@driverseddirect.com.
Learn More About Drivers Ed Direct:

With DrivingLinks.com you can find several CA driving related resources, from California DMV forms and CA DMV handbooks online to auto insurance rates for CA and California automobile sales online. They can also help you with vehicle registration, license renewal, and other tedious California DMV related tasks. Visit DrivingLinks.com today and let them help you "Find Your Right of Way on the Internet."
Try Drivinglinks.com to find additional info about: