Online California Drivers Ed Courses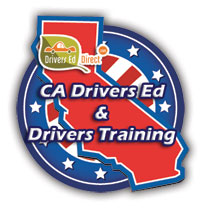 If you are looking for a convenient way to complete your California drivers ed requirements, Drivers Ed Direct has your solution. At Drivers Ed Direct we offer California drivers ed courses that let you complete your requirements entirely online, in the comfort of your own home. With our online California drivers ed classes, you get the knowledge you need to become a confident, safe and responsible driver, delivered right to your computer. Our online courses allow you to learn at your own pace, and at the time that best suits your needs.
Drivers Ed Direct also offers a unique behind the wheel training program. Teen drivers train in one of our hybrid gas-electric vehicles, within a program designed to teach safe driving techniques and environmental responsibility.
With California drivers ed classes from Drivers Ed Direct, completing your classroom and behind the wheel requirements has never been more convenient. To learn more about our California drivers ed program visit our California Drivers Ed Program page.
Benefits of Our Online & Behind the Wheel California Drivers Ed Courses
Our online and behind the wheel California drivers ed courses offers a number of benefits, including:
The ability to take the course anytime, anywhere. At Drivers Ed Direct we know how busy you are, and what an inconvenience a drivers ed class can be. That is why we make it as convenient as possible for you to complete your course.
Complete at your own pace. With our California drivers ed course you can work at a pace that best suits your learning style. This way you get the absolute most out of the experience.
Instruction from the most qualified group of driving instructors in the industry. Our instructors communicate with students in a way that makes sense and is conducive to learning. This method helps to ensure our students get the most out of their training.
Behind the wheel training in up-to-date cars and SUVs. These vehicles not only look nice, they also come with the latest safety features available, to ensure the safety of our students.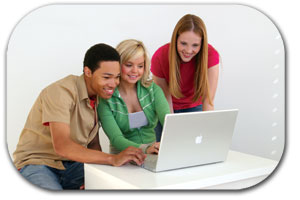 At Drivers Ed Direct, our online California drivers ed program begins with our unique lesson plan and approach to drivers education. This innovative approach includes a number of tools to help teach the basics and fundamentals of safe driving practices. Our online California drivers ed course includes animated scenario lessons as well as professional writing and questions designed to engage students while ensuring they learn the skills they need to be responsible, safe drivers in the future. In addition to our online California drivers ed classes, we also offer classroom taught drivers education courses in select cities for those who prefer a more traditional approach to drivers ed.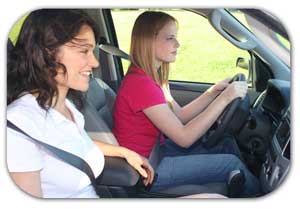 If you are looking to gain the behind the wheel skills you will need once you are driving on your own, our behind the wheel instructors can help. Armed with the latest concepts and techniques, our instructors are equipped to provide the training you need to become a safe, responsible driver. By collaborating with a California state certified defensive driver trainer, we have been able to make our drivers training program one of the most up-to-date and effective programs in the country. Our behind the wheel California drivers ed course focuses not only on teaching the basics of learning to drive, but also the importance of defensive driving and collision avoidance, techniques often overlooked by other driving schools.
If you are ready to complete your teen drivers education in southern California, please review our Behind the Wheel course options currently available for Los Angeles area teenagers.
CA Drivers Education with an Environmental Conscious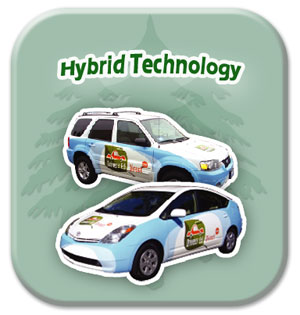 At Drivers Ed Direct our top-of-the-line drivers ed courses help more than just our students. By utilizing only hybrid gas-electric vehicles our cars produce less vehicle emissions. Since our fleet of vehicles travels thousands of miles every month on California roadways, using hybrid cars and SUVs significantly reduces additional vehicle emission amounts from polluting the environment.
This environmentally conscious mind set is also emphasized in our training methods. Drivers Ed Direct instructors emphasize to students how much of a difference just one person can make. From making the choice to drive a hybrid vehicle, which produces 97 percent less emissions than today's nationwide standard, to paying a visit to your local recycling center, Drivers Ed Direct promotes the philosophy of a cleaner, healthier environment.
Completing an online California drivers ed course is also a great way to help the environment. Aside from your completion certificate, online courses are paper-free because there are no workbooks, attendance papers, or paper quizzes and tests. In addition, parents don't have to drive their teenagers to and from class twice a day. Therefore, there are fewer vehicle emissions being produced solely to support your drivers education.
Discover Your Drivers Ed Options
Drivers Ed Direct offers a variety of drivers education options for new California drivers:
Online Drivers Ed Course - online course only
Behind the Wheel Course - behind the wheel drivers training only
Combo Packages - behind the wheel & online drivers ed
DMV Test Prep - behind the wheel supplement lesson
Please take the time to review all of the California drivers ed course options that we offer. We're sure that you will find a course that meets your specific needs.
Learn More About Drivers Ed Direct:

Need something besides CA drivers ed? Chances are, you can find it at DrivingLinks.com. Find various resources, from online DMV forms and information to car insurance rates and auto sales. Visit DrivingLinks.com today and let them help you "Find Your Right of Way on the Internet."
Find Helpful DMV Resources at Drivinglinks.com: