La Canada Flintridge and La Crescenta Driving School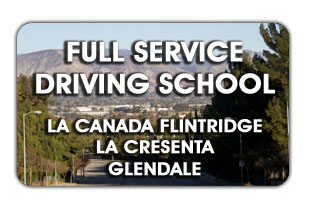 When it comes to getting a drivers license in La Canada Flintridge, La Crescenta, Montrose, and Glendale, Drivers Ed Direct has the full service driving school parents and teens can count on to meet all Glendale DMV permit and licensing requirements. Than means high school students in the La Canada Unified School District, Crescenta Valley High School, St Francis High School, Sacred Heart Academy, and Clark Magnet High School can fulfill their permit requirements online and get their behind the wheel drivers training with the best driving school in Los Angeles County.
La Canada Flintridge Driving Lessons
La Canada Unified School District Students
La Canada High School
St. Francis High School
Flintridge Sacred Heart Academy
Flintridge Preparatory School
La Crescenta - Montrose Driving School
Clark Magnet High School
Crescenta Valley High School
Verdugo Academy
Village Christian School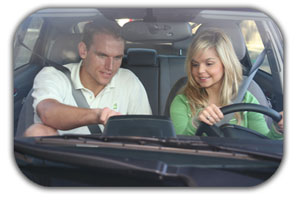 Minors throughout La Crescenta and Glendale are quickly making Drivers Ed Direct the favorite driving school in Los Angeles County and the West San Gabriel Valley. Besides offering more affordable driving lesson packages than our chief competitors (such as Valley Bobs), our driving school stands out by offering custom traffic safety curriculums, the most liked crew of driving instructors, and hybrid training vehicles with added safety features. Chances are if you talk to any of our past driving students in Burbank, Glendale, La Canada Flintridge, or Montrose - they will have nothing but positive things to report about their driving school experience with DriversEdDirect.com. Here is why tens of thousands of new drivers have chosen us to teach them to drive:
Training vehicles that are equipped with dual-brakes, front airbags and side airbags, Anti-Lock Braking Systems, traction control, and more.
Front door lesson pick up and drop off service to the following La Canada area zip codes: 91214, 91011, 91020, and 91208.
Choose a Prius or Hybrid SUV for your driving instruction - we are the first driving school fleet in the nation to use a completely hybrid fleet.
Detailed progress and parent reports are emailed after each lesson to help parents learn their child's strengths and weaknesses.
Driving instructors with top-quality training, prior experience working with kids, and a great, patient attitude.
A well constructed lesson plan that trains drivers to drive in all types of environments teens will encounter in LA County, including freeway, canyon, and residential driving lessons.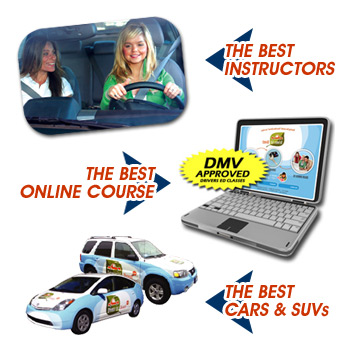 The majority of La Canada Flintridge teens and La Crescenta high school students want to earn their DMV permit the day they turn 15½ so they can get a CA Drivers License the very day they turn 16. Prior to earning a California learners permit, students must obtain their driver's education completion certificate from the Glendale Department of Motor Vehicles or any other CADMV.
When it comes to fulfilling the needed CA drivers education requirement, we know that teens dread spending 4 tiresome days in a crammed La Canada classroom with a bunch of other restless students, trying to learn the California traffic laws they will need to know to pass their permit test and drive safely. From a concerned parent's perspective, we also know that the complete safety and quality education of their soon to be driving teen is of the utmost importance. With both caring parents and their children in mind, Drivers Ed Direct presents an unequaled online drives education course that is simple to use, thorough, and is preferred by teens in La Canada - Flintridge, La Crescenta, and Montrose. This well-constructed, fully educational course has been approved by the Glendale DMV, Arleta DMV, and every other DMV in CA. Parents and teens can start a free drivers ed trial to see for themselves what other La Canada, Flintridge, and La Crescenta students already know: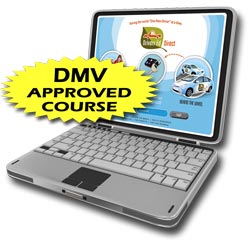 Drivers Education on Your Schedule
We know that today's La Crescenta teens are busy with different activities, sports, homework, and school in general. Also, we know that no two students in La Canada - Flintridge learn at the same speed. Our online La Canada driving school class allows each student to go at their own individual pace, doing a little or large portion of the online program at a time. You can easily save your progress as you go along and easily logout and log back in whenever you need to!



We Want You To Succeed
We do not charge you an additional $8, $18, or $28 to use our online practice permit tests like others driving school have been known to do. Our practice DMV test center comes 100% free with our online drivers education course. Furthermore, our DMV practice test module can generate hundreds of unique practice exams to allow La Canada - Flintridge, La Cresenta, and Montrose teens to be better prepared for the written exam at the Glendale DMV.



DMV Approved Drivers Education Program
We didn't take any shortcuts when it came to the education part of our internet "drivers ed" course online. We created our very own thirty-hour equivalent driver's ed class and had it approved by the CADMV. There's one thing you can be sure of that separates us from other driving schools in La Canada: our online course is not just a rewrite of the CADMV handbook. It covers the handbook in detail, explains the driving concepts to make sense of the theories, and draws from newspaper stories and examples to help drive points home. Combine this with our interactive videos and you have a driver's ed course that is second to none in Montrose, Glendale, and La Cresenta!



Driver's Ed from Wherever You Want in La Crescenta, Montrose, or La Canada
When you select an internet driver ed course with DriversEdDirect.com, you get convenience and flexibility! Rather than making several trips to and from a driving school classroom, online students can finish their online course from school, at home, or from anywhere in La Canada Flintridge, Montrose, Glendale, or La Crescenta they can get on the Internet. Now that is convenience!
So what are you waiting for? Get started today and become the safest, most knowledgeable driver you can be so you can navigate smoothly to Descanso Gardens, Pepe's Mexican Restaurant, Taylor's Steak House, or Hill Street Cafe!
Find Driving Schools Nearby:

Choose DrivingLinks.com to find CADMV forms on the web, online auto insurance quotes, and web driver safety information. Defensive driving classes, traffic school ticket class, and driving games also available.
So visit Driving Links to get more help with: