San Gabriel Drivers Ed Online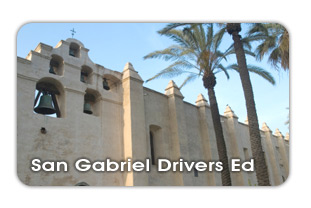 Getting a DMV approved and lowest priced drivers ed course in San Gabriel, CA is as easy as ever. With the world of traffic safety education quickly shifting the way of the Internet, the California Department of Motor Vehicles has approved Drivers Ed Direct's exceptional on line driver's ed program for the greater San Gabriel area of LA County! That's good news for high school teens from the San Gabriel Unified School District, the El Monte Union High School District, and the Alhambra Unified School District who can now meet their DMV driver education requirements entirely from the comfort of their home. Are you a San Gabriel home study high school student? Perfect! Our internet driving school course is ideal because it works around your schedule and allows you to get your DMV certificate without going to a classroom. Here's just a sample of schools in your area we are happy to have serviced:
San Gabriel High School
Gabrielino High School
San Gabriel Mission High School
San Gabriel Polytechnic High School
Alhambra High School
Del Mar High
Mark Keppel High School
Garfield High School
Schurr High School
El Monte High School
Mountain View High School
Rosemead High School
Arroyo High School
A San Gabriel Driving School You Can Afford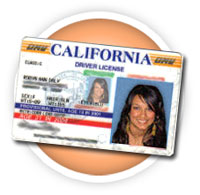 Why is Drivers Ed Direct growing so rapidly around San Gabriel and all of Los Angeles county? It's a no-brainer: we know what our teenage students want and what their parents require from an online driver's education program. Let's be honest, a driver ed course has to be two things: highly educational and highly interactive. If not, teens will zone out and not obtain the understanding necessary to become well prepared, knowledgeable drivers. Instead of spending 30 long, boring hours is a stuffy San Gabriel classroom watching outdated videos, why not give teens the driving safety info via a tool they already love to use: the World Wide Web! By using an Internet course, San Gabriel area students are able to finish the class at their own pace, dividing the class into personalized sections, saving their online work as they go. And high schoolers in San Gabriel won't fall asleep during our courses... we have tutorials, interactive traffic scenarios, online videos, practice quizzes, driver ed games, and newspaper articles to help make sure keep our students don't zone out!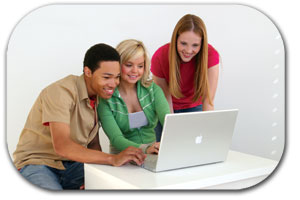 We understand that San Gabriel high school students want their driving permit when they turn 15½ so they can get their driving license as soon as they turn 16 years old. Likewise, we understand that San Gabriel parents want their children to be extremely educated and well prepared before they begin their behind the wheel driver's training. Don't worry, Drivers Ed Direct has you covered! Our highly acclaimed and DMV Approved online drivers ed course includes:
Did we mention our San Gabriel drivers education course is completely on the Internet? That means you can take the course from anywhere you can get online: home, school, a diner, or a friend's house. Or do it between multiple different places by saving your work as you go, logging in and out as little or as much as you want.
Get free access to more traffic education resources and tools. We give you online videos, car games, drunk driver resources, online contests, referral bonuses, and much, much, more!
Our San Gabriel course is not borrowed from another second rate driving school. We created it ourselves and had it carefully evaluated and APPROVED by the CA DMV. Ask other LA County area driving schools if they have their own drivers ed curriculum... you will be surprised!
Want access to DMV practice tests for your permit.. FOR FREE? That's right, with our online course you get all of our practice CA DMV tests for FREE - we will never charge you an extra $20 fee to access our tests
But don't take our word for it. If you are a teen in San Gabriel, Temple City, Alhambra, Monterey Park, Rosemead, or San Marino - get online and start your free trial today to see what everyone is talking about!
More Driving School Information:

With DrivingLinks.com you will get access to on-line DMV hand-books, DMV websites, state specific driving resources and more. They can also help you with vehicle registration, car insurance, and car buying.
Try Driving-Links to get more info about: