Newport Beach Driver's Education
Teens who live in Southern California or attend Corona Del Mar High School, Newport Harbor High School or Sage Hill School, are eligible for Newport Beach Driver Education program. To prepare for your written test, a teen must complete a drivers education course. For additional preparation, a good idea would be fore the teen to study a California Driver Handbook.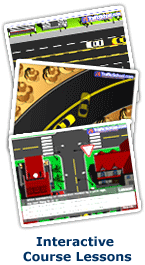 Affordable Drivers Education in Newport Beach
Drivers education online with Drivers Ed Direct is easy to access, easy to understand, and easy to complete around your ever-changing schedule. In fact, Newport Beach teens can sign-up for our course online, take all of the drivers education lessons online, and complete our final exam online. When you are finished, we will mail an official drivers education certificate to your home in Newport Beach. So skip the hassle of driving to and from class; with drivers ed online, you can access the course when you have the time, from anywhere you can get online. No wonder Drivers Ed Direct is one of the fastest growing driving schools in Southern California!
Am I Eligible for Online Drivers Ed?
If you are at least 15½ years of age, can pass a vision exam, and have completed drivers education, you will be eligible to take a provisional permit test at the DMV in Newport Beach. To fulfill the drivers ed requirement, you must complete a DMV approved course to earn a certificate of completion. You can start this course at any age, but remember you can not take the permit exam until you turn 15½. In Orange County, most students begin drivers ed when they are 15 years old or older.

Orange County Drivers Ed - Priced Low - No Coupons Needed!
Looking for low priced teen traffic school in Newport Beach? Look no further! At Drivers Ed Direct, our prices can't be beat. Are course is already low priced because it is online and doesn't require extra overhead like classrooms and books. Not to mention that we will gladly price match with any other online course that is also Newport Beach DMV Approved!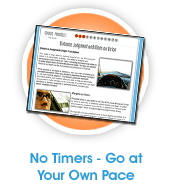 The Advantage of Taking Drivers Ed Online
These days, teenagers have schedules that contain so many extra curricular activities. From singing lessons to football practice, their time is limited and some do not get the chance to fulfill their drivers education requirement because they simply do not have the time. With Affordable Online Drivers Education, teenagers in Newport Beach can complete the course because it's available whenever they have time. All they need to do is register and begin. They can pay now or later.
Free DMV Practice Permit Tests
Free DMV practice tests! Just another perk from Drivers Ed Direct when you take our Affordable drivers education course. Use our practice test simulator to help better prepare you for your big permit test day at the Newport Beach DMV. Our practice tests are multiple choice and include questions almost identical to the real permit test questions.
---
Moving Outside of Southern California?
Our driving school course online is the most convenient course in the entire state of California. Whether you change high schools or move from Newport Beach to somewhere in Costa Mesa, Huntington Beach, Fountain Valley, Irvine, Santa Ana, Laguna Beach, Tustin, Aliso Viejo, Westminster, Garden Grove, Laguna Woods, Laguna Hills, Orange, Tustin Foothills, and Seal Beach, our Affordable drivers ed class is approved statewide, so you can rest assured that our course will still be approved for you. Whether you are home schooled, go to high school in Corona Del Mar High School, Newport Harbor High School or Sage Hill School, or are already done with high school, teens can use our course worry free, knowing they are taking a CA-DMV Approved class.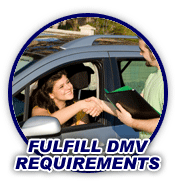 Orange County Traffic School
It happens. You're driving down a road in Newport Beach and you lose track of your speedometer. You look in your review mirror and the unwelcome sight of sirens is flashing and a Orange County sheriff is beckoning you to pull over. 15 minutes later you are on your way with a traffic ticket in hand and your driving record ruined, right? Not necessarily! A single traffic ticket doesn't have to be the end of your status as a good driver. By completing the TrafficSchool.com online defensive driving course, you can actually have the ticket dismissed from your record and your insurance company will never know you were cited... meaning your insurance rates will never increase!
Driving Resources for Newport Beach Drivers

DrivingLinks.com is a great resource when you need anything related to driving. Whether you are looking for used cars in Newport Beach, insurance quotes in Orange County, traffic school in Southern California, or driving safety information for California, Florida, or any other state, DrivingLinks.com has you covered.