Yolo County Drivers Education Eligibility Requirements
Davis teens are eligible to earn a provisional permit when they turn 15½ and can earn a provisional license when they turn 16. It is recommended that teens begin their drivers education program when they turn 15, which gives students 6 months to complete their drivers ed course, read the CADMV handbook, and prepare for the written permit exam at a qualified DMV in Yolo County.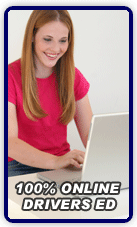 DMV Approved Drivers Ed for Davis High School Students
Get the best drivers education in Central California from the leader in approved online drivers education: Drivers Ed Direct. Our 30-hour program is Davis DMV approved for all students in Yolo County. Get online at home, from a coffee shop, or from your school's computer lab. Now proudly teaching kids from Davis Senior High School or Martin Luther King High School.
Affordable Drivers Ed in Yolo County
Do you love high quality, highly educational drivers education? Do you like getting the best product while getting a great deal? Then our DMV Accepted drivers education class is exactly what you are looking for. For students in Davis, use driving school coupon go65 and save yourself another $5 off of our already low-priced online course. Now you can get the best DMV approved drivers ed available in Yolo County without making a dent in your wallet!

So Much More than DMV Accepted Driver's Ed
Drivers Ed Direct delivers much more than your average driving school in Davis. Besides providing Davis HS teens with an amazing drivers education experience, we also do our part to make our students the most informed and responsible drivers they can be. We sponsor teen safety awareness program (like our original Respect Reality Pledge for Change), publish articles and news letters with driving law updates, and strive to remain "driving partners" with our students long after they graduate by constantly updating our Driving School Facebook page with driving tips and news. We promise, we offer more than just another DMV Accepted driving school class... much more!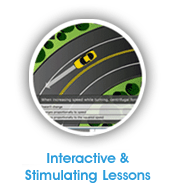 Completing the Driver's Ed Requirement in Yolo County
To earn your learner's permit (practice permit) at Davis Senior High School or Martin Luther King High School, you need to complete an approved drivers ed course. Here is how our CADMV approved course works:
Click on the 'Get Started' button found on this page
Fill out the quick registration form, choose to pay now or pay later, it's up to you
Complete the simple online lessons and quizzes
Pass the online final exam to earn your DMV certificate of completion
Go to the DMV to take a written permit examination (you must be at least 15 and a half to do this
Pass the written exam and go home with your practice permit that day!
Free CA Practice DMV Tests
In addition to our outstanding, DMV Accepted drivers education program, we also offer our students practice DMV tests at no additional costs. Our sample DMV tests are different than the small set of example tests you can get from the Davis Department of Motor Vehicles or from the official Yolo County DMV website. Our practice test questions are made from our database of over 150 DMV test answers and questions. If you want to succeed on your DMV test the first time, come to Drivers Ed Direct: the best driving school in Central California.
---
Driving Resources for Davis High School Teens

Looking for an online driving guide to help you navigate the roadways in Yolo County? DrivingLinks.com has a plethora of online resources for the Davis driver, both young and old. Teens can benefit from the online driving handbooks, drivers ed resources, and driving games. Mature drivers can find online traffic schools, defensive driving classes, and printable DMV forms. Get help with all things driving at DrivingLinks.com.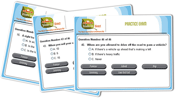 Need Drivers Ed, But Not a resident of Central California?
No matter where you will be driving in California, Drivers Ed Direct has the perfect drivers ed for you. Our DMV Accepted course is approved for every city in West Sacramento, Dixon, Sacramento, Rio Linda, North Highlands, Woodland, Foothill Farms, Rosemont, La Riviera, Carmichael, Vacaville, Rancho Cordova, Citrus Heights, and Roseville and every high school, even those not found in the Davis area. In fact, no matter where you live in California, we have a course that will help you successfully earn your permit and drivers license.
Dismissing Davis Court Tickets
It happens. You're driving down a road in Davis and you lose track of your speedometer. You look in your review mirror and the unwelcome sight of sirens is flashing and a Yolo County sheriff is beckoning you to pull over. 15 minutes later you are on your way with a traffic ticket in hand and your driving record ruined, right? Not necessarily! A single traffic ticket doesn't have to be the end of your status as a good driver. By completing the TrafficSchool.com online defensive driving course, you can actually have the ticket dismissed from your record and your insurance company will never know you were cited... meaning your insurance rates will never increase!