Lowest Priced Drivers Ed in Woodland
We feel that first class driving school classes should be available to everyone, regardless of their financial situation. After all, wouldn't the roads be a safer place is everyone out there had the best drivers education available? Now students in Pioneer High School, Woodland Senior High School or Woodland Christian School can get the best drivers ed for less when they go to Drivers Ed Direct for their driver's ed requirement. Our online, CA DMV approved course is the best in the business and, for a low low price, students everywhere in Yolo County can now afford the best.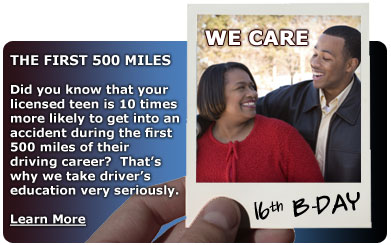 More than Just Drivers Ed
Drivers Ed Direct isn't just about getting your money and then pushing you out onto Central California roads to fend for yourself. We genuinely want you to become a great driver. In addition to our DMV Authorized drivers ed, we equip our students with other tools and resources to make their driving lives easier. Our live support is available to help you answer any driving questions, our website is filled with supplementary driving articles, teen safety resources, and even some games geared towards teaching you to park. See for yourself why we are rated so well by third party sites like the Yolo County, CA Better Business Bureau and by independent reviews from Yelp.com in Woodland.
Free DMV Practice Tests
Practice makes perfect, right? We like to think so, that's why we offer our students in Woodland unlimited, free online sample DMV tests. Take the example tests over and over again, until you feel comfortable with the different sets of multiple choice questions. Our free sample tests are never the same, thanks to our DMV sample test generator that uses a pool of over 200 DMV test questions and answers to formulate unique example test after unique example test. No matter where you call home in Yolo County, from Woodland to Davis, West Sacramento, Dixon, Sacramento, Rio Linda, North Highlands, Florin, Foothill Farms, Rosemont, La Riviera, Carmichael, Vacaville, Rancho Cordova, Citrus Heights, and Roseville, our practice DMV permit tests are the best!

Drivers Education Eligibility Requirements for Woodland Teens
Who is eligible for DMV Authorized drivers ed? Any teen living in Yolo County, California. That's right, no matter where you live in Central California, you can take our course. If you go to high school in Pioneer High School, Woodland Senior High School or Woodland Christian School, you are eligible. If you are a home school or home study student in Woodland, you can take our online course. Live in nearby cities like Davis, West Sacramento, Dixon, Sacramento, Rio Linda, North Highlands, Florin, Foothill Farms, Rosemont, La Riviera, Carmichael, Vacaville, Rancho Cordova, Citrus Heights, and Roseville? You can also take our internet drivers ed course to fulfill your California DMV driver education requirement.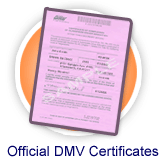 DMV Authorized Drivers Ed for Woodland Teens
Drivers education online with Drivers Ed Direct is easy to access, easy to understand, and easy to complete around your ever-changing schedule. In fact, Woodland teens can sign-up for our course online, take all of the drivers education lessons online, and complete our final exam online. When you are finished, we will mail an official drivers education certificate to your home in Woodland. So skip the hassle of driving to and from class; with drivers ed online, you can access the course when you have the time, from anywhere you can get online. No wonder Drivers Ed Direct is one of the fastest growing driving schools in Central California!
Why Drivers Ed Online?
Many parents in Woodland question whether an online driver ed program can deliver the same level of education as found in a driver education classroom setting. The truth is, according to an official California DMV study, online driver's ed was found to be more effective in helping teens remember road rules when compared to teens taught in a classroom. This news comes as a surprise to many in Yolo County, but when one thinks about the benefits online education offers, it's really no surprise how effective it can be. Today's Woodland High School teens respond well to anything technology driven, including drivers ed. The freedom of being able to take the course around their schedule, without having to sleep through boring lectures, is a huge advantage. Also, students love the interaction and fresh take on driving an online education offers.
---
Woodland Traffic Tickets
If your driving record is important to you, you will inevitably want to do all you can to keep any negative points off it. By taking an accredited traffic school class in Woodland, you can have simple one-point traffic violations removed from your driving record. TrafficSchool.com has an online internet traffic school course that is approved by Yolo County to erase traffic citations. When quality, low prices, and being able to do traffic school from home matter to you, then TrafficSchool.com is the smartest choice you can make for dismissing a ticket.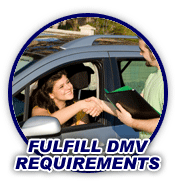 Yolo County High School Driving Resources and Information Online

Looking for more than just drivers education? At DrivingLinks.com, residents of Central California can find a lot of helpful driving information. Things you can accomplish online include downloading California DMV forms, registering for traffic school for your Woodland traffic ticket, reading the latest driving laws, and more. Their website is free to browse and will save Yolo County drivers save time and money!
Need Drivers Ed, But Not a resident of Central California?
It does not matter where you live in CA, our DMV Authorized drivers education curriculum is approved by the Yolo County DMV and all other California DMV's throughout the state. Any student from North California to Southern California, from the West Coast to the Inland Empire, from Central California and beyond can take our online drivers education course to fulfill their teen driver's education component and to earn the official DMV certificate needed to earn a provisional driving permit.