Who is Eligible for Online Drivers Ed?
Who is eligible to take our State Approved California driver education curriculum? Any teen living in California that wants to earn a learners permit and driver license. Technically, Oxnard teens cannot earn a permit until they turn fifteen and a half, so it makes most sense to wait until you are at least 15 before beginning our online course.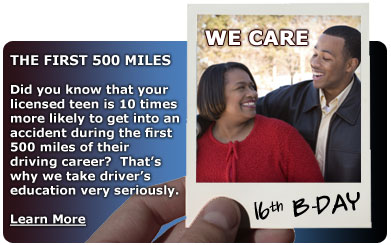 Free Practice Multiple Choice DMV Tests
If you live in Southern California and you are about to turn 16, there's no doubt that you are excited to earn your drivers license. Before you can earn your license, you must first earn a learner's permit by passing a written test at a Ventura County, California DMV. At DriversEdDirect.com, we offer our students all of the tools they need to succeed on their permit test. In addition to our state-of-the-art drivers ed class, we also provide unlimited DMV sample tests to our students at no additional charge. These example practice tests for your permit are the added advantage Oxnard teens need to pass their driving permit test on the first try.
Driver's Education Guide for Oxnard Teenagers
To earn your learner's permit (practice permit) at Adolfo Camarillo High School, Channel Islands High School, Hueneme High School, Oxnard High School, Pacifica High School, Rio Mesa High School, Vista Real Charter High School or Santa Clara High School, you need to complete an approved drivers ed course. Here is how our CADMV approved course works:
Click on the 'Get Started' button found on this page
Fill out the quick registration form, choose to pay now or pay later, it's up to you
Complete the simple online lessons and quizzes
Pass the online final exam to earn your DMV certificate of completion
Go to the DMV to take a written permit examination (you must be at least 15 and a half to do this
Pass the written exam and go home with your practice permit that day!

Learn how to for less!
State Approved California drivers education can be highly educational without costing an arm and a leg. Our online course will save you money in many ways:
You won't have to drive back and forth to a classroom somewhere in Ventura County
Our course is 100% online; there are no books or video to buy
We have low overhead so we can charge you a low low price; we will even price match any other DMV approved course in Southern California!
Our course doesn't expire, so you never have to worry about paying twice for the same course
.
Now you see why our high quality, lowest priced drivers ed course is the preferred course for students at Adolfo Camarillo High School, Channel Islands High School, Hueneme High School, Oxnard High School, Pacifica High School, Rio Mesa High School, Vista Real Charter High School or Santa Clara High School.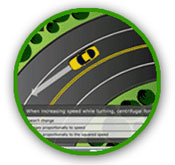 Simple Drivers Ed in Ventura County
When it comes to convenience and simplicity, no other driving school can compete with Drivers Ed Direct's State Approved California drivers education course. Our program is the 100% online solution for busy Ventura County teens who want the flexibility of completing their Oxnard DMV requirements according to their own schedule. Besides being easy to access, our course is also easy to use for any student, whether or not they are computer literate. Each chapter is laid out in an easy to follow manner and interactive tutorials make it easy to avoid boredom. It's the easiest drivers ed in Southern California!
Providing More than Just State Approved California Drivers Ed
Traditional Oxnard driving schools have earned a reputation of having boring classes, minimal instruction, and a short-lived relationship with their driving students. Not Drivers Ed Direct. We aim to be Southern California's top driving school by offering State Approved California driver education along with a lifetime of driving school resources to our students. We know that our students will still be learning to drive each and every day and we want to be there for them as they go along in their driving lives. We do this by offering ongoing driving resources, fostering safe driving programs, and keeping an open line of communication with students past and present through outlets like our e-news letters and Facebook.
---
Not From Southern California?
Not a resident of Oxnard? Or maybe you are planning of moving outside of Ventura County soon and don't want to start drivers ed because you're concerned you'll have to do it all over again when you move into you're new home in another city. With Drivers Ed Direct, you get a drivers ed course that is approved across the entire state of California, so even if you change residences or move across county lines, you won't have to worry about your drivers ed course being lost. Since we're 100% online, you can pick up online from your new home without any down time or loss of course credit. We are the most convenient drivers education provider in Southern California and beyond!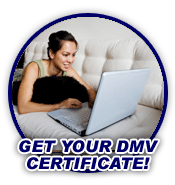 Ventura County Teens: Find Everything Driving Related Online

Unlike several years ago, today's driver can accomplish a lot of routine DMV related tasks from home without having to drive to the physical Oxnard DMV office. Changing your address, ordering tags, downloading DMV applications, and scheduling appointments can all be done with a few clicks and key strokes. Checkout DrivingLinks.com today to see how the internet is making your life easier when it comes to driving.
Oxnard Traffic School
Were you driving a little too fast on a Ventura County highway and got caught by a Oxnard police officer? Don't ignore your citation and let your driving record suffer. By completing a Ventura County approved traffic school course with TrafficSchool.com, you can have most moving violations removed from your driving records, helping you to keep your insurance rates from rising and your license from being suspended.