DMV Approved Drivers Ed for Dinuba High School Students
The California Department of Motor Vehicles has specific guidelines in which a drivers education course needs to meet before it becomes a state approved agency. In addition to meeting the state's requirements, DMV Authorized Drivers Education makes taking drivers education convenient for all types of schedules. If you're an early bird or a night owl, you can login to the program anytime that is right for you. Anytime you need a break, go ahead and take one.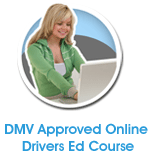 DMV Authorized Drivers Ed For Dinuba High School Teens
Skip the boring class and fulfill your Dinuba drivers ed requirement with a computer instead with Drivers Ed Direct's 100% online course. Our DMV Authorized course is hands down the best course when it comes to ease of use and flexibility. Since our program is totally online, you can literally do it from anywhere, at anytime. Furthermore, you can log-on and log-off at anytime as you go through our course and we'll save your progress. So stay home, kick back, and learn the rules of the road from your Tulare County home.
Completing the Driver's Ed Requirement in Tulare County
The DMV Authorized Drivers Ed Direct course is simple to register for, simple to take, and simple to complete. We are committed to helping you every step of the way and give you the guidance you need to proceed to the DMV. Here is how our online program works, beginning to end:
Enroll in out DMV Authorized drivers ed, it takes just a few minutes
Read each section; at the end of each section there is a short multiple choice exam
When finished with the program sections, there is a comprehensive final exam that you will have multiple attempts to pass; once you pass the final, we send you your drivers ed completion certificate
Take our simulated sample permit tests before you go to the Dinuba DMV to take your test
Go to the DMV (age 15½ minimum) and take your written permit test!

Providing More than Just DMV Authorized Drivers Ed
Drivers Ed Direct delivers much more than your average driving school in Dinuba. Besides providing Dinuba HS teens with an amazing drivers education experience, we also do our part to make our students the most informed and responsible drivers they can be. We sponsor teen safety awareness program (like our original Respect Reality Pledge for Change), publish articles and news letters with driving law updates, and strive to remain "driving partners" with our students long after they graduate by constantly updating our Driving School Facebook page with driving tips and news. We promise, we offer more than just another DMV Authorized driving school class... much more!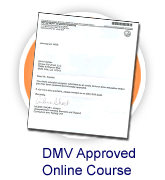 Tulare County Drivers Ed - Priced Low - No Coupons Needed!
Looking for low priced teen traffic school in Dinuba? Look no further! At Drivers Ed Direct, our prices can't be beat. Are course is already low priced because it is online and doesn't require extra overhead like classrooms and books. Not to mention that we will gladly price match with any other online course that is also Dinuba DMV Approved!
The Advantage of Taking Drivers Ed Online
The days of taking drivers ed in a Dinuba High School classroom are all but extinct. For teens in the 21st century, drivers education is mostly conducted in a privatized classroom or by a DMV Approved course provider. In 2003, the DMV conducted a study and came to the conclusion that students taking online drivers education courses actually scored higher on their course exit exams than students learning the same information in a traditional drivers education classroom setting. These findings are not surprising; the average teen in the San Joaquin Valley gravitates toward online mediums and are more captivated and interested in technology. Rather than tuning out in a boring traditional classroom setting, teens taking classes online are captivated by interactive tutorials that allow them to go at their own pace and to logout when they become tired.
---
Not Going to High School in the San Joaquin Valley?
Drivers Ed Direct is not only the top driving school in the San Joaquin Valley, we are a highly respected driving school across all of California and have even garnered national media attention on such shows as The Tonight Show, Dr. Phil, Jimmy Kimmel, and NBC news. No matter where you live in the state of California, you can enroll in our DMV Authorized drivers ed and know you are getting the same quality education as all of our students, even those living outside of Dinuba. Our goal is to save the world, one new driver at a time... including you!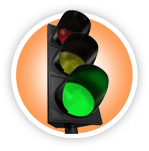 Dinuba Traffic School
It happens. You're driving down a road in Dinuba and you lose track of your speedometer. You look in your review mirror and the unwelcome sight of sirens is flashing and a Tulare County sheriff is beckoning you to pull over. 15 minutes later you are on your way with a traffic ticket in hand and your driving record ruined, right? Not necessarily! A single traffic ticket doesn't have to be the end of your status as a good driver. By completing the TrafficSchool.com online defensive driving course, you can actually have the ticket dismissed from your record and your insurance company will never know you were cited... meaning your insurance rates will never increase!
Driving Resources for Dinuba Drivers

Looking for an online driving guide to help you navigate the roadways in Tulare County? DrivingLinks.com has a plethora of online resources for the Dinuba driver, both young and old. Teens can benefit from the online driving handbooks, drivers ed resources, and driving games. Mature drivers can find online traffic schools, defensive driving classes, and printable DMV forms. Get help with all things driving at DrivingLinks.com.