Happy Camp High School Drivers Education Requirements
The DMV requires minors to be at least 15 years and 6 months old before earning a provisional practice permit. In Happy Camp, CA, most students will begin their drivers ed experience around their fifteenth birthday. Our course is available to all Happy Camp High School students, as well as home study students, and students that commute from other jurisdictions. As long as the minor is a California resident, our course is approved for fulfilling there driver education requirement.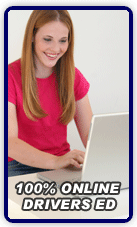 Low Price Drivers Education in Siskiyou County
As if you didn't love our Online driver education class enough already, now we are offering students in Siskiyou County a special online discount of $5 when they use discount promo code "drive555"! Now you can get the best online course in Northern California for even less, only from Drivers Ed Direct!
Free Practice Exams for the CA DMV Permit Test
Passing your permit test at the Happy Camp DMV is easy when you choose Drivers Ed Direct as your driving school. First of all, our Online drivers ed course will thoroughly prepare you with the knowledge you need to master the rules of the road. In addition to our online course, we also provide students with example DMV practice tests. Take as many sample tests as you want with our practice permit test generator. Finally, reading your CADMV handbook will even further prepare you to succeed come test day. Practice tests are available for all students in Siskiyou County, including teens at Happy Camp High School.
More than Just Online Drivers Education
Learning to drive is one of the most important milestones in any Happy Camp teen's life. Just ask one of the hundreds of students from Happy Camp High School. Some eagerly anticipate getting their license, while other Siskiyou County teens are scared to get on the road. At Drivers Ed Direct, we cater to all teens by providing our students with all of the tools they need to be a success when they start driving alone. Our Online drivers education program teaches them the rules of the road and our online articles, blogs, and mentoring programs provide another important layer of insight into the world of driving. Well rounded drivers with the confidence they need to navigate our California roads safely and responsibly. That's what we're all about, from Happy Camp to Arcata, Eureka, Fortuna, Shasta Lake, Redding, and Anderson.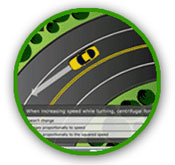 Driver's Education Guide for Happy Camp Teenagers
Taking drivers ed online with Drivers Ed Direct is the easy, fun, and educational way to fulfill your drivers education requirement in Happy Camp. Here's what you need to do:
Go online and sign up in minutes for our Online drivers ed course.
Read educational online lessons filled with interactive tutorials
Pass our online final exam from the comfort of your Happy Camp home - you have many attempts to pass!
When you pass, your completion certificate ships to your home in Happy Camp.
Take your drivers ed certificate, along with other DMV paperwork (we'll list them out for you) to the closest Siskiyou County DMV.
Pass your written permit test at the DMV and you go home with your permit that day (p.s. - this is when they take your picture for the license, so look sharp!)
Online Drivers Ed For Happy Camp High School Teens
You're a busy Happy Camp teen, right? You've got school, sports, clubs, and a hundred other things taking up your time. The last thing you want to do is spend four 8-hour Saturdays locked in a stuffy traffic school classroom somewhere half way across Siskiyou County. Wouldn't you rather get a better quality education without leaving home? Join the other students at Happy Camp High School who have already discovered the fastest, easiest, most convenient way to earn their driver's education certificate. Take your drivers ed online with Northern California leader in driving school services: Drivers Ed Direct!
---
Need Drivers Ed, But Not a resident of Northern California?
Drivers Ed Direct is not only the top driving school in Northern California, we are a highly respected driving school across all of California and have even garnered national media attention on such shows as The Tonight Show, Dr. Phil, Jimmy Kimmel, and NBC news. No matter where you live in the state of California, you can enroll in our Online drivers ed and know you are getting the same quality education as all of our students, even those living outside of Happy Camp. Our goal is to save the world, one new driver at a time... including you!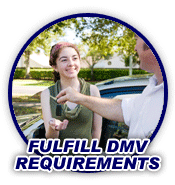 Siskiyou County Traffic School
If your driving record is important to you, you will inevitably want to do all you can to keep any negative points off it. By taking an accredited traffic school class in Happy Camp, you can have simple one-point traffic violations removed from your driving record. TrafficSchool.com has an online internet traffic school course that is approved by Siskiyou County to erase traffic citations. When quality, low prices, and being able to do traffic school from home matter to you, then TrafficSchool.com is the smartest choice you can make for dismissing a ticket.
Siskiyou County Teens: Find Everything Driving Related Online

No matter if you are a new driver or a seasoned road warrior, DrivingLinks.com has the resources you need to make life on the road just a little bit easier. Learn traffic safety laws, enroll in Siskiyou County defensive driving classes, play interactive driving games, locate the Happy Camp DMV, and download DMV forms... get it all online without having to leave your home.