Santa Clara County Drivers Ed - Priced Low - No Coupons Needed!
As if you didn't love our Simple driver education class enough already, now we are offering students in Santa Clara County a special online discount of $5 when they use discount promo code "drive555"! Now you can get the best online course in the San Francisco Bay Area for even less, only from Drivers Ed Direct!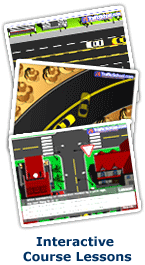 DMV Approved Drivers Ed for Santa Clara High School Students
Choosing a Simple drivers ed course in Santa Clara can be tough given the amount of "Driving Schools" offering courses online. Don't be fooled by a low-quality start-up company that offers prices to good to be true. Chances are that they either don't have their own drivers ed course or that their course is not DMV approved for Santa Clara County students. If the latter is true, then you will not be able to obtain a driving permit using their course. Drivers Ed Direct only offers a one-of-a-kind, CADMV Approved, online drivers ed program. See why we're the preferred choice in over 100 high schools, including Adrian Wilcox High School, Santa Clara High School, Wilson Alternative, Delphi Academy of Santa Clara, North Valley Baptist School, St. Lawrence Academy and Sierra Elementary And High School.
Nice and Easy Drivers Education for Santa Clara Teenagers
Online drivers education with Drivers Ed Direct is truly the easiest and most convenient way to fulfill your drivers education requirement in Santa Clara County. Adrian Wilcox High School, Santa Clara High School, Wilson Alternative, Delphi Academy of Santa Clara, North Valley Baptist School, St. Lawrence Academy and Sierra Elementary And High School students can schedule their course around their own hectic life and are allowed the ability to complete the course over multiple sittings. In addition, the Simple course itself is easy and straightforward. The lessons are well constructed, the tutorials help make sense of the concepts, and the quizzes are multiple choice. From beginning to end, we offer Santa Clara teenagers the simple solution to earning a drivers education certificate.

Simple Drivers Ed and a Whole Lot More
Drivers Ed Direct isn't just about getting your money and then pushing you out onto the San Francisco Bay Area roads to fend for yourself. We genuinely want you to become a great driver. In addition to our Simple drivers ed, we equip our students with other tools and resources to make their driving lives easier. Our live support is available to help you answer any driving questions, our website is filled with supplementary driving articles, teen safety resources, and even some games geared towards teaching you to park. See for yourself why we are rated so well by third party sites like the Santa Clara County, CA Better Business Bureau and by independent reviews from Yelp.com in Santa Clara.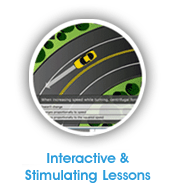 Why You Should Skip the Drivers Ed Classroom in Santa Clara
These days, teenagers have schedules that contain so many extra curricular activities. From singing lessons to football practice, their time is limited and some do not get the chance to fulfill their drivers education requirement because they simply do not have the time. With Simple Online Drivers Education, teenagers in Santa Clara can complete the course because it's available whenever they have time. All they need to do is register and begin. They can pay now or later.
Free DMV Practice Written Tests
Free DMV practice tests! Just another perk from Drivers Ed Direct when you take our Simple drivers education course. Use our practice test simulator to help better prepare you for your big permit test day at the Santa Clara DMV. Our practice tests are multiple choice and include questions almost identical to the real permit test questions.
---
Online Santa Clara DMV Help and Other Driving Resources

Looking for more than just drivers education? At DrivingLinks.com, residents of the San Francisco Bay Area can find a lot of helpful driving information. Things you can accomplish online include downloading California DMV forms, registering for traffic school for your Santa Clara traffic ticket, reading the latest driving laws, and more. Their website is free to browse and will save Santa Clara County drivers save time and money!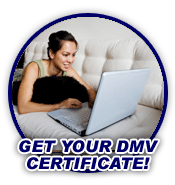 Not Attending Santa Clara High School?
Looking for the leading driving school in Santa Clara, San Jose, Milpitas, Campbell, Sunnyvale, Cupertino, Los Gatos, and Saratoga? Look no further! DriversEdDirect.com is your complete Simple solution for fulfilling your drivers ed requirement. Even if you don't live in Santa Clara County, our drivers education is the best there is. The truth is, our online driver's education program is approved for all of California. No matter what county or city you call home, we can help you earn your practice permit the easy, online way.
Santa Clara Traffic Tickets
Online traffic school is an excellent option for Santa Clara motorists looking for an inexpensive, Santa Clara County Approved, and highly convenient way to dismiss a traffic citation. TrafficSchool.com has been helping drivers throughout the San Francisco Bay Area, in cities like San Jose, Milpitas, Campbell, Sunnyvale, Cupertino, Los Gatos, and Saratoga, dismiss traffic citation points for over 15 years! Choose the trusted leader in online traffic school and ensure that your driving record is kept in good order.