Santa Barbara Driver's Education
Teens who live in Southern California or attend Santa Barbara High School, La Cuesta High School, The Anacapa High School, Bishop Garcia Diego High School or Summit High School, are eligible for Santa Barbara Driver Education program. To prepare for your written test, a teen must complete a drivers education course. For additional preparation, a good idea would be fore the teen to study a California Driver Handbook.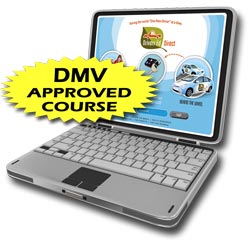 Driver's Education Guide for Santa Barbara Teenagers
Ready to earn your drivers license? For most teens, the process starts around the age of 15 by taking a Simple drivers ed program. When a teenager in Santa Barbara turns 15½, they are legally old enough to earn a learning permit. After earning their permit, teens must take a minimum of 6 hours drivers training with a Department of Motor Vehicles licensed driving school in Southern California. In addition, teens must practice 50+ hours with their parents over a 6+ month period. When a teen turns 16 years old and had fulfilled all of their drivers ed and drivers training requirements, they can then schedule an appointment at the Santa Barbara DMV to take their license test. After taking the driver's license test (which is taken in-car), a passing student will go home with a temporary driver's license that same day.
CADMV Approved Drivers Education
Choosing a Simple drivers ed course in Santa Barbara can be tough given the amount of "Driving Schools" offering courses online. Don't be fooled by a low-quality start-up company that offers prices to good to be true. Chances are that they either don't have their own drivers ed course or that their course is not DMV approved for Santa Barbara County students. If the latter is true, then you will not be able to obtain a driving permit using their course. Drivers Ed Direct only offers a one-of-a-kind, CADMV Approved, online drivers ed program. See why we're the preferred choice in over 100 high schools, including Santa Barbara High School, La Cuesta High School, The Anacapa High School, Bishop Garcia Diego High School or Summit High School.

Free Practice DMV Quizzes
If you live in Southern California and you are about to turn 16, there's no doubt that you are excited to earn your drivers license. Before you can earn your license, you must first earn a learner's permit by passing a written test at a Santa Barbara County, California DMV. At DriversEdDirect.com, we offer our students all of the tools they need to succeed on their permit test. In addition to our state-of-the-art drivers ed class, we also provide unlimited DMV sample tests to our students at no additional charge. These example practice tests for your permit are the added advantage Santa Barbara teens need to pass their driving permit test on the first try.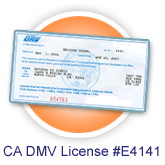 Simple Drivers Ed For Santa Barbara High School Teens
When it comes to fulfilling your drivers education requirement in Santa Barbara County, it doesn't get any easier than with Drivers Ed Direct's Simple driver's ed program. Our class is entirely online and can be completed entirely from the serenity and comfort of your own Santa Barbara home. So sit back, relax, and enjoy the highest quality and most convenient course throughout Southern California.
Santa Barbara High School Drivers Education Requirements
Our Santa Barbara DMV approved drivers education program is approved for all of Santa Barbara County, no matter if you are a private school student, public school student, or home school student. Students will be able to earn a driving permit at age fifteen and six months (15½), so taking and completing your drivers ed course prior to your 15½ birthday is highly recommended.
---
Learn To Drive Anywhere Southern California or Beyond!
Our internet driver training program is California Department of Motor Vehicles approved for each and every city in the state. Whether you live in Santa Barbara County, somewhere in Southern California, or in another part of the state all together - you can take our course! We've helped students at Santa Barbara High School, La Cuesta High School, The Anacapa High School, Bishop Garcia Diego High School or Summit High School obtain their learner permit, but we've also helped literally hundreds of thousands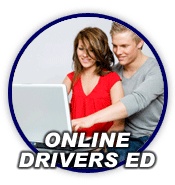 More Driving Resources for Santa Barbara Teen Drivers

Looking for more than just drivers education? At DrivingLinks.com, residents of Southern California can find a lot of helpful driving information. Things you can accomplish online include downloading California DMV forms, registering for traffic school for your Santa Barbara traffic ticket, reading the latest driving laws, and more. Their website is free to browse and will save Santa Barbara County drivers save time and money!
Southern California Traffic Tickets
Were you driving a little too fast on a Santa Barbara County highway and got caught by a Santa Barbara police officer? Don't ignore your citation and let your driving record suffer. By completing a Santa Barbara County approved traffic school course with TrafficSchool.com, you can have most moving violations removed from your driving records, helping you to keep your insurance rates from rising and your license from being suspended.