Redwood City Driver Ed
Quick Drivers Ed offers an online course that is approved for teens who live in Redwood City. The Department of Motor Vehicles of California approved course can help teens with a strong start to their lifetime of driving. With reading and lessons, teens will retain important information that they will need in order to take their written test and rules of the road that they will need to pass their driving test. If you're unsure this is the course for you, try our no obligation ' try it before you buy it' option.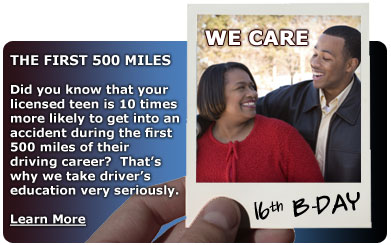 Quick Drivers Ed for Redwood City Teens
Online drivers education with Drivers Ed Direct is truly the easiest and most convenient way to fulfill your drivers education requirement in San Mateo County. Sequoia High School, Summit Preparatory Charter High School, Daytop Preparatory or Redwood Baptist Seaport Academy students can schedule their course around their own hectic life and are allowed the ability to complete the course over multiple sittings. In addition, the Quick course itself is easy and straightforward. The lessons are well constructed, the tutorials help make sense of the concepts, and the quizzes are multiple choice. From beginning to end, we offer Redwood City teenagers the simple solution to earning a drivers education certificate.
More than Just Quick Drivers Education
What's the Drivers Ed Direct difference? Is it our Quick drivers ed course? Is it our team of knowledgeable and helpful teachers, mentors, and driving instructors? Or is it our unmatched wealth of driving resources online? The truth is, the Drivers Ed Direct difference is all of the above, and more. We like to think that the main difference is how much we actually care about our students in Redwood City, San Mateo County, and all of West-Central California. Check out the rave reviews we get on our testimonials page, via Facebook, and on Yelp. You won't find another driving school out there with such a deep commitment to customer satisfaction, guaranteed.

Quick Drivers Ed: Step By Step
To earn your learner's permit (practice permit) at Sequoia High School, Summit Preparatory Charter High School, Daytop Preparatory or Redwood Baptist Seaport Academy, you need to complete an approved drivers ed course. Here is how our CADMV approved course works:
Click on the 'Get Started' button found on this page
Fill out the quick registration form, choose to pay now or pay later, it's up to you
Complete the simple online lessons and quizzes
Pass the online final exam to earn your DMV certificate of completion
Go to the DMV to take a written permit examination (you must be at least 15 and a half to do this
Pass the written exam and go home with your practice permit that day!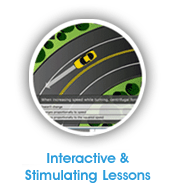 Why Redwood City Teenagers Should Take Online Drivers Education
Many parents in Redwood City question whether an online driver ed program can deliver the same level of education as found in a driver education classroom setting. The truth is, according to an official California DMV study, online driver's ed was found to be more effective in helping teens remember road rules when compared to teens taught in a classroom. This news comes as a surprise to many in San Mateo County, but when one thinks about the benefits online education offers, it's really no surprise how effective it can be. Today's Redwood City High School teens respond well to anything technology driven, including drivers ed. The freedom of being able to take the course around their schedule, without having to sleep through boring lectures, is a huge advantage. Also, students love the interaction and fresh take on driving an online education offers.
Am I Eligible for Online Drivers Ed?
Who is eligible for Quick drivers ed? Any teen living in San Mateo County, California. That's right, no matter where you live in West-Central California, you can take our course. If you go to high school in Sequoia High School, Summit Preparatory Charter High School, Daytop Preparatory or Redwood Baptist Seaport Academy, you are eligible. If you are a home school or home study student in Redwood City, you can take our online course. Live in nearby cities like San Carlos, Belmont, Menlo Park, East Palo Alto, Foster City, Stanford, Palo Alto, San Mateo, Los Altos Hills, Los Altos, Burlingame, Hillsborough, Half Moon Bay, Mountain View, and Newark? You can also take our internet drivers ed course to fulfill your California DMV driver education requirement.
---
San Mateo County Traffic School
Were you driving a little too fast on a San Mateo County highway and got caught by a Redwood City police officer? Don't ignore your citation and let your driving record suffer. By completing a San Mateo County approved traffic school course with TrafficSchool.com, you can have most moving violations removed from your driving records, helping you to keep your insurance rates from rising and your license from being suspended.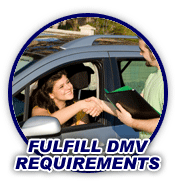 More Driving Help for Drivers in Redwood City

DrivingLinks.com is a great resource when you need anything related to driving. Whether you are looking for used cars in Redwood City, insurance quotes in San Mateo County, traffic school in West-Central California, or driving safety information for California, Florida, or any other state, DrivingLinks.com has you covered.
Not Going to High School in Redwood City?
Not a resident of Redwood City? Or maybe you are planning of moving outside of San Mateo County soon and don't want to start drivers ed because you're concerned you'll have to do it all over again when you move into you're new home in another city. With Drivers Ed Direct, you get a drivers ed course that is approved across the entire state of California, so even if you change residences or move across county lines, you won't have to worry about your drivers ed course being lost. Since we're 100% online, you can pick up online from your new home without any down time or loss of course credit. We are the most convenient drivers education provider in West-Central California and beyond!