The Advantage of Taking Drivers Ed from Home in Stockton
Here are some compelling reasons students in the San Joaquin Valley should take their drivers ed course online versus sitting in a boring classroom:
Online classes allow you to stay at your Stockton home
Online classes are more flexible and can be worked around your schedule
Our Online driver ed class is highly affordable
A DMV study concluded that internet courses better prepare students than classroom courses for their permit exam
Our online program is continually updated and always fresh with recent driving information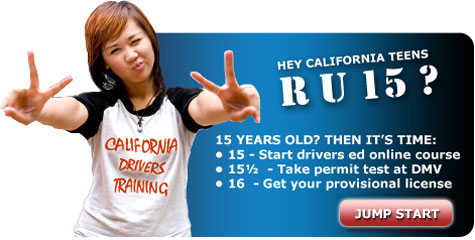 Free DMV Practice Permit Tests
In addition to our outstanding, Online drivers education program, we also offer our students practice DMV tests at no additional costs. Our sample DMV tests are different than the small set of example tests you can get from the Stockton Department of Motor Vehicles or from the official San Joaquin County DMV website. Our practice test questions are made from our database of over 150 DMV test answers and questions. If you want to succeed on your DMV test the first time, come to Drivers Ed Direct: the best driving school in the San Joaquin Valley.
San Joaquin County Driver's Education
Online Drivers Ed is the online solution for teens who are seeking a way to complete the requirement, but not have to attend a classroom course. A teen who attends Bear Creek High School, Benjamin Holt College Preparatory Academy, Career & Technical High School, Cesar Chavez High School, Edison High School, Franklin High School, Institute of Business Management or Law High School, Lincoln High School, Middle College High School, Moses Rodgers Virtual Learning Center, Ronald E. McNair High School, Stagg Senior High School, Venture Academy, Weston Ranch High School, Life Training Academy, St. Mary's High School, Stockton Baptist School, Stockton Christian School or United Christian School or lives in Stockton is eligible to take our course. If parents are worried that a teacher will not be in attendance during the online experience, parents or teens can call the customer service center when they need help. We have live representatives, waiting to assist you.

We Deliver Online Drivers Ed and Much More!
Drivers Ed Direct is your one stop shop for all things driving safety in Stockton, California. That's right, we are not just another one of the numerous driving schools in San Joaquin County whose only concern is taking your money and then disappearing from the face of the earth. Rather, Drivers Ed Direct views your driver training experience as a life-long relationship based on developing good driving habits and re-education of our students as driving laws continually change and road rules evolve. We feel it is our duty, as a member of your Stockton community, to teach students about the hazards and problems that our highways present. Learn more by exploring our Teen Driving Safety Portal "Respect Reality".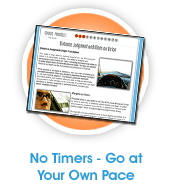 Low Price Drivers Education in San Joaquin County
As if you didn't love our Online driver education class enough already, now we are offering students in San Joaquin County a special online discount of $5 when they use discount promo code "drive555"! Now you can get the best online course in the San Joaquin Valley for even less, only from Drivers Ed Direct!
Easy Drivers Ed in Stockton
When it comes to fulfilling your drivers education requirement in San Joaquin County, it doesn't get any easier than with Drivers Ed Direct's Online driver's ed program. Our class is entirely online and can be completed entirely from the serenity and comfort of your own Stockton home. So sit back, relax, and enjoy the highest quality and most convenient course throughout the San Joaquin Valley.
---
Preserving Your Driving Record in the San Joaquin Valley
It happens. You're driving down a road in Stockton and you lose track of your speedometer. You look in your review mirror and the unwelcome sight of sirens is flashing and a San Joaquin County sheriff is beckoning you to pull over. 15 minutes later you are on your way with a traffic ticket in hand and your driving record ruined, right? Not necessarily! A single traffic ticket doesn't have to be the end of your status as a good driver. By completing the TrafficSchool.com online defensive driving course, you can actually have the ticket dismissed from your record and your insurance company will never know you were cited... meaning your insurance rates will never increase!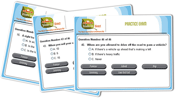 San Joaquin County High School Driving Resources and Information Online

No matter if you are a new driver or a seasoned road warrior, DrivingLinks.com has the resources you need to make life on the road just a little bit easier. Learn traffic safety laws, enroll in San Joaquin County defensive driving classes, play interactive driving games, locate the Stockton DMV, and download DMV forms... get it all online without having to leave your home.
Not From the San Joaquin Valley?
Drivers Ed Direct is not only the top driving school in the San Joaquin Valley, we are a highly respected driving school across all of California and have even garnered national media attention on such shows as The Tonight Show, Dr. Phil, Jimmy Kimmel, and NBC news. No matter where you live in the state of California, you can enroll in our Online drivers ed and know you are getting the same quality education as all of our students, even those living outside of Stockton. Our goal is to save the world, one new driver at a time... including you!