Who is Eligible for Online Drivers Ed?
Who is eligible to take our CA DMV Approved driver education curriculum? Any teen living in California that wants to earn a learners permit and driver license. Technically, Joshua Tree teens cannot earn a permit until they turn fifteen and a half, so it makes most sense to wait until you are at least 15 before beginning our online course.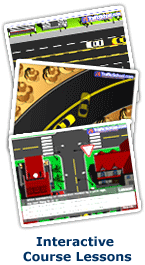 Joshua Tree Classroom Drivers Education vs. Online Drivers Ed
The days of taking drivers ed in a Joshua Tree High School classroom are all but extinct. For teens in the 21st century, drivers education is mostly conducted in a privatized classroom or by a DMV Approved course provider. In 2003, the DMV conducted a study and came to the conclusion that students taking online drivers education courses actually scored higher on their course exit exams than students learning the same information in a traditional drivers education classroom setting. These findings are not surprising; the average teen in the Inland Empire gravitates toward online mediums and are more captivated and interested in technology. Rather than tuning out in a boring traditional classroom setting, teens taking classes online are captivated by interactive tutorials that allow them to go at their own pace and to logout when they become tired.
Providing More than Just CA DMV Approved Drivers Ed
Get more than just your average driver education experience when you select Drivers Ed Direct as your Joshua Tree driving school. Browse our website for free resources that other driving school in the Inland Empire just don't offer. We have an ongoing and update drivers education article database, online driving games, free DMV practice exams, web videos, and engaging programs like our highly touted Respect Reality Driving Campaign for San Bernardino County Teens. See what the buzz is about and why we're not just another run-of-the-mill driving school.
How Drivers Ed Works in the State of California
Taking drivers ed online with Drivers Ed Direct is the easy, fun, and educational way to fulfill your drivers education requirement in Joshua Tree. Here's what you need to do:
Go online and sign up in minutes for our CA DMV Approved drivers ed course.
Read educational online lessons filled with interactive tutorials
Pass our online final exam from the comfort of your Joshua Tree home - you have many attempts to pass!
When you pass, your completion certificate ships to your home in Joshua Tree.
Take your drivers ed certificate, along with other DMV paperwork (we'll list them out for you) to the closest San Bernardino County DMV.
Pass your written permit test at the DMV and you go home with your permit that day (p.s. - this is when they take your picture for the license, so look sharp!)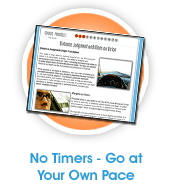 Free DMV Practice Tests
Want to pass your learner permit test the first time? When you take the Drivers Ed Direct CA DMV Approved drivers education course, you also get free access to Joshua Tree DMV practice tests. Each practice permit test is generated randomly from our pool of over 200 possible permit test questions and, just like the DMV permit test, our practice tests are multiple choice. Take as many practice tests as you want for free until you feel you are truly ready to pass the written test at the DMV. Our practice tests will help you prepare for any DMV in Joshua Tree, Yucca Valley, Twentynine Palms, Desert Hot Springs, Palm Springs, Cathedral City, Rancho Mirage, Palm Desert, Indio, Coachella, La Quinta, Banning, Beaumont, Yucaipa, San Jacinto, and East Hemet.
CA DMV Approved Drivers Ed
Joshua Tree Drivers Education is a convenient way for teens to meet their requirements to earn their driving permit. Teens who live in San Bernardino County can take the course that is schedule-friendly. There is no need for them to rearrange their schedule for this course. It is available 24/7 and can be worked on in between their other activities.
---
Dismissing San Bernardino County Court Tickets
If your driving record is important to you, you will inevitably want to do all you can to keep any negative points off it. By taking an accredited traffic school class in Joshua Tree, you can have simple one-point traffic violations removed from your driving record. TrafficSchool.com has an online internet traffic school course that is approved by San Bernardino County to erase traffic citations. When quality, low prices, and being able to do traffic school from home matter to you, then TrafficSchool.com is the smartest choice you can make for dismissing a ticket.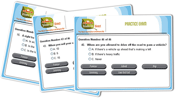 Not Going to High School in the Inland Empire?
Our Drivers Education course has been approved by the California Department of Motor Vehicles for any age-appropriate teen meeting today's driver licensing requirements. Whether you are from Joshua Tree, somewhere else in San Bernardino County, or anywhere in the Inland Empire; you can complete our courses online to meet your driver's ed requirement. Not from a the Inland Empire high school like Yucca Valley High School, Grace Christian School, Joshua Springs Christian School, Desert Hot Springs or Our Lady of the Desert? Not a problem, we have classes for soon-to-be teen drivers across all of California:
Online Joshua Tree DMV Help and Other Driving Resources

DrivingLinks.com is a great resource when you need anything related to driving. Whether you are looking for used cars in Joshua Tree, insurance quotes in San Bernardino County, traffic school in the Inland Empire, or driving safety information for California, Florida, or any other state, DrivingLinks.com has you covered.