Completing the Drivers Ed Requirement in Fontana
Taking drivers ed online with Drivers Ed Direct is the easy, fun, and educational way to fulfill your drivers education requirement in Fontana. Here's what you need to do:
Go online and sign up in minutes for our Educational drivers ed course.
Read educational online lessons filled with interactive tutorials
Pass our online final exam from the comfort of your Fontana home - you have many attempts to pass!
When you pass, your completion certificate ships to your home in Fontana.
Take your drivers ed certificate, along with other DMV paperwork (we'll list them out for you) to the closest San Bernardino County DMV.
Pass your written permit test at the DMV and you go home with your permit that day (p.s. - this is when they take your picture for the license, so look sharp!)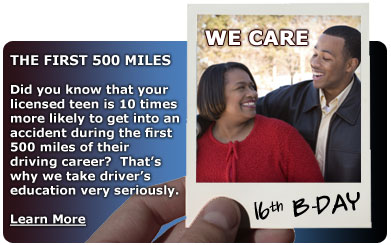 Who is Eligible for Online Drivers Ed?
The DMV requires minors to be at least 15 years and 6 months old before earning a provisional practice permit. In Fontana, CA, most students will begin their drivers ed experience around their fifteenth birthday. Our course is available to all Fontana A.B. Miller High School, Fontana High School, Henry J. Kaiser High School, Jurupa Hills High School, Summit High School or Ambassador Christian Schools students, as well as home study students, and students that commute from other jurisdictions. As long as the minor is a California resident, our course is approved for fulfilling there driver education requirement.
Simple Drivers Ed in Fontana
Why take a break from the traditional drivers ed classroom? Because no San Bernardino County teen wants to spend 30 hours in a dark, packed classroom listening to Billy Bob lecturing about road rules and watching driving school videos from 1970. With Drivers Ed Direct's Educational driving school program, you are allowed to take your drivers education course when you want to and where you want to. If you can get online in Fontana, then you can complete our course with ease. All chapters are informational, engaging, and well organized. You're in total control and can complete the course at your own pace, login and out when you choose.

Learn how to for less!
Besides being an effective educational resource, our Educational driver safety course is also a desirable drivers education alternative because it doesn't cost as much as the traditional classroom drivers ed. Instead of commuting to and from some out of the way driving school classroom in San Bernardino County, stay right at your home in Fontana and take our online driver's ed course for less. Besides saving with our already low-priced, discounted online course; you'll save gas money, commuting time, and won't have to worry about dealing with traffic hassles. It's no wonder Drivers Ed Direct is quickly becoming the leading choice for Fontana A.B. Miller High School, Fontana High School, Henry J. Kaiser High School, Jurupa Hills High School, Summit High School or Ambassador Christian Schools teens.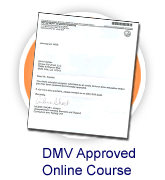 Why Drivers Education on the Web?
A California DMV study concluded that students taking online or computer based drivers ed actually out perform students taking drivers ed in a traditional classroom setting when comparing exit exam scores. The advantages of an online drivers ed course are obvious:
Today's Fontana students naturally gravitate towards technology driven teaching methods, like the Internet
Online classes allow students the ability to start and stop as their attention span changes, whereas in traditional driving school classrooms, students tend to zone out or sleep when they become bored
Driver education online is more affordable for obvious reasons: low overhead, no books, no money spent on gas, etc.
Online drivers ed is more convenient because you can do it right from your Fontana home
Free Practice DMV Quizzes
In addition to our outstanding, Educational drivers education program, we also offer our students practice DMV tests at no additional costs. Our sample DMV tests are different than the small set of example tests you can get from the Fontana Department of Motor Vehicles or from the official San Bernardino County DMV website. Our practice test questions are made from our database of over 150 DMV test answers and questions. If you want to succeed on your DMV test the first time, come to Drivers Ed Direct: the best driving school in the Inland Empire.
---
the Inland Empire Traffic Tickets
It happens. You're driving down a road in Fontana and you lose track of your speedometer. You look in your review mirror and the unwelcome sight of sirens is flashing and a San Bernardino County sheriff is beckoning you to pull over. 15 minutes later you are on your way with a traffic ticket in hand and your driving record ruined, right? Not necessarily! A single traffic ticket doesn't have to be the end of your status as a good driver. By completing the TrafficSchool.com online defensive driving course, you can actually have the ticket dismissed from your record and your insurance company will never know you were cited... meaning your insurance rates will never increase!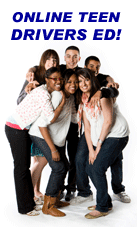 Not Living in Fontana or in the Inland Empire?
Drivers Ed Direct is not only the top driving school in the Inland Empire, we are a highly respected driving school across all of California and have even garnered national media attention on such shows as The Tonight Show, Dr. Phil, Jimmy Kimmel, and NBC news. No matter where you live in the state of California, you can enroll in our Educational drivers ed and know you are getting the same quality education as all of our students, even those living outside of Fontana. Our goal is to save the world, one new driver at a time... including you!
Fontana High School Driving Resources Online

No matter if you are a new driver or a seasoned road warrior, DrivingLinks.com has the resources you need to make life on the road just a little bit easier. Learn traffic safety laws, enroll in San Bernardino County defensive driving classes, play interactive driving games, locate the Fontana DMV, and download DMV forms... get it all online without having to leave your home.