Low Cost Hollister Drivers Education
As if you didn't love our CA Approved driver education class enough already, now we are offering students in San Benito County a special online discount of $5 when they use discount promo code "drive555"! Now you can get the best online course in West-Central California for even less, only from Drivers Ed Direct!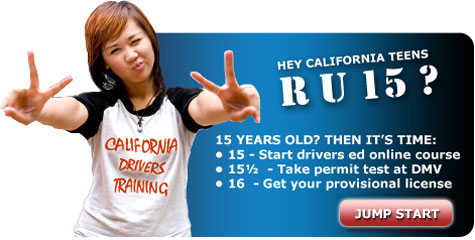 Practice DMV Tests - Online and Unlimited
Passing your permit test at the Hollister DMV is easy when you choose Drivers Ed Direct as your driving school. First of all, our CA Approved drivers ed course will thoroughly prepare you with the knowledge you need to master the rules of the road. In addition to our online course, we also provide students with example DMV practice tests. Take as many sample tests as you want with our practice permit test generator. Finally, reading your CADMV handbook will even further prepare you to succeed come test day. Practice tests are available for all students in San Benito County, including teens at San Benito High School or Calvary Christian School.
How Online Drivers Education Works
It's amazing how may teens and parents in Hollister come to us, confused about the driver's licensing process in San Benito County. It's really a simple process once the steps are clearly laid out. Here are the general steps one should take to earn a license in West-Central California:
Sign up for our CA Approved drivers education class sometime before you turn 15½
Pass our online program to earn a completion certificate for the Hollister DMV
Take and pass your test at the DMV to earn your learner permit
Take lessons with a local Hollister driving school and practice for 6 months with your permit
After 6 months of practice and when you are at least 16, go the DMV to pass your driving test.
Pass your drive test and go home with your provisional license

CA Approved Drivers Ed
CA Approved Drivers Ed is a great base for teens to begin their path for driving. Students from San Benito High School or Calvary Christian School or live in Hollister can take the California DMV approved course to prepare them for the written permit exam. With DMV practice tests and a California DMV Handbook (you can pick one up from your local DMV or visit their website for a PDF version), your teen will learn information that can be applied for their drive test as well.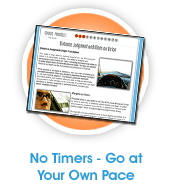 CA DMV Approved Drivers Ed for All of San Benito County
Before paying for any drivers ed program, whether it be online or in a classroom, make sure the course you are registering for is approved by the San Benito County DMV. Any legitimate school should be able to show you their DMV approval letter that verifies that their CA Approved course will actually earn you the completion certificate you need to obtain a learner's permit. You can view Drivers Ed Direct's DMV Approval letter here: Hollister, CA DMV Approval Letter
Hollister Classroom Drivers Education vs. Online Drivers Ed
Taking drivers education on the Internet has become the gold standard for teens in San Benito County wanting to earn a permit and learn the rules of the road as laid out by the California Department of Motor Vehicles. In fact, a CADMV study showed that teens receiving Internet computer based instruction actually retained information better and scored higher on their exit exams than students learning the same material in a classroom setting. Other of advantages of online instruction are also apparent, such as the huge low-cost benefit of taking drivers ed from home in Hollister. Whey spend the time and money on gas driving half way across West-Central California when you can have a better education right from your own computer?
---
West-Central California Traffic Tickets
Pulled over in San Benito County for speeding? Don't pay your ticket without going to traffic school first! TrafficSchool.com, West-Central California's leading traffic school, can help you save your driving record by eliminating the negligent operator points from your driving record. So give TrafficSchool.com a try and avoid any costly increases in your auto insurance premiums.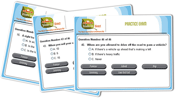 Online Hollister DMV Help and Other Driving Resources

Drivers in San Benito County looking for quality driving related resources need to visit DrivingLinks.com. Browse a wide variety of resources for every motorist, from beginner to expert. Check out what DMV's are located in West-Central California and download forms from home instead of driving to your local Hollister DMV.
Not Going to High School in Hollister?
Our Drivers Education course has been approved by the California Department of Motor Vehicles for any age-appropriate teen meeting today's driver licensing requirements. Whether you are from Hollister, somewhere else in San Benito County, or anywhere in West-Central California; you can complete our courses online to meet your driver's ed requirement. Not from a West-Central California high school like San Benito High School or Calvary Christian School? Not a problem, we have classes for soon-to-be teen drivers across all of California: