Free Practice Written DMV Permit Tests
Nervous about your upcoming permit test at your local Hemet DMV office? Don't be! If you choose Drivers Ed Direct as your driving school (like hundreds of other teens in Riverside County already have), you will be well prepared to succeed on your written exam. Reading your driving handbook and completing our CA drivers ed class will prepare you well, but taking our sample CADMV practice tests online will give you even more test-day confidence. Take as many practice tests as you want, we don't mind and we won't charge you a penny extra! Guess that's why students at Hemet High School, West Valley High School, Taquitz High School, Hamilton High School, Hemet Academy for Applied Academic or Technology Alpha Omega Christian School or Baptist Christian School absolutely love our California licensed driving school.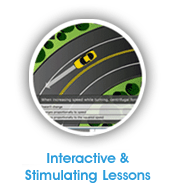 Low Cost Hemet Drivers Education
Besides being an effective educational resource, our CA driver safety course is also a desirable drivers education alternative because it doesn't cost as much as the traditional classroom drivers ed. Instead of commuting to and from some out of the way driving school classroom in Riverside County, stay right at your home in Hemet and take our online driver's ed course for less. Besides saving with our already low-priced, discounted online course; you'll save gas money, commuting time, and won't have to worry about dealing with traffic hassles. It's no wonder Drivers Ed Direct is quickly becoming the leading choice for Hemet High School, West Valley High School, Taquitz High School, Hamilton High School, Hemet Academy for Applied Academic or Technology Alpha Omega Christian School or Baptist Christian School teens.
Why Hemet Teenagers Should Take Online Drivers Education
Does the idea of sitting in a crowded classroom somewhere in Riverside County for 4 Saturdays get you down? Not looking forward to making the long distance commute to a driving school class somewhere in East Hemet, San Jacinto, Beaumont, Sun City, Banning, Perris, Canyon Lake, Murrieta, Moreno Valley, Yucaipa, Temecula, Wildomar, Lake Elsinore, Redlands, and Palm Springs? With online drivers ed, you can avoid all of the pitfalls of classroom drivers ed and at the same time take advantage of all the great things online education has to offer: low prices, convenience, interactivity, and a self paced lesson plan. So skip class and get online, you will be happy you did.

CADMV Approved Drivers Education
Before paying for any drivers ed program, whether it be online or in a classroom, make sure the course you are registering for is approved by the Riverside County DMV. Any legitimate school should be able to show you their DMV approval letter that verifies that their CA course will actually earn you the completion certificate you need to obtain a learner's permit. You can view Drivers Ed Direct's DMV Approval letter here: Hemet, CA DMV Approval Letter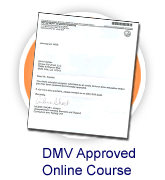 Your Guide to Taking Drivers Ed in Hemet
To earn your learner's permit (practice permit) at Hemet High School, West Valley High School, Taquitz High School, Hamilton High School, Hemet Academy for Applied Academic or Technology Alpha Omega Christian School or Baptist Christian School, you need to complete an approved drivers ed course. Here is how our CADMV approved course works:
Click on the 'Get Started' button found on this page
Fill out the quick registration form, choose to pay now or pay later, it's up to you
Complete the simple online lessons and quizzes
Pass the online final exam to earn your DMV certificate of completion
Go to the DMV to take a written permit examination (you must be at least 15 and a half to do this
Pass the written exam and go home with your practice permit that day!
CA Drivers Ed and a Whole Lot More
Traditional Hemet driving schools have earned a reputation of having boring classes, minimal instruction, and a short-lived relationship with their driving students. Not Drivers Ed Direct. We aim to be the Inland Empire's top driving school by offering CA driver education along with a lifetime of driving school resources to our students. We know that our students will still be learning to drive each and every day and we want to be there for them as they go along in their driving lives. We do this by offering ongoing driving resources, fostering safe driving programs, and keeping an open line of communication with students past and present through outlets like our e-news letters and Facebook.
---
Hemet High School Driving Resources Online

DrivingLinks.com is a great resource when you need anything related to driving. Whether you are looking for used cars in Hemet, insurance quotes in Riverside County, traffic school in the Inland Empire, or driving safety information for California, Florida, or any other state, DrivingLinks.com has you covered.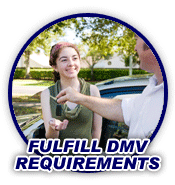 Not Living in Hemet or in the Inland Empire?
Drivers Ed Direct is not only the top driving school in the Inland Empire, we are a highly respected driving school across all of California and have even garnered national media attention on such shows as The Tonight Show, Dr. Phil, Jimmy Kimmel, and NBC news. No matter where you live in the state of California, you can enroll in our CA drivers ed and know you are getting the same quality education as all of our students, even those living outside of Hemet. Our goal is to save the world, one new driver at a time... including you!
Riverside County Traffic School
If your driving record is important to you, you will inevitably want to do all you can to keep any negative points off it. By taking an accredited traffic school class in Hemet, you can have simple one-point traffic violations removed from your driving record. TrafficSchool.com has an online internet traffic school course that is approved by Riverside County to erase traffic citations. When quality, low prices, and being able to do traffic school from home matter to you, then TrafficSchool.com is the smartest choice you can make for dismissing a ticket.