The Advantage of Taking Drivers Ed Online
A California DMV study concluded that students taking online or computer based drivers ed actually out perform students taking drivers ed in a traditional classroom setting when comparing exit exam scores. The advantages of an online drivers ed course are obvious:
Today's West Covina students naturally gravitate towards technology driven teaching methods, like the Internet
Online classes allow students the ability to start and stop as their attention span changes, whereas in traditional driving school classrooms, students tend to zone out or sleep when they become bored
Driver education online is more affordable for obvious reasons: low overhead, no books, no money spent on gas, etc.
Online drivers ed is more convenient because you can do it right from your West Covina home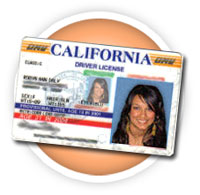 Practice Permit Exams Online
Taking DMV practice tests is a great way to review traffic safety laws, memorize street signs, and prepare for the permit test at the West Covina DMV. Before you your learn how to or drive on the freeway, getting a good understanding of the rules of the road is of the utmost importance. As you begin to learn to drive in Los Angeles County, a solid understanding of the basics is required so you can have the confidence you need to drive safely anywhere in Valinda, Baldwin Park, West Puente Valley, Covina, La Puente, Avocado Heights, Citrus, South San Jose Hills, Azusa, El Monte, Duarte, Walnut, Hacienda Heights, Charter Oak, and South El Monte. Enroll today at Drivers Ed Direct and gain access to our free DMV practice test module where you can take hundreds of sample test questions.
How Old Do I have to Be to Take Drivers Ed in California?
Our West Covina DMV approved drivers education program is approved for all of Los Angeles County, no matter if you are a private school student, public school student, or home school student. Students will be able to earn a driving permit at age fifteen and six months (15½), so taking and completing your drivers ed course prior to your 15½ birthday is highly recommended.

Lowest Priced Drivers Ed in West Covina
Besides being an effective educational resource, our Easy driver safety course is also a desirable drivers education alternative because it doesn't cost as much as the traditional classroom drivers ed. Instead of commuting to and from some out of the way driving school classroom in Los Angeles County, stay right at your home in West Covina and take our online driver's ed course for less. Besides saving with our already low-priced, discounted online course; you'll save gas money, commuting time, and won't have to worry about dealing with traffic hassles. It's no wonder Drivers Ed Direct is quickly becoming the leading choice for South Hills High School, West Covina High School, Suzanna International School of Art or Design, Edgewood High School or Step Of Faith Christian Academy teens.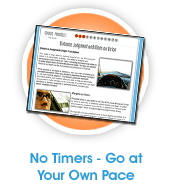 Easy Drivers Ed and a Whole Lot More
Traditional West Covina driving schools have earned a reputation of having boring classes, minimal instruction, and a short-lived relationship with their driving students. Not Drivers Ed Direct. We aim to be Southern California's top driving school by offering Easy driver education along with a lifetime of driving school resources to our students. We know that our students will still be learning to drive each and every day and we want to be there for them as they go along in their driving lives. We do this by offering ongoing driving resources, fostering safe driving programs, and keeping an open line of communication with students past and present through outlets like our e-news letters and Facebook.
Easy Drivers Ed
West Covina Drivers Education can assist teenager drivers with their drivers education requirement if they live in Southern California. Once the teenager driver completes the course, our offices are alerted and will process the certificate of completion on the next business day. As long as the teenager drivers is 15 1/2 years old and possesses the certificate, they can take their written test to receive their permit.
---
Los Angeles County Tickets
Got a traffic ticket in Los Angeles County? Get it removed from your CA DMV driving record when you complete an approved traffic school course online at TrafficSchool.com. All lessons and final exam can be taken online and even get confirmation of the ticket dismissal from your DMV record. It's the smart way to go to traffic school in West Covina.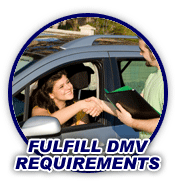 Not From West Covina?
It does not matter where you live in CA, our Easy drivers education curriculum is approved by the Los Angeles County DMV and all other California DMV's throughout the state. Any student from North California to Southern California, from the West Coast to the Inland Empire, from Central California and beyond can take our online drivers education course to fulfill their teen driver's education component and to earn the official DMV certificate needed to earn a provisional driving permit.
West Covina High School Driving Resources Online

Unlike several years ago, today's driver can accomplish a lot of routine DMV related tasks from home without having to drive to the physical West Covina DMV office. Changing your address, ordering tags, downloading DMV applications, and scheduling appointments can all be done with a few clicks and key strokes. Checkout DrivingLinks.com today to see how the internet is making your life easier when it comes to driving.