Los Angeles County Drivers Ed - Priced Low - No Coupons Needed!
Do you love high quality, highly educational drivers education? Do you like getting the best product while getting a great deal? Then our Home Schooled drivers education class is exactly what you are looking for. For students in Compton, use driving school coupon go65 and save yourself another $5 off of our already low-priced online course. Now you can get the best DMV approved drivers ed available in Los Angeles County without making a dent in your wallet!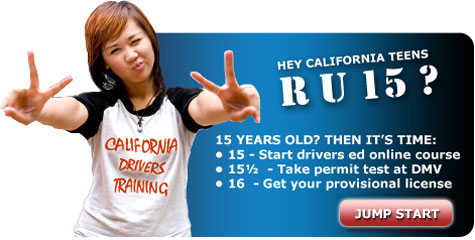 Home Schooled Drivers Ed: Step By Step
The Home Schooled Drivers Ed Direct course is simple to register for, simple to take, and simple to complete. We are committed to helping you every step of the way and give you the guidance you need to proceed to the DMV. Here is how our online program works, beginning to end:
Enroll in out Home Schooled drivers ed, it takes just a few minutes
Read each section; at the end of each section there is a short multiple choice exam
When finished with the program sections, there is a comprehensive final exam that you will have multiple attempts to pass; once you pass the final, we send you your drivers ed completion certificate
Take our simulated sample permit tests before you go to the Compton DMV to take your test
Go to the DMV (age 15½ minimum) and take your written permit test!
More than Just Home Schooled Drivers Education
Learning to drive is one of the most important milestones in any Compton teen's life. Just ask one of the hundreds of students from Centennial High School, Compton Community Day High School, Compton High School, Dominguez High School, Lifeline Education Charter, Thurgood Marshall, Tri Community Day, Eko Multipurpose Center Inc, James Academics & Development Corporation or Mcnair Christian Academy. Some eagerly anticipate getting their license, while other Los Angeles County teens are scared to get on the road. At Drivers Ed Direct, we cater to all teens by providing our students with all of the tools they need to be a success when they start driving alone. Our Home Schooled drivers education program teaches them the rules of the road and our online articles, blogs, and mentoring programs provide another important layer of insight into the world of driving. Well rounded drivers with the confidence they need to navigate our California roads safely and responsibly. That's what we're all about, from Compton to Lynwood, Willowbrook, Paramount, South Gate, Cudahy, Walnut Park, Gardena, West Athens, Westmont, Carson, Lakewood, Downey, Huntington Park, Bell, and Bellflower.
Home Schooled Drivers Education for Los Angeles County Drivers
Why take a break from the traditional drivers ed classroom? Because no Los Angeles County teen wants to spend 30 hours in a dark, packed classroom listening to Billy Bob lecturing about road rules and watching driving school videos from 1970. With Drivers Ed Direct's Home Schooled driving school program, you are allowed to take your drivers education course when you want to and where you want to. If you can get online in Compton, then you can complete our course with ease. All chapters are informational, engaging, and well organized. You're in total control and can complete the course at your own pace, login and out when you choose.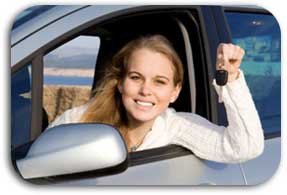 Compton, CA Drivers Ed Eligibility Requirements
Our Compton DMV approved drivers education program is approved for all of Los Angeles County, no matter if you are a private school student, public school student, or home school student. Students will be able to earn a driving permit at age fifteen and six months (15½), so taking and completing your drivers ed course prior to your 15½ birthday is highly recommended.
Compton Drivers Education
Introducing a Compton Drivers Education program that helps teens in Los Angeles County meet their California drivers education requirement without leaving home. With DriversEdDirect.com's online drivers ed class, students from Centennial High School, Compton Community Day High School, Compton High School, Dominguez High School, Lifeline Education Charter, Thurgood Marshall, Tri Community Day, Eko Multipurpose Center Inc, James Academics & Development Corporation or Mcnair Christian Academy can take our CADMV approved drivers ed class from any computer with internet access. Our course is high in quality, educational, and captivating. Students will learn important driving concepts through reading well organized chapters, completing interactive tutorials, passing quizzes, and taking a final exam. Our course also comes with unlimited practice DMV tests. If you want your son or daughter to be well educated before getting behind the wheel of a car, then our affordable online course is perfect for you.
---
Compton Traffic Tickets
Were you driving a little too fast on a Los Angeles County highway and got caught by a Compton police officer? Don't ignore your citation and let your driving record suffer. By completing a Los Angeles County approved traffic school course with TrafficSchool.com, you can have most moving violations removed from your driving records, helping you to keep your insurance rates from rising and your license from being suspended.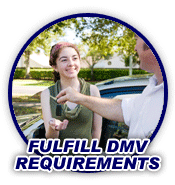 Learn To Drive Anywhere Southern California or Beyond!
It does not matter where you live in CA, our Home Schooled drivers education curriculum is approved by the Los Angeles County DMV and all other California DMV's throughout the state. Any student from North California to Southern California, from the West Coast to the Inland Empire, from Central California and beyond can take our online drivers education course to fulfill their teen driver's education component and to earn the official DMV certificate needed to earn a provisional driving permit.
Driving Links for Compton HS Students

Before you hit the road, make sure you're fully prepared with the latest in driving resources from DrivingLinks.com. Find car insurance quotes, insurance companies in Compton, local DMV office information, driver handbooks, and Los Angeles County traffic school, driving school, and drivers education resources.