Cheap Drivers Ed
Don't overpay for your drivers ed experience. Top quality drivers ed doesn't have to cost a small fortune. For high school students living in Orland, Chico, Red Bluff, Paradise, Magalia, Oroville, Anderson, Yuba City, Marysville, South Yuba City, Linda, Olivehurst, Redding, Clearlake, Shasta Lake, and Ukiah, drivers education can now be taken online at prices lower than ever before. Our course is California DMV approved, comes with an official completion certificate when you pass, and is priced much lower than what a traditional drivers education classroom costs.

Orland Driver Education
Teens who live in the Central Valley or attend Orland High School, Providence Christian High School or North Valley Christian School, are eligible for Orland Driver Education program. To prepare for your written test, a teen must complete a drivers education course. For additional preparation, a good idea would be fore the teen to study a California Driver Handbook.
Orland High School Drivers Education Requirements
Who is eligible to take our On Line driver education curriculum? Any teen living in California that wants to earn a learners permit and driver license. Technically, Orland teens cannot earn a permit until they turn fifteen and a half, so it makes most sense to wait until you are at least 15 before beginning our online course.
Completing the Drivers Ed Requirement in Orland
Ready to earn your drivers license? For most teens, the process starts around the age of 15 by taking a On Line drivers ed program. When a teenager in Orland turns 15½, they are legally old enough to earn a learning permit. After earning their permit, teens must take a minimum of 6 hours drivers training with a Department of Motor Vehicles licensed driving school in the Central Valley. In addition, teens must practice 50+ hours with their parents over a 6+ month period. When a teen turns 16 years old and had fulfilled all of their drivers ed and drivers training requirements, they can then schedule an appointment at the Orland DMV to take their license test. After taking the driver's license test (which is taken in-car), a passing student will go home with a temporary driver's license that same day.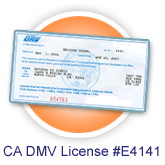 The Complete Drivers Education Experience
At Drivers Ed Direct, we believe drivers education doesn't end the day you get your license. The truth is, the first 500 miles that a Orland teen drives by themselves are the most dangerous miles they will ever drive in their lives. Teens will still need guidance from their parents and their driving school many months after they earn their driving privilege. Parents and teens can take advantage of the many resources available at Drivers Ed Direct designed to keep our students throughout the Central Valley, past and present, informed and up to date with current driving laws and issues. We are committed to ensuring the well-being of future driving adults from Orland High School, Providence Christian High School or North Valley Christian School.
Simple Drivers Ed in Glenn County
Glenn County Teens can complete their California drivers education requirement with On Line Online Drivers Education. If you participate in after school activities with Orland High School, Providence Christian High School or North Valley Christian School, our course will work well with your schedule because it's available all of the time. Login anytime and when you've completed as much as you want to, log off and your place will be saved.
---
Not Living in Orland or in the Central Valley?
Our internet driver training program is California Department of Motor Vehicles approved for each and every city in the state. Whether you live in Glenn County, somewhere in the Central Valley, or in another part of the state all together - you can take our course! We've helped students at Orland High School, Providence Christian High School or North Valley Christian School obtain their learner permit, but we've also helped literally hundreds of thousands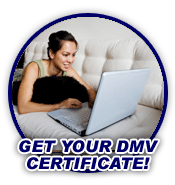 Driving Resources for Orland High School Teens

Unlike several years ago, today's driver can accomplish a lot of routine DMV related tasks from home without having to drive to the physical Orland DMV office. Changing your address, ordering tags, downloading DMV applications, and scheduling appointments can all be done with a few clicks and key strokes. Checkout DrivingLinks.com today to see how the internet is making your life easier when it comes to driving.
Preserving Your Driving Record in the Central Valley
It happens. You're driving down a road in Orland and you lose track of your speedometer. You look in your review mirror and the unwelcome sight of sirens is flashing and a Glenn County sheriff is beckoning you to pull over. 15 minutes later you are on your way with a traffic ticket in hand and your driving record ruined, right? Not necessarily! A single traffic ticket doesn't have to be the end of your status as a good driver. By completing the TrafficSchool.com online defensive driving course, you can actually have the ticket dismissed from your record and your insurance company will never know you were cited... meaning your insurance rates will never increase!