How Online Drivers Education Works
Taking drivers ed online with Drivers Ed Direct is the easy, fun, and educational way to fulfill your drivers education requirement in Martinez. Here's what you need to do:
Go online and sign up in minutes for our CADMV drivers ed course.
Read educational online lessons filled with interactive tutorials
Pass our online final exam from the comfort of your Martinez home - you have many attempts to pass!
When you pass, your completion certificate ships to your home in Martinez.
Take your drivers ed certificate, along with other DMV paperwork (we'll list them out for you) to the closest Contra Costa County DMV.
Pass your written permit test at the DMV and you go home with your permit that day (p.s. - this is when they take your picture for the license, so look sharp!)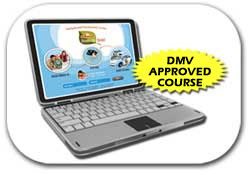 Nice and Easy Drivers Education for Martinez Teenagers
When it comes to convenience and simplicity, no other driving school can compete with Drivers Ed Direct's CADMV drivers education course. Our program is the 100% online solution for busy Contra Costa County teens who want the flexibility of completing their Martinez DMV requirements according to their own schedule. Besides being easy to access, our course is also easy to use for any student, whether or not they are computer literate. Each chapter is laid out in an easy to follow manner and interactive tutorials make it easy to avoid boredom. It's the easiest drivers ed in the San Francisco Bay Area!
Martinez, California Drivers Education Eligibility Requirements
The Drivers Ed Direct CADMV drivers ed course can be taken by any teen in Martinez, Benicia, Concord, Pleasant Hill, Hercules, Walnut Creek, Vallejo, Pinole, El Sobrante, Lafayette, Bay Point, Orinda, El Cerrito, Clayton, San Pablo, and Berkeley who is about to turn 15½ (the minimum age that you may take your permit test at the Martinez DMV). We recommend starting our DMV Approved drivers ed course sometime around your 15th birthday; that way you will be ready to go to the DMV when you turn 15½ and earn your learner's permit. Our course has been reviewed thoroughly by the Department of Motor Vehicles headquarters in Sacramento, CA and is approved for any age-eligible teens in the state looking to fulfill the drivers education requirement. So whether you are home schooled or attend Alhambra Senior High School, Briones (alternative), Golden Gate Community, Vicente Martinez High School or New Vistas Christian School, you can enroll in our course.

Free Practice Multiple Choice DMV Tests
If you live in the San Francisco Bay Area and you are about to turn 16, there's no doubt that you are excited to earn your drivers license. Before you can earn your license, you must first earn a learner's permit by passing a written test at a Contra Costa County, California DMV. At DriversEdDirect.com, we offer our students all of the tools they need to succeed on their permit test. In addition to our state-of-the-art drivers ed class, we also provide unlimited DMV sample tests to our students at no additional charge. These example practice tests for your permit are the added advantage Martinez teens need to pass their driving permit test on the first try.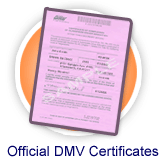 CADMV Approved Drivers Education
If your teenager lives in the San Francisco Bay Area, he or she is eligible to take our California Department of Motor Vehicles approved drivers education course. Make no mistake, there is a big difference in completing a California approved course versus one that is not approved. Specific guidelines must be followed with the California DMV and proof of completion is a must for teenagers to qualify to take the written exam. In addition to meeting specifications with California, our self-paced course provides top quality driver ed and is entirely online.
CADMV Drivers Ed
CADMV Drivers Education offers an online drivers education course for California teens. If you live in Contra Costa County or in Benicia, Concord, Pleasant Hill, Hercules, Walnut Creek, Vallejo, Pinole, El Sobrante, Lafayette, Bay Point, Orinda, El Cerrito, Clayton, San Pablo, and Berkeley , your teen can receive quality online education with our program. In addition, parents can sit along side their teen and observe how the program runs. If a parent decides this is not the right program for their student, we have a 'Try it before you buy it' policy so parents can be at ease knowing that they do not have to pay for a program they feel does not suit their child. However, we believe our course is something both teen and parent will be happy with.
---
Contra Costa County Tickets
Pulled over in Contra Costa County for speeding? Don't pay your ticket without going to traffic school first! TrafficSchool.com, the San Francisco Bay Area's leading traffic school, can help you save your driving record by eliminating the negligent operator points from your driving record. So give TrafficSchool.com a try and avoid any costly increases in your auto insurance premiums.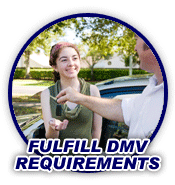 Not Going to High School in Martinez?
Not a resident of Martinez? Or maybe you are planning of moving outside of Contra Costa County soon and don't want to start drivers ed because you're concerned you'll have to do it all over again when you move into you're new home in another city. With Drivers Ed Direct, you get a drivers ed course that is approved across the entire state of California, so even if you change residences or move across county lines, you won't have to worry about your drivers ed course being lost. Since we're 100% online, you can pick up online from your new home without any down time or loss of course credit. We are the most convenient drivers education provider in the San Francisco Bay Area and beyond!
Online Martinez DMV Help and Other Driving Resources

Drivers in Contra Costa County looking for quality driving related resources need to visit DrivingLinks.com. Browse a wide variety of resources for every motorist, from beginner to expert. Check out what DMV's are located in the San Francisco Bay Area and download forms from home instead of driving to your local Martinez DMV.