Completing the Driver's Ed Requirement in Los Angeles County
How to fulfill the Sunland, CA drivers education requirement is often misunderstood, but in all reality, it is a quite simple process. In a nut shell, here's what a teenager needs to do in order to earn a learner permit:
Enroll in a California DMV drivers education course
Fulfill the course requirements and pass the course's final exam in order to earn a DMV drivers ed certificate
Take your drivers ed certificate to the nearest Los Angeles County DMV office
Pass a multiple choice exam at the DMV; you are allowed to miss up to 8 questions
If you pass, you get your picture taken and go home with a paper learner's license that day.
Please note: Before driving with your permit, you must first complete your first lesson with a licensed driving school.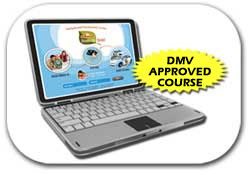 Free Practice DMV Quizzes
Free DMV practice tests! Just another perk from Drivers Ed Direct when you take our Simple drivers education course. Use our practice test simulator to help better prepare you for your big permit test day at the Sunland DMV. Our practice tests are multiple choice and include questions almost identical to the real permit test questions.
Simple Drivers Education in Sunland
Are you a Sunland high school student with a heavy school load? Or maybe you are super busy with school clubs, athletics, or after school activities? If so, then you probably don't have a lot of extra time to drive back and forth to some out or the way drivers ed class somewhere in Southern California. Why not take your drivers ed class from home, when you want to? Our Simple course is as simple as can be: you sign up online, take the course online, and login and logout whenever and wherever you choose. Join students in Sunland Christian School who already know that Drivers Ed Direct is the fun, easy way to earn your learner's permit.

Low Cost Drivers Ed in Sunland
Simple drivers education can be highly educational without costing an arm and a leg. Our online course will save you money in many ways:
You won't have to drive back and forth to a classroom somewhere in Los Angeles County
Our course is 100% online; there are no books or video to buy
We have low overhead so we can charge you a low low price; we will even price match any other DMV approved course in Southern California!
Our course doesn't expire, so you never have to worry about paying twice for the same course
.
Now you see why our high quality, lowest priced drivers ed course is the preferred course for students at Sunland Christian School.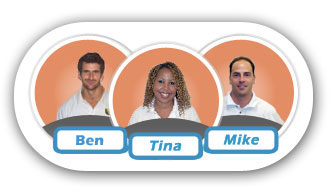 Driving Instruction from the Best
With Drivers Ed Direct, our students can with our highly qualified instructors. We teach students of all ages and if you or a loved one needs to learn a specific maneuver or prepare for a drive test, let us know. Our instructors train for over 60 hours and many of them have been with our company for several years. You won't find a better group of driving instructors anywhere in Sunland. If you need to take a drive test, but have no one to take you, that's okay. Just ask us about our Sunland DMV Test Prep service and when you use this service, you have a choice to take your test in the Prius or the Escape SUV.
Sunland, CA Driving School Lessons
Let Drivers Ed Direct be your first choice when it comes to selecting a Sunland driving school. We are well respected throughout Southern California and have taught thousands of teens throughout Sunland, Lake View Terrace, Tujunga, La Crescenta, Slymar, and La Canada Flintridge how to drive. We teach every aspect of driving, from basics like parking, turning, and braking to more advanced skills like canyon driving, freeway driving, and defensive driving. If you want to learn how to and more, make Drivers Ed Direct your driving school!
---
Dismissing Los Angeles County Court Tickets
If your driving record is important to you, you will inevitably want to do all you can to keep any negative points off it. By taking an accredited traffic school class in Sunland, you can have simple one-point traffic violations removed from your driving record. TrafficSchool.com has an online internet traffic school course that is approved by Los Angeles County to erase traffic citations. When quality, low prices, and being able to do traffic school from home matter to you, then TrafficSchool.com is the smartest choice you can make for dismissing a ticket.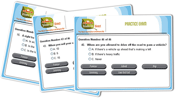 Driving Resources for Sunland High School Teens

Looking for an online driving guide to help you navigate the roadways in Los Angeles County? DrivingLinks.com has a plethora of online resources for the Sunland driver, both young and old. Teens can benefit from the online driving handbooks, drivers ed resources, and driving games. Mature drivers can find online traffic schools, defensive driving classes, and printable DMV forms. Get help with all things driving at DrivingLinks.com.
Learning to Drive Outside of Southern California California
You no longer need to drive to a classroom located within Sunland city limits to earn your drivers education certificate. Regardless of where you live in Lake View Terrace, Tujunga, La Crescenta, Slymar, and La Canada Flintridge, or even if you live outside of Los Angeles County, you can take our course over the internet without having to commute anywhere.