Web-based Drivers Ed and a Whole Lot More
Drivers Ed Direct delivers much more than your average driving school in Los Angeles. Besides providing Los Angeles HS teens with an amazing drivers education experience, we also do our part to make our students the most informed and responsible drivers they can be. We sponsor teen safety awareness program (like our original Respect Reality Pledge for Change), publish articles and news letters with driving law updates, and strive to remain "driving partners" with our students long after they graduate by constantly updating our Driving School Facebook page with driving tips and news. We promise, we offer more than just another Web-based driving school class... much more!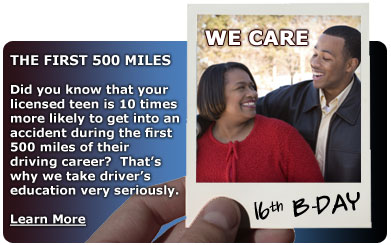 Web-based Drivers Ed: Step By Step
It's amazing how may teens and parents in Los Angeles come to us, confused about the driver's licensing process in Los Angeles County. It's really a simple process once the steps are clearly laid out. Here are the general steps one should take to earn a license in Southern California:
Sign up for our Web-based drivers education class sometime before you turn 15½
Pass our online program to earn a completion certificate for the Los Angeles DMV
Take and pass your test at the DMV to earn your learner permit
Take lessons with a local Los Angeles driving school and practice for 6 months with your permit
After 6 months of practice and when you are at least 16, go the DMV to pass your driving test.
Pass your drive test and go home with your provisional license
Department of Motor Vehicles Approved Drivers Education
Searching for an approved drivers education course in Los Angeles is a good starting point for any teen looking to earn their California driver's license. If students do not take a CA DMV Approved drivers ed program, they will not be allowed to earn their learner permit when they go to the Los Angeles DMV to take their written test. Our Web-based drivers ed is the ideal solution for any age appropriate high school student (at least 15½) within Los Angeles County.

The Advantage of Taking Drivers Ed from Home in Los Angeles
Here are some compelling reasons students in Southern California should take their drivers ed course online versus sitting in a boring classroom:
Online classes allow you to stay at your Los Angeles home
Online classes are more flexible and can be worked around your schedule
Our Web-based driver ed class is highly affordable
A DMV study concluded that internet courses better prepare students than classroom courses for their permit exam
Our online program is continually updated and always fresh with recent driving information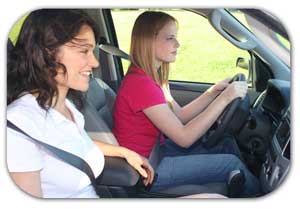 Drivers Ed Direct: A Driving School With Everything You Need
Having a tough time finding a Los Angeles driving school that meets all of your needs? When students sign up with Drivers Ed Direct, they have the opportunity to schedule with male or female instructors. They also have a choice of vehicles (Hybrid SUV or Toyota Prius) and can either schedule lessons over the phone or go online and request a date and time. If a student finds an instructor they prefer, they can put in a request for that instructor to handle all or most of their lessons. We also have pay-as-you-go options available to help keep the cost of learning to drive reasonable.
Los Angeles, CA Driving School Lessons
With Drivers Ed Direct, your teen has an opportunity to take beginner lessons (residential and main streets), freeway lessons, canyon lessons and lessons to prepare for the California DMV drive test. Our services are not limited to teens. Adults can take lessons with us too. As long as your pick up and drop off location is within Southern California or Los Angeles, we'll be happy to service you.
---
Los Angeles Traffic Tickets
It happens. You're driving down a road in Los Angeles and you lose track of your speedometer. You look in your review mirror and the unwelcome sight of sirens is flashing and a Los Angeles County sheriff is beckoning you to pull over. 15 minutes later you are on your way with a traffic ticket in hand and your driving record ruined, right? Not necessarily! A single traffic ticket doesn't have to be the end of your status as a good driver. By completing the TrafficSchool.com online defensive driving course, you can actually have the ticket dismissed from your record and your insurance company will never know you were cited... meaning your insurance rates will never increase!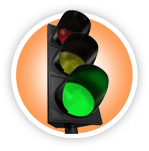 Need Drivers Ed, But Not a resident of Southern California?
Learning to drive in California is finally convenient for everyone, no matter where you live. Whether living in a larger city like Los Angeles, or in a smaller city somewhere outside of Southern California, high school students from any city in CA can easily fulfill their driver education requirement from the comfort of their own home. Our Web-based course is approved by the Department of Motor Vehicles and can be taken by any teen, regardless of where they live in California.
Los Angeles High School Driving Resources Online

No matter if you are a new driver or a seasoned road warrior, DrivingLinks.com has the resources you need to make life on the road just a little bit easier. Learn traffic safety laws, enroll in Los Angeles County defensive driving classes, play interactive driving games, locate the Los Angeles DMV, and download DMV forms... get it all online without having to leave your home.