Valencia Classroom Drivers Education vs. Online Drivers Ed
Learning the rules of the road and California traffic laws can be a 30-hour long, boring process when students at Valencia High School, West Ranch High School or Learning Post High School are forced to sit in a traditional Valencia driving school classroom. When students become disengaged, the knowledge they need to learn is lost and their ability to become the best driver they can be is harmed. By electing to take a CA DMV approved online drivers ed course, students are able to break the course up into smaller sections and learn the material at their own pace. Furthermore, our drivers ed course is packed with interactive lessons and well written curriculum designed to engage our students attention so they succeed on their DMV test and when they one day become licensed drivers out on the open road.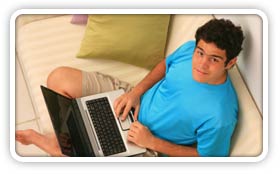 Completing the Driver's Ed Requirement in LA County
It's amazing how may teens and parents in Valencia come to us, confused about the driver's licensing process in LA County. It's really a simple process once the steps are clearly laid out. Here are the general steps one should take to earn a license in the Conejo Valley:
Sign up for our Industry Best drivers education class sometime before you turn 15½
Pass our online program to earn a completion certificate for the Valencia DMV
Take and pass your test at the DMV to earn your learner permit
Take lessons with a local Valencia driving school and practice for 6 months with your permit
After 6 months of practice and when you are at least 16, go the DMV to pass your driving test.
Pass your drive test and go home with your provisional license
Free DMV Practice Written Tests
Practice makes perfect, right? We like to think so, that's why we offer our students in Valencia unlimited, free online sample DMV tests. Take the example tests over and over again, until you feel comfortable with the different sets of multiple choice questions. Our free sample tests are never the same, thanks to our DMV sample test generator that uses a pool of over 200 DMV test questions and answers to formulate unique example test after unique example test. No matter where you call home in LA County, from Valencia to Santa Clarita, Stevenson Ranch, Newhall, Saugus, Canyon Country, and San Fernando, our practice DMV permit tests are the best!

Who Qualifies for Drivers Education in LA County?
In California, teenagers must be 15½ before they can earn a learner's driving permit. With this said, it makes most sense for teens to begin their drivers education when they turn 15. This will give them ample time to familiarize themselves with the rules of the road, read the driver handbook, and take several practice DMV tests before going to your local Valencia DMV to take the written permit test. Our Industry Best driver education program is approved for any teen in LA County, whether you are home schooled or attend Valencia High School, West Ranch High School or Learning Post High School.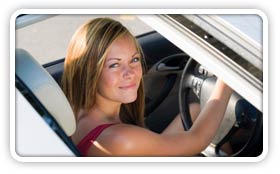 Student Driver Training in Valencia
If you want to learn , Drivers Ed Direct can accommodate you. With a coverage area of the Conejo Valley, highly qualified instructors and an excellent reputation, we look forward to servicing your special requests. We offer lessons in our well-maintained Toyota Prius' and Ford Escape SUVs with instructors in the Valencia area. Questions? Feel free to contact our office and our friendly customer service staff will be happy to assist you.
Drivers Ed Direct: A Driving School With Everything You Need
Our DMV Licensed Driving School gives driving instruction 7 days a week. Our schedule includes early morning, mid/late afternoon and early/late evening lessons. We teach students of all ages. We will work with beginners, who need to prepare for their California DMV Drive Test and experienced drivers who need to brush up on the rules of the road. Most of our clientele is based in the Conejo Valley and enjoy our pick up and drop off service at their home located in Valencia, but we will work with students who live outside of our coverage area if they choose to meet us within our service boundaries.
---
Not Attending Valencia High School?
It does not matter where you live in CA, our Industry Best drivers education curriculum is approved by the LA County DMV and all other California DMV's throughout the state. Any student from North California to Southern California, from the West Coast to the Inland Empire, from Central California and beyond can take our online drivers education course to fulfill their teen driver's education component and to earn the official DMV certificate needed to earn a provisional driving permit.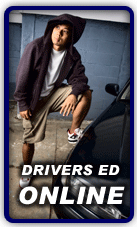 Traffic Ticket Class for the Conejo Valley
Did you get ticketed in Valencia? For most moving violations cited in LA County, eligible drivers can have the citation dismissed and keep the negligent operator point from appearing on their California Driving Record. TrafficSchool.com, the leading online traffic school provider in the Conejo Valley, has easy, educational, and LA County Court approved traffic school classes that you can take from the comfort of your own home. Visit TrafficSchool.com to learn more about their affordable internet classes and to read hundreds of testimonials from satisfied customers throughout California.
LA County High School Driving Resources and Information Online

Drivers in LA County looking for quality driving related resources need to visit DrivingLinks.com. Browse a wide variety of resources for every motorist, from beginner to expert. Check out what DMV's are located in the Conejo Valley and download forms from home instead of driving to your local Valencia DMV.