California DMV Approved Drivers Ed Course
Obtaining the privilege to drive in California requires completing a few short steps. The first step is completing the Low Cost Drivers Education Course. Once this California DMV approved course is complete, your teen will be eligible to take the DMV written test. Proof of completion is a requirement, and will provide the proof your teen needs once the course is complete. When your teen passes the written test, your teen will receive a driving permit. Your teen will need to complete at least 1 lesson with an approved driving school in order to activate the permit. Student's who live in Encino, Woodland Hills, Canoga Park, Lake Balboa, Winnetka, Northridge, and Hidden Hills are eligible to take the course.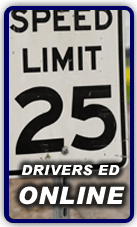 The Advantage of Taking Drivers Ed from Home in Tarzana
Here are some compelling reasons students in the San Fernando Valley should take their drivers ed course online versus sitting in a boring classroom:
Online classes allow you to stay at your Tarzana home
Online classes are more flexible and can be worked around your schedule
Our Low Cost driver ed class is highly affordable
A DMV study concluded that internet courses better prepare students than classroom courses for their permit exam
Our online program is continually updated and always fresh with recent driving information
Completing the Drivers Ed Requirement in Tarzana
Not sure how to earn a driver's license? No matter where you live in LA County, from Tarzana to Encino, Woodland Hills, Canoga Park, Lake Balboa, Winnetka, Northridge, and Hidden Hills, the process is the same for all teenagers in the state of CA:
Enroll in our Low Cost drivers education class (100% online)
Complete drivers ed to earn a DMV certificate
Go to the DMV and pass a written permit test
Complete your drivers training requirement (driving school lessons and practice with parents)
Pass a driving test at a qualified DMV in LA County
.
If you are a student at Faucher Academy, then you can earn your permit at 15½ and a driver's license when you turn 16 (if all DMV requirements have been met).

Free Practice DMV Quizzes
Passing your permit test at the Tarzana DMV is easy when you choose Drivers Ed Direct as your driving school. First of all, our Low Cost drivers ed course will thoroughly prepare you with the knowledge you need to master the rules of the road. In addition to our online course, we also provide students with example DMV practice tests. Take as many sample tests as you want with our practice permit test generator. Finally, reading your CADMV handbook will even further prepare you to succeed come test day. Practice tests are available for all students in LA County, including teens at Faucher Academy.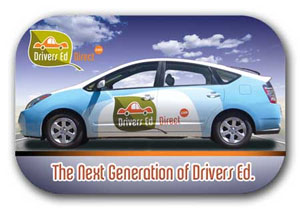 Trusted Tarzana High School Drivers Training
Drivers Ed Direct gives you and your teen choices. You can request a lesson online or over the telephone. You can take your lessons in the morning, afternoon or evening. You can take your lessons in a Toyota Prius or the Ford Escape. You can choose between a male or a female instructor. If your teen lives Tarzana or attends Faucher Academy, you can arrange a pick up from school and drop off at home. If you'd like your teen to , just ask. In fact, feel free to ask us any driving related question and we'll be happy to assist you.
Driving Lessons in Tarzana, CA
With Drivers Ed Direct, your teen has an opportunity to take beginner lessons (residential and main streets), freeway lessons, canyon lessons and lessons to prepare for the California DMV drive test. Our services are not limited to teens. Adults can take lessons with us too. As long as your pick up and drop off location is within the San Fernando Valley or Tarzana, we'll be happy to service you.
---
Dismissing Tarzana Court Tickets
Being a perfect driver can be challenging, and even the most careful driver is susceptible to the dreaded traffic ticket. In the even that you are cited for speeding in Tarzana or pulled over for running a red light in the San Fernando Valley, TrafficSchool.com can help ease your pain. Sure, no one wants to go to traffic school, but if you have to go to traffic school (and you will want to, in order to avoid having the ticket go on your DMV driving record), TrafficSchool.com makes it as easy as possible by offering everything online and making the material easy to understand and the final exam easy to pass. Check out their LA County Approved trafficschool class today!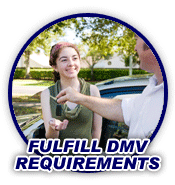 Not Going to High School in Tarzana?
Our Drivers Education course has been approved by the California Department of Motor Vehicles for any age-appropriate teen meeting today's driver licensing requirements. Whether you are from Tarzana, somewhere else in LA County, or anywhere in the San Fernando Valley; you can complete our courses online to meet your driver's ed requirement. Not from a the San Fernando Valley high school like Faucher Academy? Not a problem, we have classes for soon-to-be teen drivers across all of California:
LA County High School Driving Resources and Information Online

No matter if you are a new driver or a seasoned road warrior, DrivingLinks.com has the resources you need to make life on the road just a little bit easier. Learn traffic safety laws, enroll in LA County defensive driving classes, play interactive driving games, locate the Tarzana DMV, and download DMV forms... get it all online without having to leave your home.