LA County Drivers Education Eligibility Requirements
What are the CA Department of Motor Vehicles requirements for teens who want to begin drivers ed? Because the earliest you can earn a provisional permit is at age 15½, most teens will begin their education around 15 years of age. Hermosa Beach teens can technically enroll in our Industry Best drivers ed course at any age, but we suggest starting when you are 14 and 15 is best. You want to allow yourself time to really get to know the driving laws and regulations. Also, you will want to read the entire DMV handbook in addition to taking our course. Many LA County high school students will take our course when they are 15 and then log back in just before they turn 15½ to take free practice tests and to review traffic signs, driving laws, and road rules.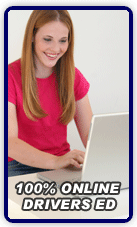 Free DMV Practice Written Tests
When preparing for the California DMV written test, our Industry Best Drivers Education Program comes with FREE DMV Practice Tests. The practice tests contain 46 multiple choice questions and covers topics like road rules, traffic signs, and driving regulations. Before you go to a LA County DMV for your test, take as many tests as you can and increase your chances of passing the first time.
How Drivers Ed Works in the State of California
How to fulfill the Hermosa Beach, CA drivers education requirement is often misunderstood, but in all reality, it is a quite simple process. In a nut shell, here's what a teenager needs to do in order to earn a learner permit:
Enroll in a California DMV drivers education course
Fulfill the course requirements and pass the course's final exam in order to earn a DMV drivers ed certificate
Take your drivers ed certificate to the nearest LA County DMV office
Pass a multiple choice exam at the DMV; you are allowed to miss up to 8 questions
If you pass, you get your picture taken and go home with a paper learner's license that day.
Please note: Before driving with your permit, you must first complete your first lesson with a licensed driving school.

Providing More than Just Industry Best Drivers Ed
Get more than just your average driver education experience when you select Drivers Ed Direct as your Hermosa Beach driving school. Browse our website for free resources that other driving school in Southern California just don't offer. We have an ongoing and update drivers education article database, online driving games, free DMV practice exams, web videos, and engaging programs like our highly touted Respect Reality Driving Campaign for LA County Teens. See what the buzz is about and why we're not just another run-of-the-mill driving school.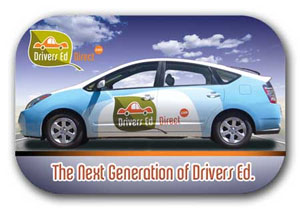 Highly Trained, Professional Driving Instructors
One advantage of the Drivers Ed Direct driving school is that we give you the opportunity to choose your instructor. With over 25 qualified and friendly, male and female instructors to choose from, you're sure to find more than a few that you like. With whatever you decide, all of our instructors are highly qualified to teach your teen the proper rules for driving in California. Your teen can learn how to drive in all types of situations and during different hours of the day or night in Southern California. Our aim is to make sure your needs are met and if you request to learn how to , we work towards getting that done along with everything else you need to know in order to drive.
Student Driver Lessons in Hermosa Beach
Drivers Ed Direct students come from all different parts of Southern California. Many of them attend Mira Costa High School or Redondo Union High School and have referred their friends in Hermosa Beach to us. Our instructors use the 'mentor' approach which has proven to be successful with our students. Students tend to be more relaxed with this approach and have been able to retain and absorb information to help them pass the California DMV Driving Test with flying colors. Each driving lesson aims to teach progressively more challenging driving techniques. We start in a residential setting, move onto busier streets, and eventually go on the freeway when you child is ready. If you want to learn how to and more, then give the favorite driving school in Hermosa Beach a call!
---
Hermosa Beach High School Driving Resources Online

Find a comprehensive collection of driving links and resources designed to make the driving life of Southern California residents easier and more efficient. Hop online to choose a traffic school for your LA County ticket or find a driving school in Hermosa Beach for your teen. You can also download DMV forms, play driving flash games, and read articles related to driving.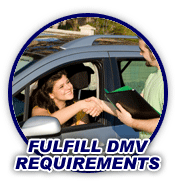 Moving Outside of Southern California?
Our driving school course online is the most convenient course in the entire state of California. Whether you change high schools or move from Hermosa Beach to somewhere in Manhattan Beach, Redondo Beach, Torrance, El Segundo, and Palos Verdes, our Industry Best drivers ed class is approved statewide, so you can rest assured that our course will still be approved for you. Whether you are home schooled, go to high school in Mira Costa High School or Redondo Union High School, or are already done with high school, teens can use our course worry free, knowing they are taking a CA-DMV Approved class.
LA County Traffic School
Don't let a traffic citation ruin your day or your driving record. Drivers cited for a one-point moving violation in LA County can attend an 8-hour traffic school to have their violation effectively removed from their official driving record. With TrafficSchool.com, the best traffic school in Hermosa Beach, you can complete your 8-hour traffic school requirement right from home without having to attend a boring traffic school or a painful to endure comedy traffic school.