DMV Authorized Drivers Ed - Approved For all of Simi Valley
If your teenager lives in Southern California, he or she is eligible to take our California Department of Motor Vehicles approved drivers education course. Make no mistake, there is a big difference in completing a California approved course versus one that is not approved. Specific guidelines must be followed with the California DMV and proof of completion is a must for teenagers to qualify to take the written exam. In addition to meeting specifications with California, our self-paced course provides top quality driver ed and is entirely online.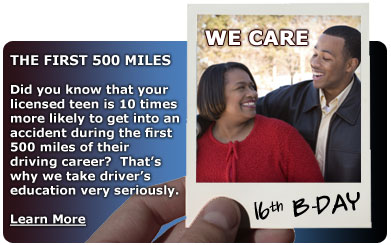 The Benefits of an Internet Based Drivers Education Course
Today's Simi Valley teenagers have 2 choices for fulfilling their California Drivers Education requirement: attending a 30 hour classroom course or taking a Ventura County CA DMV approved Internet-based course. Besides being more affordable, more convenient, and self-paced, online drivers ed is also proven to better prepare teens for their written exams. According to a 2003 DMV study, teens completing a computer based drivers ed course versus a traditional drivers ed class actually scored higher on their exit tests.
Nice and Easy Drivers Education for Simi Valley Teenagers
You're a busy Simi Valley teen, right? You've got school, sports, clubs, and a hundred other things taking up your time. The last thing you want to do is spend four 8-hour Saturdays locked in a stuffy traffic school classroom somewhere half way across Ventura County. Wouldn't you rather get a better quality education without leaving home? Join the other students at Simi Valley High School, California Virtual Academy at Jamestown, California Virtual Academy at Kings, California Virtual Academy at Los Angeles, Califonia Virtual Academy at San Mateo, California Virtual Academy at Sutter, California Virtual Academy at Kern, California Virtual Academy at San Diego, California Virtual Academy at San Joaquin, Royal High School, Santa Susanna High School, Simi Valley High School, Grace Bethren Jr Sr High School or Valley Bible Academy who have already discovered the fastest, easiest, most convenient way to earn their driver's education certificate. Take your drivers ed online with Southern California leader in driving school services: Drivers Ed Direct!

Driver's Education Guide for Simi Valley Teenagers
How to fulfill the Simi Valley, CA drivers education requirement is often misunderstood, but in all reality, it is a quite simple process. In a nut shell, here's what a teenager needs to do in order to earn a learner permit:
Enroll in a California DMV drivers education course
Fulfill the course requirements and pass the course's final exam in order to earn a DMV drivers ed certificate
Take your drivers ed certificate to the nearest Ventura County DMV office
Pass a multiple choice exam at the DMV; you are allowed to miss up to 8 questions
If you pass, you get your picture taken and go home with a paper learner's license that day.
Please note: Before driving with your permit, you must first complete your first lesson with a licensed driving school.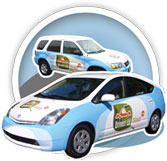 Simi Valley Driving School Benefits
Having a tough time finding a Simi Valley driving school that meets all of your needs? When students sign up with Drivers Ed Direct, they have the opportunity to schedule with male or female instructors. They also have a choice of vehicles (Hybrid SUV or Toyota Prius) and can either schedule lessons over the phone or go online and request a date and time. If a student finds an instructor they prefer, they can put in a request for that instructor to handle all or most of their lessons. We also have pay-as-you-go options available to help keep the cost of learning to drive reasonable.
Learn to Drive From the Best Instructors
With over 60 hours of driving instruction training, an extensive background check and previous experience working with young people, our driving school instructors are trusted individuals who care about the quality of drivers training they pass on to their students. In addition, they are friendly and teach with a mentor approach that puts each student at ease during each lesson. Students can with any of our highly qualified instructors. If a student is taking their drive test at Simi Valley DMV, they can request that their instructor go over the drive test information.
---
Ventura County Tickets
Being a perfect driver can be challenging, and even the most careful driver is susceptible to the dreaded traffic ticket. In the even that you are cited for speeding in Simi Valley or pulled over for running a red light in Southern California, TrafficSchool.com can help ease your pain. Sure, no one wants to go to traffic school, but if you have to go to traffic school (and you will want to, in order to avoid having the ticket go on your DMV driving record), TrafficSchool.com makes it as easy as possible by offering everything online and making the material easy to understand and the final exam easy to pass. Check out their Ventura County Approved trafficschool class today!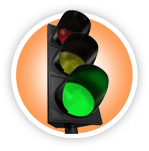 More Driving Resources for Simi Valley Teen Drivers

DrivingLinks.com is a great resource when you need anything related to driving. Whether you are looking for used cars in Simi Valley, insurance quotes in Ventura County, traffic school in Southern California, or driving safety information for California, Florida, or any other state, DrivingLinks.com has you covered.
Moving Outside of Southern California?
No matter where you will be driving in California, Drivers Ed Direct has the perfect drivers ed for you. Our DMV Authorized course is approved for every city in Moorpark, Thousand Oaks, Westlake Village, Agoura Hills, Calabasas, Fillmore, Camarillo, Santa Clarita, Santa Paula, Malibu, San Fernando, Oxnard, Santa Monica, Port Hueneme, and Beverly Hills and every high school, even those not found in the Simi Valley area. In fact, no matter where you live in California, we have a course that will help you successfully earn your permit and drivers license.