Why Palo Alto Teenagers Should Take Online Drivers Education
You have two choices when enrolling in drivers education in Palo Alto, CA: taking drivers ed online or attending a 30-hr classroom course. Obviously, the easiest way to get your learner's permit is with online drivers education. What a lot of people don't know, however, is that online drivers ed also prepares student better, according to a 2003 DMV study. It's no wonder the DMV's study came to such a conclusion. Online driver education comes loaded with interactive lessons, free practice tests, and the ability go at your own pace with unlimited logins. If you live anywhere in Santa Clara County and attend Henry M. Gunn High School, Palo Alto High School, Kehillah Jewish High School and Palo Alto Prep, then online drivers education is the wise choice for fulfilling your Palo Alto, California Department of Motor Vehicles Requirement.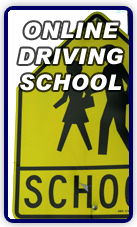 Palo Alto Driver Education
Defensive Drivers Ed offers an online course that is approved for teens who live in Palo Alto. The Department of Motor Vehicles of California approved course can help teens with a strong start to their lifetime of driving. With reading and lessons, teens will retain important information that they will need in order to take their written test and rules of the road that they will need to pass their driving test. If you're unsure this is the course for you, try our no obligation ' try it before you buy it' option.
Defensive Drivers Education in Palo Alto
You're a busy Palo Alto teen, right? You've got school, sports, clubs, and a hundred other things taking up your time. The last thing you want to do is spend four 8-hour Saturdays locked in a stuffy traffic school classroom somewhere half way across Santa Clara County. Wouldn't you rather get a better quality education without leaving home? Join the other students at Henry M. Gunn High School, Palo Alto High School, Kehillah Jewish High School and Palo Alto Prep who have already discovered the fastest, easiest, most convenient way to earn their driver's education certificate. Take your drivers ed online with the San Francisco Bay Area leader in driving school services: Drivers Ed Direct!
How To Fulfill the Drivers Ed Requisite in Palo Alto
The DMV has set forth a set of rules and procedures designed to make new drivers educated and road ready before they start driving on our public roadways. The graduated drivers license program has helped thousands of teens in the San Francisco Bay Area become a relatively safer group of drivers than teens just 20 years ago. In order to earn a license, teens must successfully complete the following:
Complete drivers education
Pass a written road rules test at the CA DMV
Take drivers training (in-car driving lessons)
Practice 50 hours minimum with their parents
Pass a driving examination at the DMV
Drivers Ed Direct, a licensed driving school in Palo Alto and all of California, has the Defensive drivers ed class that can help you satisfy your drivers education requirement in full.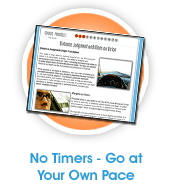 Free Practice Exams for the CA DMV Permit Test
Nervous about your upcoming permit test at your local Palo Alto DMV office? Don't be! If you choose Drivers Ed Direct as your driving school (like hundreds of other teens in Santa Clara County already have), you will be well prepared to succeed on your written exam. Reading your driving handbook and completing our Defensive drivers ed class will prepare you well, but taking our sample CADMV practice tests online will give you even more test-day confidence. Take as many practice tests as you want, we don't mind and we won't charge you a penny extra! Guess that's why students at Henry M. Gunn High School, Palo Alto High School, Kehillah Jewish High School and Palo Alto Prep absolutely love our California licensed driving school.
Am I Eligible for Online Drivers Ed?
Who is eligible to take our Defensive driver education curriculum? Any teen living in California that wants to earn a learners permit and driver license. Technically, Palo Alto teens cannot earn a permit until they turn fifteen and a half, so it makes most sense to wait until you are at least 15 before beginning our online course.
---
Not From Palo Alto?
Looking for the leading driving school in Palo Alto, Stanford, Menlo Park, Atherton, Redwood City, Mountain View, and Los Altos? Look no further! DriversEdDirect.com is your complete Defensive solution for fulfilling your drivers ed requirement. Even if you don't live in Santa Clara County, our drivers education is the best there is. The truth is, our online driver's education program is approved for all of California. No matter what county or city you call home, we can help you earn your practice permit the easy, online way.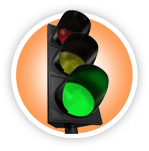 Santa Clara County Traffic School
Were you driving a little too fast on a Santa Clara County highway and got caught by a Palo Alto police officer? Don't ignore your citation and let your driving record suffer. By completing a Santa Clara County approved traffic school course with TrafficSchool.com, you can have most moving violations removed from your driving records, helping you to keep your insurance rates from rising and your license from being suspended.
Santa Clara County High School Driving Resources and Information Online

Unlike several years ago, today's driver can accomplish a lot of routine DMV related tasks from home without having to drive to the physical Palo Alto DMV office. Changing your address, ordering tags, downloading DMV applications, and scheduling appointments can all be done with a few clicks and key strokes. Checkout DrivingLinks.com today to see how the internet is making your life easier when it comes to driving.