Local Drivers Education
Escondido Drivers Education is a convenient way for teens to meet their requirements to earn their driving permit. Teens who live in San Diego County can take the course that is schedule-friendly. There is no need for them to rearrange their schedule for this course. It is available 24/7 and can be worked on in between their other activities.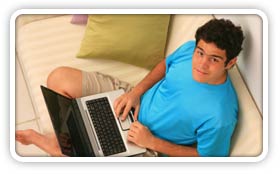 Nice and Easy Drivers Education for Escondido Teenagers
When it comes to convenience and simplicity, no other driving school can compete with Drivers Ed Direct's Local drivers education course. Our program is the 100% online solution for busy San Diego County teens who want the flexibility of completing their Escondido DMV requirements according to their own schedule. Besides being easy to access, our course is also easy to use for any student, whether or not they are computer literate. Each chapter is laid out in an easy to follow manner and interactive tutorials make it easy to avoid boredom. It's the easiest drivers ed in Southern California!
Escondido Classroom Drivers Education vs. Online Drivers Ed
Does the idea of sitting in a crowded classroom somewhere in San Diego County for 4 Saturdays get you down? Not looking forward to making the long distance commute to a driving school class somewhere in San Marcos, Vista, Poway, Encinitas, Ramona, Solana Beach, Carlsbad, Oceanside, Fallbrook, Lakeside, Santee, Bostonia, El Cajon, La Mesa, and Temecula? With online drivers ed, you can avoid all of the pitfalls of classroom drivers ed and at the same time take advantage of all the great things online education has to offer: low prices, convenience, interactivity, and a self paced lesson plan. So skip class and get online, you will be happy you did.
California DMV Approved Driver's Ed
The California Department of Motor Vehicles has specific guidelines in which a drivers education course needs to meet before it becomes a state approved agency. In addition to meeting the state's requirements, Local Drivers Education makes taking drivers education convenient for all types of schedules. If you're an early bird or a night owl, you can login to the program anytime that is right for you. Anytime you need a break, go ahead and take one.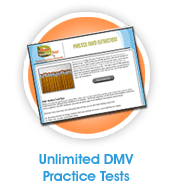 Completing the Driver's Ed Requirement in San Diego County
It's amazing how may teens and parents in Escondido come to us, confused about the driver's licensing process in San Diego County. It's really a simple process once the steps are clearly laid out. Here are the general steps one should take to earn a license in Southern California:
Sign up for our Local drivers education class sometime before you turn 15½
Pass our online program to earn a completion certificate for the Escondido DMV
Take and pass your test at the DMV to earn your learner permit
Take lessons with a local Escondido driving school and practice for 6 months with your permit
After 6 months of practice and when you are at least 16, go the DMV to pass your driving test.
Pass your drive test and go home with your provisional license
Free Practice Written DMV Permit Tests
Practice makes perfect, right? We like to think so, that's why we offer our students in Escondido unlimited, free online sample DMV tests. Take the example tests over and over again, until you feel comfortable with the different sets of multiple choice questions. Our free sample tests are never the same, thanks to our DMV sample test generator that uses a pool of over 200 DMV test questions and answers to formulate unique example test after unique example test. No matter where you call home in San Diego County, from Escondido to San Marcos, Vista, Poway, Encinitas, Ramona, Solana Beach, Carlsbad, Oceanside, Fallbrook, Lakeside, Santee, Bostonia, El Cajon, La Mesa, and Temecula, our practice DMV permit tests are the best!
---
San Diego County Tickets
It happens. You're driving down a road in Escondido and you lose track of your speedometer. You look in your review mirror and the unwelcome sight of sirens is flashing and a San Diego County sheriff is beckoning you to pull over. 15 minutes later you are on your way with a traffic ticket in hand and your driving record ruined, right? Not necessarily! A single traffic ticket doesn't have to be the end of your status as a good driver. By completing the TrafficSchool.com online defensive driving course, you can actually have the ticket dismissed from your record and your insurance company will never know you were cited... meaning your insurance rates will never increase!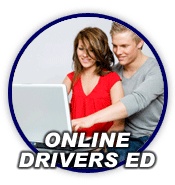 Online Escondido DMV Help and Other Driving Resources

DrivingLinks.com is a great resource when you need anything related to driving. Whether you are looking for used cars in Escondido, insurance quotes in San Diego County, traffic school in Southern California, or driving safety information for California, Florida, or any other state, DrivingLinks.com has you covered.
Not Living in Escondido or in Southern California?
Learning to drive in California is finally convenient for everyone, no matter where you live. Whether living in a larger city like Escondido, or in a smaller city somewhere outside of Southern California, high school students from any city in CA can easily fulfill their driver education requirement from the comfort of their own home. Our Local course is approved by the Department of Motor Vehicles and can be taken by any teen, regardless of where they live in California.