We Deliver Discounted Drivers Ed and Much More!
At Drivers Ed Direct, we believe drivers education doesn't end the day you get your license. The truth is, the first 500 miles that a Napa teen drives by themselves are the most dangerous miles they will ever drive in their lives. Teens will still need guidance from their parents and their driving school many months after they earn their driving privilege. Parents and teens can take advantage of the many resources available at Drivers Ed Direct designed to keep our students throughout the Bay Area, past and present, informed and up to date with current driving laws and issues. We are committed to ensuring the well-being of future driving adults from Vintage High School, Hopewell Baptist Christian Academy, Justin-Siena High School, Kolbe Academy, Napa Christian Academy, Trinity Grammar or Prep or The Oxbow School.

Department of Motor Vehicles Approved Drivers Education
If your teenager lives in the Bay Area, he or she is eligible to take our California Department of Motor Vehicles approved drivers education course. Make no mistake, there is a big difference in completing a California approved course versus one that is not approved. Specific guidelines must be followed with the California DMV and proof of completion is a must for teenagers to qualify to take the written exam. In addition to meeting specifications with California, our self-paced course provides top quality driver ed and is entirely online.
Why You Should Skip the Drivers Ed Classroom in Napa
Taking drivers education on the Internet has become the gold standard for teens in Napa County wanting to earn a permit and learn the rules of the road as laid out by the California Department of Motor Vehicles. In fact, a CADMV study showed that teens receiving Internet computer based instruction actually retained information better and scored higher on their exit exams than students learning the same material in a classroom setting. Other of advantages of online instruction are also apparent, such as the huge low-cost benefit of taking drivers ed from home in Napa. Whey spend the time and money on gas driving half way across the Bay Area when you can have a better education right from your own computer?
How Old Do I have to Be to Take Drivers Ed in California?
Our Napa DMV approved drivers education program is approved for all of Napa County, no matter if you are a private school student, public school student, or home school student. Students will be able to earn a driving permit at age fifteen and six months (15½), so taking and completing your drivers ed course prior to your 15½ birthday is highly recommended.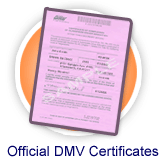 Discounted Drivers Ed For Napa High School Teens
Drivers education online with Drivers Ed Direct is easy to access, easy to understand, and easy to complete around your ever-changing schedule. In fact, Napa teens can sign-up for our course online, take all of the drivers education lessons online, and complete our final exam online. When you are finished, we will mail an official drivers education certificate to your home in Napa. So skip the hassle of driving to and from class; with drivers ed online, you can access the course when you have the time, from anywhere you can get online. No wonder Drivers Ed Direct is one of the fastest growing driving schools in the Bay Area!
How Drivers Ed Works in the State of California
The DMV has set forth a set of rules and procedures designed to make new drivers educated and road ready before they start driving on our public roadways. The graduated drivers license program has helped thousands of teens in the Bay Area become a relatively safer group of drivers than teens just 20 years ago. In order to earn a license, teens must successfully complete the following:
Complete drivers education
Pass a written road rules test at the CA DMV
Take drivers training (in-car driving lessons)
Practice 50 hours minimum with their parents
Pass a driving examination at the DMV
Drivers Ed Direct, a licensed driving school in Napa and all of California, has the Discounted drivers ed class that can help you satisfy your drivers education requirement in full.
---
Dismissing Napa Court Tickets
Pulled over in Napa County for speeding? Don't pay your ticket without going to traffic school first! TrafficSchool.com, the Bay Area's leading traffic school, can help you save your driving record by eliminating the negligent operator points from your driving record. So give TrafficSchool.com a try and avoid any costly increases in your auto insurance premiums.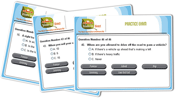 Not Attending Napa High School?
Our driving school course online is the most convenient course in the entire state of California. Whether you change high schools or move from Napa to somewhere in American Canyon, Sonoma, Vallejo, Fairfield, Suisun City, Vacaville, Benicia, Hercules, Petaluma, Novato, Pinole, Martinez, El Sobrante, Rohnert Park, and San Pablo, our Discounted drivers ed class is approved statewide, so you can rest assured that our course will still be approved for you. Whether you are home schooled, go to high school in Vintage High School, Hopewell Baptist Christian Academy, Justin-Siena High School, Kolbe Academy, Napa Christian Academy, Trinity Grammar or Prep or The Oxbow School, or are already done with high school, teens can use our course worry free, knowing they are taking a CA-DMV Approved class.
Driving Resources for Napa Motorists

No matter if you are a new driver or a seasoned road warrior, DrivingLinks.com has the resources you need to make life on the road just a little bit easier. Learn traffic safety laws, enroll in Napa County defensive driving classes, play interactive driving games, locate the Napa DMV, and download DMV forms... get it all online without having to leave your home.