On-line Drivers Ed: Step By Step
Not sure how to earn a driver's license? No matter where you live in Monterey County, from King City to Greenfield, Soledad, Gonzales, Coalinga, Salinas, Hollister, Seaside, Marina, Monterey, Pacific Grove, Mendota, Atascadero, Avenal, Watsonville, and Gilroy , the process is the same for all teenagers in the state of CA:
Enroll in our On-line drivers education class (100% online)
Complete drivers ed to earn a DMV certificate
Go to the DMV and pass a written permit test
Complete your drivers training requirement (driving school lessons and practice with parents)
Pass a driving test at a qualified DMV in Monterey County
.
If you are a student at King City High School, then you can earn your permit at 15½ and a driver's license when you turn 16 (if all DMV requirements have been met).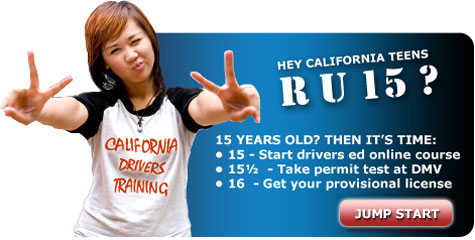 King City Drivers Ed
On-line Drivers Ed is the online solution for teens who are seeking a way to complete the requirement, but not have to attend a classroom course. A teen who attends King City High School or lives in King City is eligible to take our course. If parents are worried that a teacher will not be in attendance during the online experience, parents or teens can call the customer service center when they need help. We have live representatives, waiting to assist you.
More than Just On-line Drivers Education
At Drivers Ed Direct, we believe drivers education doesn't end the day you get your license. The truth is, the first 500 miles that a King City teen drives by themselves are the most dangerous miles they will ever drive in their lives. Teens will still need guidance from their parents and their driving school many months after they earn their driving privilege. Parents and teens can take advantage of the many resources available at Drivers Ed Direct designed to keep our students throughout Monterey Bay Area, past and present, informed and up to date with current driving laws and issues. We are committed to ensuring the well-being of future driving adults from King City High School.

Free DMV Practice Tests
Free DMV practice tests! Just another perk from Drivers Ed Direct when you take our On-line drivers education course. Use our practice test simulator to help better prepare you for your big permit test day at the King City DMV. Our practice tests are multiple choice and include questions almost identical to the real permit test questions.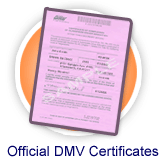 Monterey County, CA DMV Approved Drivers Ed
Taking drivers ed online in Monterey County is easy; the hard part is finding an online course that meets the DMV's rigorous approval standards. Drivers Ed Direct is proud to offer a On-line course that is not only highly educational, it is also one of the few online course recognized and approved by the California DMV. Since the course is online, not students anywhere in Greenfield, Soledad, Gonzales, Coalinga, Salinas, Hollister, Seaside, Marina, Monterey, Pacific Grove, Mendota, Atascadero, Avenal, Watsonville, and Gilroy can get an approved course without having to travel anywhere.
Am I Eligible for Online Drivers Ed?
The DMV requires minors to be at least 15 years and 6 months old before earning a provisional practice permit. In King City, CA, most students will begin their drivers ed experience around their fifteenth birthday. Our course is available to all King City High School students, as well as home study students, and students that commute from other jurisdictions. As long as the minor is a California resident, our course is approved for fulfilling there driver education requirement.
---
Driving Links for King City HS Students

Visit DrivingLinks.com online to find DMV information specific to your state. You can also find other online driving resources like King City traffic school classes, driving laws, driving statistics, and links to free driving games.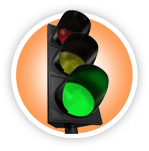 Monterey County Tickets
If your driving record is important to you, you will inevitably want to do all you can to keep any negative points off it. By taking an accredited traffic school class in King City, you can have simple one-point traffic violations removed from your driving record. TrafficSchool.com has an online internet traffic school course that is approved by Monterey County to erase traffic citations. When quality, low prices, and being able to do traffic school from home matter to you, then TrafficSchool.com is the smartest choice you can make for dismissing a ticket.
Not From Monterey Bay Area?
Our Drivers Education course has been approved by the California Department of Motor Vehicles for any age-appropriate teen meeting today's driver licensing requirements. Whether you are from King City, somewhere else in Monterey County, or anywhere in Monterey Bay Area; you can complete our courses online to meet your driver's ed requirement. Not from a Monterey Bay Area high school like King City High School? Not a problem, we have classes for soon-to-be teen drivers across all of California: