Affordable Drivers Ed in Merced County
Here's our promise to Merced parents: we will provide your son or daughter with the highest quality drivers education at a price that you can feel great about. In fact, our prices are so low that we are willing to price match with any of our competitors offering a California DMV Approved Drivers Ed Course. But before you give us or any other driving school in the San Joaquin Valley your money, do some research. Whether you read independent reviews on Yelp, customer feedback on Facebook, or simply visit our industry best website, you'll see why we are considered both the most affordable and the best quality driving school in Merced County.

The Advantage of Taking Drivers Ed Online
Here are some compelling reasons students in the San Joaquin Valley should take their drivers ed course online versus sitting in a boring classroom:
Online classes allow you to stay at your Merced home
Online classes are more flexible and can be worked around your schedule
Our Online driver ed class is highly affordable
A DMV study concluded that internet courses better prepare students than classroom courses for their permit exam
Our online program is continually updated and always fresh with recent driving information
Online Drivers Ed - Approved For all of Merced
If your teenager lives in the San Joaquin Valley, he or she is eligible to take our California Department of Motor Vehicles approved drivers education course. Make no mistake, there is a big difference in completing a California approved course versus one that is not approved. Specific guidelines must be followed with the California DMV and proof of completion is a must for teenagers to qualify to take the written exam. In addition to meeting specifications with California, our self-paced course provides top quality driver ed and is entirely online.

Merced Drivers Education
Merced Drivers Education can assist teenager drivers with their drivers education requirement if they live in the San Joaquin Valley. Once the teenager driver completes the course, our offices are alerted and will process the certificate of completion on the next business day. As long as the teenager drivers is 15 1/2 years old and possesses the certificate, they can take their written test to receive their permit.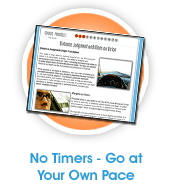 Driver's Education Guide for Merced Teenagers
Fulfilling your CA DMV requirements in Merced County doesn't have to complicated and confusing. With our online Drivers Ed Course, the process is quite simple really. All you need to do in order to earn a learners permit is the following:
Sign up for our Online program online
Complete the entire program online, including out multiple choice final exam
Walk in to the Merced DMV and take a written permit test
If you successfully pass your exam, you will earn your learner's permit.
A DMV clerk will take your photo for your eventual license and send you on your way.
Online Drivers Education for Merced County Drivers
Drivers education online with Drivers Ed Direct is easy to access, easy to understand, and easy to complete around your ever-changing schedule. In fact, Merced teens can sign-up for our course online, take all of the drivers education lessons online, and complete our final exam online. When you are finished, we will mail an official drivers education certificate to your home in Merced. So skip the hassle of driving to and from class; with drivers ed online, you can access the course when you have the time, from anywhere you can get online. No wonder Drivers Ed Direct is one of the fastest growing driving schools in the San Joaquin Valley!
---
Online Merced DMV Help and Other Driving Resources

No matter if you are a new driver or a seasoned road warrior, DrivingLinks.com has the resources you need to make life on the road just a little bit easier. Learn traffic safety laws, enroll in Merced County defensive driving classes, play interactive driving games, locate the Merced DMV, and download DMV forms... get it all online without having to leave your home.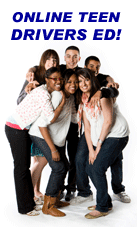 Merced Traffic School
Online traffic school is an excellent option for Merced motorists looking for an inexpensive, Merced County Approved, and highly convenient way to dismiss a traffic citation. TrafficSchool.com has been helping drivers throughout the San Joaquin Valley, in cities like Atwater, Livingston, Chowchilla, Turlock, Los Banos, Ceres, Madera, Modesto, Patterson, Oakdale, Mendota, Riverbank, Kerman, Ripon, and Manteca, dismiss traffic citation points for over 15 years! Choose the trusted leader in online traffic school and ensure that your driving record is kept in good order.
Not From the San Joaquin Valley?
Learning to drive in California is finally convenient for everyone, no matter where you live. Whether living in a larger city like Merced, or in a smaller city somewhere outside of the San Joaquin Valley, high school students from any city in CA can easily fulfill their driver education requirement from the comfort of their own home. Our Online course is approved by the Department of Motor Vehicles and can be taken by any teen, regardless of where they live in California.