Am I Eligible for Online Drivers Ed?
If you are at least 15½ years of age, can pass a vision exam, and have completed drivers education, you will be eligible to take a provisional permit test at the DMV in Mariposa. To fulfill the drivers ed requirement, you must complete a DMV approved course to earn a certificate of completion. You can start this course at any age, but remember you can not take the permit exam until you turn 15½. In Mariposa County, most students begin drivers ed when they are 15 years old or older.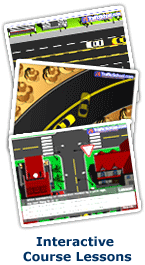 Mariposa Driver Ed
Mariposa Drivers Education can assist teenager drivers with their drivers education requirement if they live in Central California. Once the teenager driver completes the course, our offices are alerted and will process the certificate of completion on the next business day. As long as the teenager drivers is 15 1/2 years old and possesses the certificate, they can take their written test to receive their permit.
Why Mariposa Teenagers Should Take Online Drivers Education
You have two choices when enrolling in drivers education in Mariposa, CA: taking drivers ed online or attending a 30-hr classroom course. Obviously, the easiest way to get your learner's permit is with online drivers education. What a lot of people don't know, however, is that online drivers ed also prepares student better, according to a 2003 DMV study. It's no wonder the DMV's study came to such a conclusion. Online driver education comes loaded with interactive lessons, free practice tests, and the ability go at your own pace with unlimited logins. If you live anywhere in Mariposa County and attend Mariposa County High School, Mariposa County Independent Learning or Victory Baptist Christian School, then online drivers education is the wise choice for fulfilling your Mariposa, California Department of Motor Vehicles Requirement.
Affordable Drivers Education
As if you didn't love our Local driver education class enough already, now we are offering students in Mariposa County a special online discount of $5 when they use discount promo code "drive555"! Now you can get the best online course in Central California for even less, only from Drivers Ed Direct!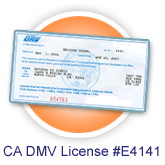 Practice DMV Tests - Online and Unlimited
Practice makes perfect, right? We like to think so, that's why we offer our students in Mariposa unlimited, free online sample DMV tests. Take the example tests over and over again, until you feel comfortable with the different sets of multiple choice questions. Our free sample tests are never the same, thanks to our DMV sample test generator that uses a pool of over 200 DMV test questions and answers to formulate unique example test after unique example test. No matter where you call home in Mariposa County, from Mariposa to Chowchilla, Merced, Atwater, Madera, Livingston, Clovis, Turlock, Oakdale, Fresno, Kerman, Ceres, Mendota, Riverbank, Los Banos, and Modesto, our practice DMV permit tests are the best!
Mariposa County, CA DMV Approved Drivers Ed
When taking drivers education in Mariposa, CA, you want to be sure that the course you select is approved by the California Department of Motor Vehicles. When you successfully complete a course approved by the CADMV, you earn an official drivers education completion certificate. You will need this completion certificate when you go to the Mariposa DMV to take your written permit test. The Drivers Ed Direct Local drivers education course is not only DMV approved, it goes above and beyond DMV requirements to make sure that your son or daughter not only passes the DMV test, but that they also gain the knowledge necessary to become a safe and responsible driver.
---
Not Living in Mariposa or in Central California?
It does not matter where you live in CA, our Local drivers education curriculum is approved by the Mariposa County DMV and all other California DMV's throughout the state. Any student from North California to Southern California, from the West Coast to the Inland Empire, from Central California and beyond can take our online drivers education course to fulfill their teen driver's education component and to earn the official DMV certificate needed to earn a provisional driving permit.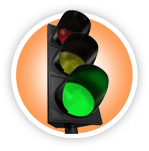 Driving Resources for Mariposa High School Teens

Did you know all of the things that can be accomplished right from the comfort of your own home in Mariposa? If you were ticketed in Mariposa County, you can take traffic school online without having to go to a class or court. If you go to Mariposa County High School, Mariposa County Independent Learning or Victory Baptist Christian School and need your learner permit, you can take drivers ed online. Need DMV forms? Why wait in line at the Mariposa DMV when you can down many forms over the internet. Do all this and more at DrivingLinks.com.
Central California Traffic Tickets
Got a traffic ticket in Mariposa County? Get it removed from your CA DMV driving record when you complete an approved traffic school course online at TrafficSchool.com. All lessons and final exam can be taken online and even get confirmation of the ticket dismissal from your DMV record. It's the smart way to go to traffic school in Mariposa.