Online Drivers Education vs. Classroom Drivers Education
Does the idea of sitting in a crowded classroom somewhere in Los Angeles County for 4 Saturdays get you down? Not looking forward to making the long distance commute to a driving school class somewhere in Granada Hills, Northridge, Mission Hills, North Hills, and Chatsworth? With online drivers ed, you can avoid all of the pitfalls of classroom drivers ed and at the same time take advantage of all the great things online education has to offer: low prices, convenience, interactivity, and a self paced lesson plan. So skip class and get online, you will be happy you did.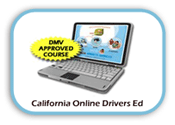 Porter Ranch Driver Ed
Inexpensive Drivers Ed is a great base for teens to begin their path for driving. Students from Chatsworth Hills Academy, Sierra Canyon School or Ivy Academia Public Charter School or live in Porter Ranch can take the California DMV approved course to prepare them for the written permit exam. With DMV practice tests and a California DMV Handbook (you can pick one up from your local DMV or visit their website for a PDF version), your teen will learn information that can be applied for their drive test as well.
Drivers Ed Discounts in Porter Ranch
Attention Porter Ranch teens: Use drivers ed coupon discount code "UTURN" and save 15% more off our already low-priced, discounted drivers ed course. It's a drivers ed sale price that can't be beat. And with our Los Angeles County Department of Motor Vehicles Approved drivers ed course, you also know you're getting a great product. Hundreds of teens throughout Granada Hills, Northridge, Mission Hills, North Hills, and Chatsworth and students at Chatsworth Hills Academy, Sierra Canyon School or Ivy Academia Public Charter School love our online program; now it's your turn to see what everyone is buzzing about!

How Drivers Ed Works in the State of California
Learning to drive can be challenging, but the process it takes to earn a driver license shouldn't be so complicated. If you are nearing your 16th birthday and live in Los Angeles County, these are the steps it takes to become a legally licensed driver in the state of California:
Complete CA DMV approved drivers education (such as our Inexpensive drivers ed program)
Pass a written exam at a local DMV in Southern California to earn a practice permit
Complete drivers training with a DMV licensed driving school in Los Angeles County
Pass your road exam at the DMV to earn a provisional drivers license.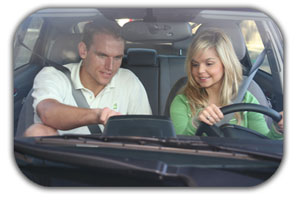 Student Driver Lessons in Porter Ranch
Let Drivers Ed Direct be your first choice when it comes to selecting a Porter Ranch driving school. We are well respected throughout Southern California and have taught thousands of teens throughout Porter Ranch, Granada Hills, Northridge, Mission Hills, North Hills, and Chatsworth how to drive. We teach every aspect of driving, from basics like parking, turning, and braking to more advanced skills like canyon driving, freeway driving, and defensive driving. If you want to learn how to and more, make Drivers Ed Direct your driving school!
Drivers Ed Direct - Driving School Advantages
Searching for a high quality driving school can be quite a task. However, if you live in Los Angeles County, Drivers Ed Direct is just what you are looking for. Our Porter Ranch instructors are highly skilled and our customer service representatives are friendly and helpful. You will find helpful driving tools on our website, however you don't have to stop there. You can contact our office and our staff will be happy to help you. We understand that driving can be an exciting experience for a teen and a very nervous experience for the parent, so we want to be available to you whenever possible. Check us out if you're located in Porter Ranch.
---
More Driving Resources for Porter Ranch Teen Drivers

Looking for an online driving guide to help you navigate the roadways in Los Angeles County? DrivingLinks.com has a plethora of online resources for the Porter Ranch driver, both young and old. Teens can benefit from the online driving handbooks, drivers ed resources, and driving games. Mature drivers can find online traffic schools, defensive driving classes, and printable DMV forms. Get help with all things driving at DrivingLinks.com.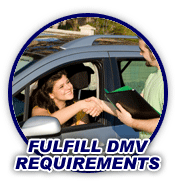 Caught Speeding in Southern California?
Got a traffic ticket in Los Angeles County? Get it removed from your CA DMV driving record when you complete an approved traffic school course online at TrafficSchool.com. All lessons and final exam can be taken online and even get confirmation of the ticket dismissal from your DMV record. It's the smart way to go to traffic school in Porter Ranch.
Moving Outside of Southern California?
Looking for the leading driving school in Porter Ranch, Granada Hills, Northridge, Mission Hills, North Hills, and Chatsworth? Look no further! DriversEdDirect.com is your complete Inexpensive solution for fulfilling your drivers ed requirement. Even if you don't live in Los Angeles County, our drivers education is the best there is. The truth is, our online driver's education program is approved for all of California. No matter what county or city you call home, we can help you earn your practice permit the easy, online way.