Alhambra High School Drivers Education Requirements
Who is eligible to take our Online driver education curriculum? Any teen living in California that wants to earn a learners permit and driver license. Technically, Alhambra teens cannot earn a permit until they turn fifteen and a half, so it makes most sense to wait until you are at least 15 before beginning our online course.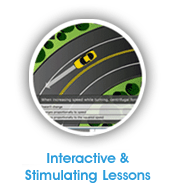 Low Price Drivers Education in Los Angeles County
Don't overpay for your drivers ed experience. Top quality drivers ed doesn't have to cost a small fortune. For high school students living in Alhambra, San Gabriel, South Pasadena, San Marino, Monterey Park, Rosemead, Pasadena, Temple City, South El Monte, East Los Angeles, El Monte, Montebello, Arcadia, Sierra Madre, Altadena, and Commerce, drivers education can now be taken online at prices lower than ever before. Our course is California DMV approved, comes with an official completion certificate when you pass, and is priced much lower than what a traditional drivers education classroom costs.
Online Drivers Education
Alhambra Drivers Education is best way to complete drivers education without having to attend a classroom course. If the teenager attends Agoura High School or The Alexandria Academy or lives in Los Angeles County, then our course will fulfill their requirement for drivers education. The course is self-paced and can be worked on anytime the teen's schedule permits. If the teen needs to take a break, no problem. The teen can log off of the program and their place will be saved. Once they return to the course, the teen will pick-up where they left off.

Alhambra Teen Driver Resources
Drivers Ed Direct isn't just about getting your money and then pushing you out onto Southern California roads to fend for yourself. We genuinely want you to become a great driver. In addition to our Online drivers ed, we equip our students with other tools and resources to make their driving lives easier. Our live support is available to help you answer any driving questions, our website is filled with supplementary driving articles, teen safety resources, and even some games geared towards teaching you to park. See for yourself why we are rated so well by third party sites like the Los Angeles County, CA Better Business Bureau and by independent reviews from Yelp.com in Alhambra.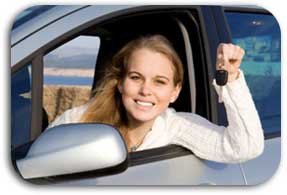 How To Fulfill the Drivers Ed Requisite in Alhambra
Fulfilling your CA DMV requirements in Los Angeles County doesn't have to complicated and confusing. With our online Drivers Ed Course, the process is quite simple really. All you need to do in order to earn a learners permit is the following:
Sign up for our Online program online
Complete the entire program online, including out multiple choice final exam
Walk in to the Alhambra DMV and take a written permit test
If you successfully pass your exam, you will earn your learner's permit.
A DMV clerk will take your photo for your eventual license and send you on your way.
Free Practice Written DMV Permit Tests
Practice makes perfect, right? We like to think so, that's why we offer our students in Alhambra unlimited, free online sample DMV tests. Take the example tests over and over again, until you feel comfortable with the different sets of multiple choice questions. Our free sample tests are never the same, thanks to our DMV sample test generator that uses a pool of over 200 DMV test questions and answers to formulate unique example test after unique example test. No matter where you call home in Los Angeles County, from Alhambra to San Gabriel, South Pasadena, San Marino, Monterey Park, Rosemead, Pasadena, Temple City, South El Monte, East Los Angeles, El Monte, Montebello, Arcadia, Sierra Madre, Altadena, and Commerce, our practice DMV permit tests are the best!
---
Driving Resources for Alhambra Drivers

Drivers in Los Angeles County looking for quality driving related resources need to visit DrivingLinks.com. Browse a wide variety of resources for every motorist, from beginner to expert. Check out what DMV's are located in Southern California and download forms from home instead of driving to your local Alhambra DMV.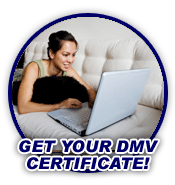 Traffic Ticket Class for Southern California
It happens. You're driving down a road in Alhambra and you lose track of your speedometer. You look in your review mirror and the unwelcome sight of sirens is flashing and a Los Angeles County sheriff is beckoning you to pull over. 15 minutes later you are on your way with a traffic ticket in hand and your driving record ruined, right? Not necessarily! A single traffic ticket doesn't have to be the end of your status as a good driver. By completing the TrafficSchool.com online defensive driving course, you can actually have the ticket dismissed from your record and your insurance company will never know you were cited... meaning your insurance rates will never increase!
Not From Southern California?
It does not matter where you live in CA, our Online drivers education curriculum is approved by the Los Angeles County DMV and all other California DMV's throughout the state. Any student from North California to Southern California, from the West Coast to the Inland Empire, from Central California and beyond can take our online drivers education course to fulfill their teen driver's education component and to earn the official DMV certificate needed to earn a provisional driving permit.