Department of Motor Vehicles Approved Drivers Education
Attention Susanville High School Teens: Make sure you only enroll in a CA DMV Approved Drivers Education Program! No matter what high school students are from (including Credence High School, Diamond Mountain Charter High School, Lassen County Community High School, Lassen High School, New Horizons Christian School or Lassen Christian Academy), only an officially Lassen County Department of Motor Vehicles Approved curriculum will earn you the completion certificate you need in order to take a permit test at the DMV. Drivers Ed Direct not only has the best online programs in Northeastern California, our Online courses are always DMV Approved.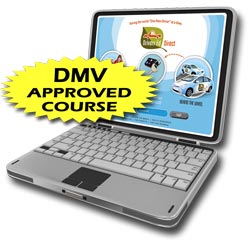 Low Cost Drivers Ed in Susanville
Here's our promise to Susanville parents: we will provide your son or daughter with the highest quality drivers education at a price that you can feel great about. In fact, our prices are so low that we are willing to price match with any of our competitors offering a California DMV Approved Drivers Ed Course. But before you give us or any other driving school in Northeastern California your money, do some research. Whether you read independent reviews on Yelp, customer feedback on Facebook, or simply visit our industry best website, you'll see why we are considered both the most affordable and the best quality driving school in Lassen County.
The Complete Drivers Education Experience
Drivers Ed Direct delivers much more than your average driving school in Susanville. Besides providing Susanville HS teens with an amazing drivers education experience, we also do our part to make our students the most informed and responsible drivers they can be. We sponsor teen safety awareness program (like our original Respect Reality Pledge for Change), publish articles and news letters with driving law updates, and strive to remain "driving partners" with our students long after they graduate by constantly updating our Driving School Facebook page with driving tips and news. We promise, we offer more than just another Online driving school class... much more!

Practice DMV Tests - Online and Unlimited
Practice makes perfect, right? We like to think so, that's why we offer our students in Susanville unlimited, free online sample DMV tests. Take the example tests over and over again, until you feel comfortable with the different sets of multiple choice questions. Our free sample tests are never the same, thanks to our DMV sample test generator that uses a pool of over 200 DMV test questions and answers to formulate unique example test after unique example test. No matter where you call home in Lassen County, from Susanville to Magalia, Paradise, Chico, Oroville, Truckee, Red Bluff, Grass Valley, Anderson, Shasta Lake, and Redding, our practice DMV permit tests are the best!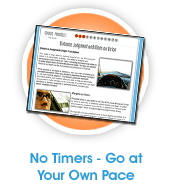 The Advantage of Taking Drivers Ed from Home in Susanville
The days of taking drivers ed in a Susanville High School classroom are all but extinct. For teens in the 21st century, drivers education is mostly conducted in a privatized classroom or by a DMV Approved course provider. In 2003, the DMV conducted a study and came to the conclusion that students taking online drivers education courses actually scored higher on their course exit exams than students learning the same information in a traditional drivers education classroom setting. These findings are not surprising; the average teen in Northeastern California gravitates toward online mediums and are more captivated and interested in technology. Rather than tuning out in a boring traditional classroom setting, teens taking classes online are captivated by interactive tutorials that allow them to go at their own pace and to logout when they become tired.
Susanville Driver's Education
Introducing a Susanville Drivers Education program that helps teens in Lassen County meet their California drivers education requirement without leaving home. With DriversEdDirect.com's online drivers ed class, students from Credence High School, Diamond Mountain Charter High School, Lassen County Community High School, Lassen High School, New Horizons Christian School or Lassen Christian Academy can take our CADMV approved drivers ed class from any computer with internet access. Our course is high in quality, educational, and captivating. Students will learn important driving concepts through reading well organized chapters, completing interactive tutorials, passing quizzes, and taking a final exam. Our course also comes with unlimited practice DMV tests. If you want your son or daughter to be well educated before getting behind the wheel of a car, then our affordable online course is perfect for you.
---
Driving Resources for Susanville High School Teens

DrivingLinks.com is a great resource when you need anything related to driving. Whether you are looking for used cars in Susanville, insurance quotes in Lassen County, traffic school in Northeastern California, or driving safety information for California, Florida, or any other state, DrivingLinks.com has you covered.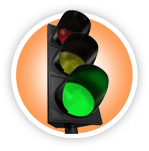 Preserving Your Driving Record in Northeastern California
Pulled over in Lassen County for speeding? Don't pay your ticket without going to traffic school first! TrafficSchool.com, Northeastern California's leading traffic school, can help you save your driving record by eliminating the negligent operator points from your driving record. So give TrafficSchool.com a try and avoid any costly increases in your auto insurance premiums.
Learning to Drive Outside of Northeastern California California
Not a resident of Susanville? Or maybe you are planning of moving outside of Lassen County soon and don't want to start drivers ed because you're concerned you'll have to do it all over again when you move into you're new home in another city. With Drivers Ed Direct, you get a drivers ed course that is approved across the entire state of California, so even if you change residences or move across county lines, you won't have to worry about your drivers ed course being lost. Since we're 100% online, you can pick up online from your new home without any down time or loss of course credit. We are the most convenient drivers education provider in Northeastern California and beyond!