Clearlake Classroom Drivers Education vs. Online Drivers Ed
Here are some compelling reasons students in the Bay Area should take their drivers ed course online versus sitting in a boring classroom:
Online classes allow you to stay at your Clearlake home
Online classes are more flexible and can be worked around your schedule
Our Internet driver ed class is highly affordable
A DMV study concluded that internet courses better prepare students than classroom courses for their permit exam
Our online program is continually updated and always fresh with recent driving information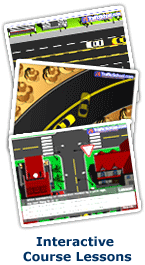 How Online Drivers Education Works
Ready to earn your drivers license? For most teens, the process starts around the age of 15 by taking a Internet drivers ed program. When a teenager in Clearlake turns 15½, they are legally old enough to earn a learning permit. After earning their permit, teens must take a minimum of 6 hours drivers training with a Department of Motor Vehicles licensed driving school in the Bay Area. In addition, teens must practice 50+ hours with their parents over a 6+ month period. When a teen turns 16 years old and had fulfilled all of their drivers ed and drivers training requirements, they can then schedule an appointment at the Clearlake DMV to take their license test. After taking the driver's license test (which is taken in-car), a passing student will go home with a temporary driver's license that same day.
Easy Drivers Ed in Clearlake
We've been helping the Bay Area high school teens keep drivers education simple for years. You don't need to get a ride, not do you need books, pens, papers, or a pillow for when you fall asleep watching bad driving school videos from the 60's. With Driver's Ed Directs online driving school course, Clearlake teens can fulfill their entire CADMV drivers ed requirement from home, school, or any other place an internet connection can be found. This convenience and ease of use actually enhances learning and allows students to go at there own pace without rushing through or sleeping through the material.
We Deliver Internet Drivers Ed and Much More!
Get more than just your average driver education experience when you select Drivers Ed Direct as your Clearlake driving school. Browse our website for free resources that other driving school in the Bay Area just don't offer. We have an ongoing and update drivers education article database, online driving games, free DMV practice exams, web videos, and engaging programs like our highly touted Respect Reality Driving Campaign for Lake County Teens. See what the buzz is about and why we're not just another run-of-the-mill driving school.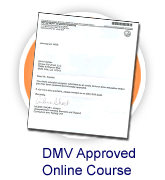 Clearlake Driver Education
Internet Drivers Ed offers an online course that is approved for teens who live in Clearlake. The Department of Motor Vehicles of California approved course can help teens with a strong start to their lifetime of driving. With reading and lessons, teens will retain important information that they will need in order to take their written test and rules of the road that they will need to pass their driving test. If you're unsure this is the course for you, try our no obligation ' try it before you buy it' option.
California DMV Approved Drivers Ed Course
Attention Clearlake High School Teens: Make sure you only enroll in a CA DMV Approved Drivers Education Program! No matter what high school students are from (including Clearlake Community High School or Hilltop Christian School), only an officially Lake County Department of Motor Vehicles Approved curriculum will earn you the completion certificate you need in order to take a permit test at the DMV. Drivers Ed Direct not only has the best online programs in the Bay Area, our Internet courses are always DMV Approved.
---
Not Living in Clearlake or in the Bay Area?
Our internet driver training program is California Department of Motor Vehicles approved for each and every city in the state. Whether you live in Lake County, somewhere in the Bay Area, or in another part of the state all together - you can take our course! We've helped students at Clearlake Community High School or Hilltop Christian School obtain their learner permit, but we've also helped literally hundreds of thousands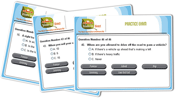 Dismissing Lake County Court Tickets
Got a traffic ticket in Lake County? Get it removed from your CA DMV driving record when you complete an approved traffic school course online at TrafficSchool.com. All lessons and final exam can be taken online and even get confirmation of the ticket dismissal from your DMV record. It's the smart way to go to traffic school in Clearlake.
Online Clearlake DMV Help and Other Driving Resources

Looking for more than just drivers education? At DrivingLinks.com, residents of the Bay Area can find a lot of helpful driving information. Things you can accomplish online include downloading California DMV forms, registering for traffic school for your Clearlake traffic ticket, reading the latest driving laws, and more. Their website is free to browse and will save Lake County drivers save time and money!