LA County Drivers Ed - Priced Low - No Coupons Needed!
Don't overpay for your drivers ed experience. Top quality drivers ed doesn't have to cost a small fortune. For high school students living in Century City, Beverly Hills, Bel Air, West Los Angeles, Santa Monica, Culver City and Miracle Mile, drivers education can now be taken online at prices lower than ever before. Our course is California DMV approved, comes with an official completion certificate when you pass, and is priced much lower than what a traditional drivers education classroom costs.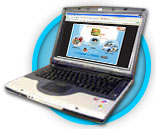 Fast Drivers Ed for Century City Teens
We've been helping Southern California high school teens keep drivers education simple for years. You don't need to get a ride, not do you need books, pens, papers, or a pillow for when you fall asleep watching bad driving school videos from the 60's. With Driver's Ed Directs online driving school course, Century City teens can fulfill their entire CADMV drivers ed requirement from home, school, or any other place an internet connection can be found. This convenience and ease of use actually enhances learning and allows students to go at there own pace without rushing through or sleeping through the material.
Who Qualifies for Drivers Education in LA County?
The DMV requires minors to be at least 15 years and 6 months old before earning a provisional practice permit. In Century City, CA, most students will begin their drivers ed experience around their fifteenth birthday. Our course is available to all Hamilton High School, Notre Dame Academy Girls High School, Windward High School or Yeshiva University of High School students, as well as home study students, and students that commute from other jurisdictions. As long as the minor is a California resident, our course is approved for fulfilling there driver education requirement.
How Online Drivers Education Works
Learning to drive can be challenging, but the process it takes to earn a driver license shouldn't be so complicated. If you are nearing your 16th birthday and live in LA County, these are the steps it takes to become a legally licensed driver in the state of California:
Complete CA DMV approved drivers education (such as our Fast drivers ed program)
Pass a written exam at a local DMV in Southern California to earn a practice permit
Complete drivers training with a DMV licensed driving school in LA County
Pass your road exam at the DMV to earn a provisional drivers license.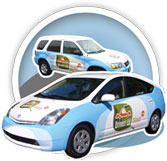 Student Driver Lessons in Century City
Drivers Ed Direct is not your average Century City DMV Licensed Driving School. We teach all of the driving basics like turning, parking, lane changing and learning how to , but we also offer courses for advanced driving techniques as well. Our 6-hour program will teach you all of the basics and meets the minimum time requirements for earning a license in LA County. Our 10-hour and 20-hour programs cover all of the basics and also teach advanced skills like defensive driving, accident avoidance, and DMV test preparation.
Patient, Friendly, and Experienced Driving Instructors
Our driving school instructors teach in a wide variety of cities located in Southern California. In addition to extensive training and undergoing a detailed background check, each instructor must obtain their California DMV Instructor's License in order to give lessons. Many of our students, who attend Hamilton High School, Notre Dame Academy Girls High School, Windward High School or Yeshiva University of High School have referred their friends, family and classmates because of the positive experience with our instructors. So for the best driving instruction in Century City, give us a call. Don't forget to ask about our pay-as-you-go options!
---
Moving Outside of Southern California?
It does not matter where you live in CA, our Fast drivers education curriculum is approved by the LA County DMV and all other California DMV's throughout the state. Any student from North California to Southern California, from the West Coast to the Inland Empire, from Central California and beyond can take our online drivers education course to fulfill their teen driver's education component and to earn the official DMV certificate needed to earn a provisional driving permit.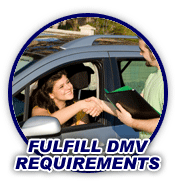 Driving Resources for Century City High School Teens

Before you hit the road, make sure you're fully prepared with the latest in driving resources from DrivingLinks.com. Find car insurance quotes, insurance companies in Century City, local DMV office information, driver handbooks, and LA County traffic school, driving school, and drivers education resources.
Traffic Ticket Class for Southern California
Were you driving a little too fast on a LA County highway and got caught by a Century City police officer? Don't ignore your citation and let your driving record suffer. By completing a LA County approved traffic school course with TrafficSchool.com, you can have most moving violations removed from your driving records, helping you to keep your insurance rates from rising and your license from being suspended.