Beverly Hills Classroom Drivers Education vs. Online Drivers Ed
Taking drivers education on the Internet has become the gold standard for teens in LA County wanting to earn a permit and learn the rules of the road as laid out by the California Department of Motor Vehicles. In fact, a CADMV study showed that teens receiving Internet computer based instruction actually retained information better and scored higher on their exit exams than students learning the same material in a classroom setting. Other of advantages of online instruction are also apparent, such as the huge low-cost benefit of taking drivers ed from home in Beverly Hills. Whey spend the time and money on gas driving half way across Southern California when you can have a better education right from your own computer?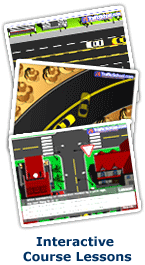 Flexible Drivers Education for LA County Drivers
When it comes to convenience and simplicity, no other driving school can compete with Drivers Ed Direct's Flexible drivers education course. Our program is the 100% online solution for busy LA County teens who want the flexibility of completing their Beverly Hills DMV requirements according to their own schedule. Besides being easy to access, our course is also easy to use for any student, whether or not they are computer literate. Each chapter is laid out in an easy to follow manner and interactive tutorials make it easy to avoid boredom. It's the easiest drivers ed in Southern California!
Affordable Drivers Education
Don't overpay for your drivers ed experience. Top quality drivers ed doesn't have to cost a small fortune. For high school students living in Beverly Hills, Bel Air, Hollywood, West Hollywood, Brentwood, and Los Angeles, drivers education can now be taken online at prices lower than ever before. Our course is California DMV approved, comes with an official completion certificate when you pass, and is priced much lower than what a traditional drivers education classroom costs.

Department of Motor Vehicles Approved Drivers Education
Taking drivers ed online in LA County is easy; the hard part is finding an online course that meets the DMV's rigorous approval standards. Drivers Ed Direct is proud to offer a Flexible course that is not only highly educational, it is also one of the few online course recognized and approved by the California DMV. Since the course is online, not students anywhere in Bel Air, Hollywood, West Hollywood, Brentwood, and Los Angeles can get an approved course without having to travel anywhere.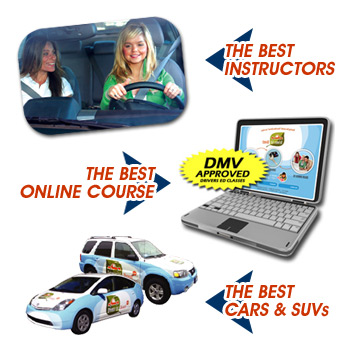 Choosing the Best Driving School in California
When you choose Drivers Ed Direct, you choose the Beverly Hills driving school that delivers everything you could ask for from a DMV licensed driving school:
Quality, professional instructors with great attitudes
Lessons taught in cars and SUVs with added safety protection
A driving school that is DMV licensed, Bonded, and Insured
Front door pick up and drop off service
Over 200 driving shifts to choose from each week
Driving Instruction from the Best
With over 60 hours of driving instruction training, an extensive background check and previous experience working with young people, our driving school instructors are trusted individuals who care about the quality of drivers training they pass on to their students. In addition, they are friendly and teach with a mentor approach that puts each student at ease during each lesson. Students can with any of our highly qualified instructors. If a student is taking their drive test at Beverly Hills DMV, they can request that their instructor go over the drive test information.
---
More Driving Resources for Beverly Hills Teen Drivers

Did you know all of the things that can be accomplished right from the comfort of your own home in Beverly Hills? If you were ticketed in LA County, you can take traffic school online without having to go to a class or court. If you go to Beverly Hills High School or Moreno High School and need your learner permit, you can take drivers ed online. Need DMV forms? Why wait in line at the Beverly Hills DMV when you can down many forms over the internet. Do all this and more at DrivingLinks.com.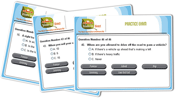 Southern California Traffic School
It happens. You're driving down a road in Beverly Hills and you lose track of your speedometer. You look in your review mirror and the unwelcome sight of sirens is flashing and a LA County sheriff is beckoning you to pull over. 15 minutes later you are on your way with a traffic ticket in hand and your driving record ruined, right? Not necessarily! A single traffic ticket doesn't have to be the end of your status as a good driver. By completing the TrafficSchool.com online defensive driving course, you can actually have the ticket dismissed from your record and your insurance company will never know you were cited... meaning your insurance rates will never increase!
Not Going to High School in Beverly Hills?
You no longer need to drive to a classroom located within Beverly Hills city limits to earn your drivers education certificate. Regardless of where you live in Bel Air, Hollywood, West Hollywood, Brentwood, and Los Angeles, or even if you live outside of LA County, you can take our course over the internet without having to commute anywhere.