Learn how to for less!
Simple drivers education can be highly educational without costing an arm and a leg. Our online course will save you money in many ways:
You won't have to drive back and forth to a classroom somewhere in Kern County
Our course is 100% online; there are no books or video to buy
We have low overhead so we can charge you a low low price; we will even price match any other DMV approved course in the San Joaquin Valley!
Our course doesn't expire, so you never have to worry about paying twice for the same course
.
Now you see why our high quality, lowest priced drivers ed course is the preferred course for students at Burroughs High School, Immanuel Christian School, Mesquite High School, Ridgecrest Charter School or Opportunities For Learning.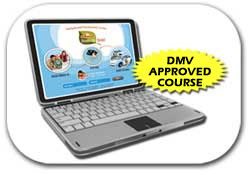 Drivers Ed Age Requirements for Ridgecrest High School Teens
Who is eligible to take our Simple driver education curriculum? Any teen living in California that wants to earn a learners permit and driver license. Technically, Ridgecrest teens cannot earn a permit until they turn fifteen and a half, so it makes most sense to wait until you are at least 15 before beginning our online course.
Simple Drivers Ed - Approved For all of Ridgecrest
When taking drivers education in Ridgecrest, CA, you want to be sure that the course you select is approved by the California Department of Motor Vehicles. When you successfully complete a course approved by the CADMV, you earn an official drivers education completion certificate. You will need this completion certificate when you go to the Ridgecrest DMV to take your written permit test. The Drivers Ed Direct Simple drivers education course is not only DMV approved, it goes above and beyond DMV requirements to make sure that your son or daughter not only passes the DMV test, but that they also gain the knowledge necessary to become a safe and responsible driver.
Driver's Education Guide for Ridgecrest Teenagers
Not sure how to earn a driver's license? No matter where you live in Kern County, from Ridgecrest to California City, Tehachapi, Barstow, Lancaster, Arvin, Adelanto, Quartz Hill, Lamont, Palmdale, Oildale, Bakersfield, Victorville, Porterville, Apple Valley, and Hesperia, the process is the same for all teenagers in the state of CA:
Enroll in our Simple drivers education class (100% online)
Complete drivers ed to earn a DMV certificate
Go to the DMV and pass a written permit test
Complete your drivers training requirement (driving school lessons and practice with parents)
Pass a driving test at a qualified DMV in Kern County
.
If you are a student at Burroughs High School, Immanuel Christian School, Mesquite High School, Ridgecrest Charter School or Opportunities For Learning, then you can earn your permit at 15½ and a driver's license when you turn 16 (if all DMV requirements have been met).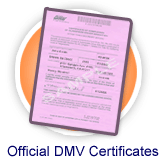 The Online Drivers Ed Advantage
Taking drivers education on the Internet has become the gold standard for teens in Kern County wanting to earn a permit and learn the rules of the road as laid out by the California Department of Motor Vehicles. In fact, a CADMV study showed that teens receiving Internet computer based instruction actually retained information better and scored higher on their exit exams than students learning the same material in a classroom setting. Other of advantages of online instruction are also apparent, such as the huge low-cost benefit of taking drivers ed from home in Ridgecrest. Whey spend the time and money on gas driving half way across the San Joaquin Valley when you can have a better education right from your own computer?
Simple Drivers Ed For Ridgecrest High School Teens
Skip the boring class and fulfill your Ridgecrest drivers ed requirement with a computer instead with Drivers Ed Direct's 100% online course. Our Simple course is hands down the best course when it comes to ease of use and flexibility. Since our program is totally online, you can literally do it from anywhere, at anytime. Furthermore, you can log-on and log-off at anytime as you go through our course and we'll save your progress. So stay home, kick back, and learn the rules of the road from your Kern County home.
---
More Driving Help for Drivers in Ridgecrest

Visit DrivingLinks.com online to find DMV information specific to your state. You can also find other online driving resources like Ridgecrest traffic school classes, driving laws, driving statistics, and links to free driving games.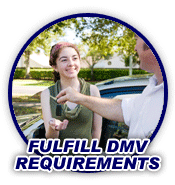 the San Joaquin Valley Traffic Tickets
Don't let a traffic citation ruin your day or your driving record. Drivers cited for a one-point moving violation in Kern County can attend an 8-hour traffic school to have their violation effectively removed from their official driving record. With TrafficSchool.com, the best traffic school in Ridgecrest, you can complete your 8-hour traffic school requirement right from home without having to attend a boring traffic school or a painful to endure comedy traffic school.
Not Going to High School in the San Joaquin Valley?
Drivers Ed Direct is not only the top driving school in the San Joaquin Valley, we are a highly respected driving school across all of California and have even garnered national media attention on such shows as The Tonight Show, Dr. Phil, Jimmy Kimmel, and NBC news. No matter where you live in the state of California, you can enroll in our Simple drivers ed and know you are getting the same quality education as all of our students, even those living outside of Ridgecrest. Our goal is to save the world, one new driver at a time... including you!