Department of Motor Vehicles Approved Drivers Education
If your teenager lives in East Central California, he or she is eligible to take our California Department of Motor Vehicles approved drivers education course. Make no mistake, there is a big difference in completing a California approved course versus one that is not approved. Specific guidelines must be followed with the California DMV and proof of completion is a must for teenagers to qualify to take the written exam. In addition to meeting specifications with California, our self-paced course provides top quality driver ed and is entirely online.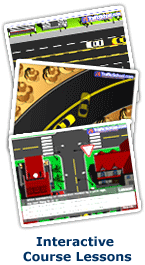 How To Complete the Drivers Education Requirement in Independence
Learning to drive can be challenging, but the process it takes to earn a driver license shouldn't be so complicated. If you are nearing your 16th birthday and live in Inyo County, these are the steps it takes to become a legally licensed driver in the state of California:
Complete CA DMV approved drivers education (such as our Popular drivers ed program)
Pass a written exam at a local DMV in East Central California to earn a practice permit
Complete drivers training with a DMV licensed driving school in Inyo County
Pass your road exam at the DMV to earn a provisional drivers license.
Independence Drivers Ed
Independence Drivers Education is best way to complete drivers education without having to attend a classroom course. If the teenager attends Keith B. Bright High (juvenile Hall) or Opportunity or lives in Inyo County, then our course will fulfill their requirement for drivers education. The course is self-paced and can be worked on anytime the teen's schedule permits. If the teen needs to take a break, no problem. The teen can log off of the program and their place will be saved. Once they return to the course, the teen will pick-up where they left off.

Simple Drivers Ed in Inyo County
Why take a break from the traditional drivers ed classroom? Because no Inyo County teen wants to spend 30 hours in a dark, packed classroom listening to Billy Bob lecturing about road rules and watching driving school videos from 1970. With Drivers Ed Direct's Popular driving school program, you are allowed to take your drivers education course when you want to and where you want to. If you can get online in Independence, then you can complete our course with ease. All chapters are informational, engaging, and well organized. You're in total control and can complete the course at your own pace, login and out when you choose.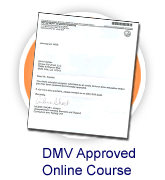 Lowest Priced Drivers Ed in Independence
Get more. Pay less. It's truly that simple when you choose Drivers Ed Direct as your drivers ed solution in Independence. We have a nice low course price for our Popular course, and we even offer price matching if you happen to find another DMV Approved course elsewhere for less. So why not sign up for our low cost course when you know it's the best source available on the internet? Looking for a nice discount? If you are a student at Keith B. Bright High (juvenile Hall) or Opportunity, you can use coupon promotion code "low5" and save an additional 5$ off your already affordable course price.
Free DMV Practice Written Tests
Taking DMV practice tests is a great way to review traffic safety laws, memorize street signs, and prepare for the permit test at the Independence DMV. Before you your learn how to or drive on the freeway, getting a good understanding of the rules of the road is of the utmost importance. As you begin to learn to drive in Inyo County, a solid understanding of the basics is required so you can have the confidence you need to drive safely anywhere in Placerville, Cameron Park, Folsom, Galt, Lodi, Oakdale, Orangevale, Rancho Cordova, Fair Oaks, Elk Grove, Garden Acres, Carmichael, La Riviera, Riverbank, and Rosemont. Enroll today at Drivers Ed Direct and gain access to our free DMV practice test module where you can take hundreds of sample test questions.
---
Independence Traffic School
It happens. You're driving down a road in Independence and you lose track of your speedometer. You look in your review mirror and the unwelcome sight of sirens is flashing and a Inyo County sheriff is beckoning you to pull over. 15 minutes later you are on your way with a traffic ticket in hand and your driving record ruined, right? Not necessarily! A single traffic ticket doesn't have to be the end of your status as a good driver. By completing the TrafficSchool.com online defensive driving course, you can actually have the ticket dismissed from your record and your insurance company will never know you were cited... meaning your insurance rates will never increase!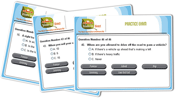 Not Living in Independence or in East Central California?
Drivers Ed Direct is not only the top driving school in East Central California, we are a highly respected driving school across all of California and have even garnered national media attention on such shows as The Tonight Show, Dr. Phil, Jimmy Kimmel, and NBC news. No matter where you live in the state of California, you can enroll in our Popular drivers ed and know you are getting the same quality education as all of our students, even those living outside of Independence. Our goal is to save the world, one new driver at a time... including you!
Inyo County Teens: Find Everything Driving Related Online

Find a comprehensive collection of driving links and resources designed to make the driving life of East Central California residents easier and more efficient. Hop online to choose a traffic school for your Inyo County ticket or find a driving school in Independence for your teen. You can also download DMV forms, play driving flash games, and read articles related to driving.