CA DMV Approved Drivers Ed
Searching for an approved drivers education course in Brawley is a good starting point for any teen looking to earn their California driver's license. If students do not take a CA DMV Approved drivers ed program, they will not be allowed to earn their learner permit when they go to the Brawley DMV to take their written test. Our Online drivers ed is the ideal solution for any age appropriate high school student (at least 15½) within Imperial County.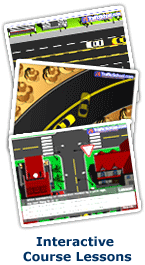 Brawley Drivers Ed
Brawley Drivers Education is best way to complete drivers education without having to attend a classroom course. If the teenager attends Brawley High School, Renaissance High School or Brawley Christian Academy or lives in Imperial County, then our course will fulfill their requirement for drivers education. The course is self-paced and can be worked on anytime the teen's schedule permits. If the teen needs to take a break, no problem. The teen can log off of the program and their place will be saved. Once they return to the course, the teen will pick-up where they left off.
Free Practice Exams for the CA DMV Permit Test
Practice makes perfect, right? We like to think so, that's why we offer our students in Brawley unlimited, free online sample DMV tests. Take the example tests over and over again, until you feel comfortable with the different sets of multiple choice questions. Our free sample tests are never the same, thanks to our DMV sample test generator that uses a pool of over 200 DMV test questions and answers to formulate unique example test after unique example test. No matter where you call home in Imperial County, from Brawley to Imperial, Calexico, and El Centro, our practice DMV permit tests are the best!
Who is Eligible for Online Drivers Ed?
What are the CA Department of Motor Vehicles requirements for teens who want to begin drivers ed? Because the earliest you can earn a provisional permit is at age 15½, most teens will begin their education around 15 years of age. Brawley teens can technically enroll in our Online drivers ed course at any age, but we suggest starting when you are 14 and 15 is best. You want to allow yourself time to really get to know the driving laws and regulations. Also, you will want to read the entire DMV handbook in addition to taking our course. Many Imperial County high school students will take our course when they are 15 and then log back in just before they turn 15½ to take free practice tests and to review traffic signs, driving laws, and road rules.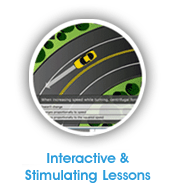 Low Cost Brawley Drivers Education
Attention Brawley teens: Use drivers ed coupon discount code "UTURN" and save 15% more off our already low-priced, discounted drivers ed course. It's a drivers ed sale price that can't be beat. And with our Imperial County Department of Motor Vehicles Approved drivers ed course, you also know you're getting a great product. Hundreds of teens throughout Imperial, Calexico, and El Centro and students at Brawley High School, Renaissance High School or Brawley Christian Academy love our online program; now it's your turn to see what everyone is buzzing about!
Driver Safety Resources from Drivers Ed Direct
At Drivers Ed Direct, we believe drivers education doesn't end the day you get your license. The truth is, the first 500 miles that a Brawley teen drives by themselves are the most dangerous miles they will ever drive in their lives. Teens will still need guidance from their parents and their driving school many months after they earn their driving privilege. Parents and teens can take advantage of the many resources available at Drivers Ed Direct designed to keep our students throughout Southern California, past and present, informed and up to date with current driving laws and issues. We are committed to ensuring the well-being of future driving adults from Brawley High School, Renaissance High School or Brawley Christian Academy.
---
Driving Links for Brawley HS Students

Did you know all of the things that can be accomplished right from the comfort of your own home in Brawley? If you were ticketed in Imperial County, you can take traffic school online without having to go to a class or court. If you go to Brawley High School, Renaissance High School or Brawley Christian Academy and need your learner permit, you can take drivers ed online. Need DMV forms? Why wait in line at the Brawley DMV when you can down many forms over the internet. Do all this and more at DrivingLinks.com.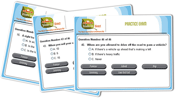 Southern California Traffic Tickets
Online traffic school is an excellent option for Brawley motorists looking for an inexpensive, Imperial County Approved, and highly convenient way to dismiss a traffic citation. TrafficSchool.com has been helping drivers throughout Southern California, in cities like Imperial, Calexico, and El Centro, dismiss traffic citation points for over 15 years! Choose the trusted leader in online traffic school and ensure that your driving record is kept in good order.
Not Living in Brawley or in Southern California?
No matter where you will be driving in California, Drivers Ed Direct has the perfect drivers ed for you. Our Online course is approved for every city in Imperial, Calexico, and El Centro and every high school, even those not found in the Brawley area. In fact, no matter where you live in California, we have a course that will help you successfully earn your permit and drivers license.