Glenn County Drivers Education
On Line Drivers Ed is the online solution for teens who are seeking a way to complete the requirement, but not have to attend a classroom course. A teen who attends Orland High School, Providence Christian High School or North Valley Christian School or lives in Orland is eligible to take our course. If parents are worried that a teacher will not be in attendance during the online experience, parents or teens can call the customer service center when they need help. We have live representatives, waiting to assist you.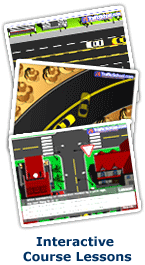 Free CA Practice DMV Tests
Want to pass your learner permit test the first time? When you take the Drivers Ed Direct On Line drivers education course, you also get free access to Orland DMV practice tests. Each practice permit test is generated randomly from our pool of over 200 possible permit test questions and, just like the DMV permit test, our practice tests are multiple choice. Take as many practice tests as you want for free until you feel you are truly ready to pass the written test at the DMV. Our practice tests will help you prepare for any DMV in Orland, Chico, Red Bluff, Paradise, Magalia, Oroville, Anderson, Yuba City, Marysville, South Yuba City, Linda, Olivehurst, Redding, Clearlake, Shasta Lake, and Ukiah.
California DMV Approved Drivers Ed Course
Obtaining the privilege to drive in California requires completing a few short steps. The first step is completing the On Line Drivers Education Course. Once this California DMV approved course is complete, your teen will be eligible to take the DMV written test. Proof of completion is a requirement, and will provide the proof your teen needs once the course is complete. When your teen passes the written test, your teen will receive a driving permit. Your teen will need to complete at least 1 lesson with an approved driving school in order to activate the permit. Student's who live in Chico, Red Bluff, Paradise, Magalia, Oroville, Anderson, Yuba City, Marysville, South Yuba City, Linda, Olivehurst, Redding, Clearlake, Shasta Lake, and Ukiah are eligible to take the course.
Low Price Drivers Education in Glenn County
We feel that first class driving school classes should be available to everyone, regardless of their financial situation. After all, wouldn't the roads be a safer place is everyone out there had the best drivers education available? Now students in Orland High School, Providence Christian High School or North Valley Christian School can get the best drivers ed for less when they go to Drivers Ed Direct for their driver's ed requirement. Our online, CA DMV approved course is the best in the business and, for a low low price, students everywhere in Glenn County can now afford the best.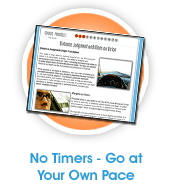 Orland, CA Drivers Ed Eligibility Requirements
Who is eligible to take our On Line driver education curriculum? Any teen living in California that wants to earn a learners permit and driver license. Technically, Orland teens cannot earn a permit until they turn fifteen and a half, so it makes most sense to wait until you are at least 15 before beginning our online course.
Easy to Understand Drivers Education for Orland Students
Skip the boring class and fulfill your Orland drivers ed requirement with a computer instead with Drivers Ed Direct's 100% online course. Our On Line course is hands down the best course when it comes to ease of use and flexibility. Since our program is totally online, you can literally do it from anywhere, at anytime. Furthermore, you can log-on and log-off at anytime as you go through our course and we'll save your progress. So stay home, kick back, and learn the rules of the road from your Glenn County home.
---
Learning to Drive Outside of the Central Valley California
Learning to drive in California is finally convenient for everyone, no matter where you live. Whether living in a larger city like Orland, or in a smaller city somewhere outside of the Central Valley, high school students from any city in CA can easily fulfill their driver education requirement from the comfort of their own home. Our On Line course is approved by the Department of Motor Vehicles and can be taken by any teen, regardless of where they live in California.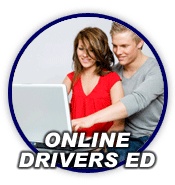 the Central Valley Traffic School
Pulled over in Glenn County for speeding? Don't pay your ticket without going to traffic school first! TrafficSchool.com, the Central Valley's leading traffic school, can help you save your driving record by eliminating the negligent operator points from your driving record. So give TrafficSchool.com a try and avoid any costly increases in your auto insurance premiums.
Glenn County Teens: Find Everything Driving Related Online

Looking for more than just drivers education? At DrivingLinks.com, residents of the Central Valley can find a lot of helpful driving information. Things you can accomplish online include downloading California DMV forms, registering for traffic school for your Orland traffic ticket, reading the latest driving laws, and more. Their website is free to browse and will save Glenn County drivers save time and money!