Why Drivers Ed Online?
Learning the rules of the road and California traffic laws can be a 30-hour long, boring process when students at Sanger High School, Community Day, Hallmark Charter, Taft High School or Bethel Christian School are forced to sit in a traditional Sanger driving school classroom. When students become disengaged, the knowledge they need to learn is lost and their ability to become the best driver they can be is harmed. By electing to take a CA DMV approved online drivers ed course, students are able to break the course up into smaller sections and learn the material at their own pace. Furthermore, our drivers ed course is packed with interactive lessons and well written curriculum designed to engage our students attention so they succeed on their DMV test and when they one day become licensed drivers out on the open road.

Low Price Drivers Education in Fresno County
Do you love high quality, highly educational drivers education? Do you like getting the best product while getting a great deal? Then our Low Priced drivers education class is exactly what you are looking for. For students in Sanger, use driving school coupon go65 and save yourself another $5 off of our already low-priced online course. Now you can get the best DMV approved drivers ed available in Fresno County without making a dent in your wallet!
Free DMV Practice Tests
Trying to find sample driver's license tests online? Looking for examples of the DMV permit test? Drivers Ed Direct gives Sanger teens access to a wide variety of practice tests for free when they register for our Low Priced drivers education course. No matter where you live in Parlier, Reedley, Selma, Clovis, Fresno, Kingsburg, Orange Cove, Dinuba, Hanford, Kerman, Visalia, Lemoore, Madera, Farmersville, and Tulare, you can take our example quizzes from anywhere. Since we offer an unlimited amount of tests, you can keep practicing for the real exam as many times as you need!

Low Priced Drivers Ed - Approved For all of Sanger
The California Department of Motor Vehicles has specific guidelines in which a drivers education course needs to meet before it becomes a state approved agency. In addition to meeting the state's requirements, Low Priced Drivers Education makes taking drivers education convenient for all types of schedules. If you're an early bird or a night owl, you can login to the program anytime that is right for you. Anytime you need a break, go ahead and take one.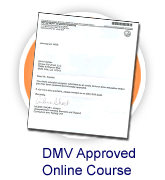 Nice and Easy Drivers Education for Sanger Teenagers
Drivers education online with Drivers Ed Direct is easy to access, easy to understand, and easy to complete around your ever-changing schedule. In fact, Sanger teens can sign-up for our course online, take all of the drivers education lessons online, and complete our final exam online. When you are finished, we will mail an official drivers education certificate to your home in Sanger. So skip the hassle of driving to and from class; with drivers ed online, you can access the course when you have the time, from anywhere you can get online. No wonder Drivers Ed Direct is one of the fastest growing driving schools in the San Joaquin Valley!
Providing More than Just Low Priced Drivers Ed
What's the Drivers Ed Direct difference? Is it our Low Priced drivers ed course? Is it our team of knowledgeable and helpful teachers, mentors, and driving instructors? Or is it our unmatched wealth of driving resources online? The truth is, the Drivers Ed Direct difference is all of the above, and more. We like to think that the main difference is how much we actually care about our students in Sanger, Fresno County, and all of the San Joaquin Valley. Check out the rave reviews we get on our testimonials page, via Facebook, and on Yelp. You won't find another driving school out there with such a deep commitment to customer satisfaction, guaranteed.
---
Not Attending Sanger High School?
No matter where you will be driving in California, Drivers Ed Direct has the perfect drivers ed for you. Our Low Priced course is approved for every city in Parlier, Reedley, Selma, Clovis, Fresno, Kingsburg, Orange Cove, Dinuba, Hanford, Kerman, Visalia, Lemoore, Madera, Farmersville, and Tulare and every high school, even those not found in the Sanger area. In fact, no matter where you live in California, we have a course that will help you successfully earn your permit and drivers license.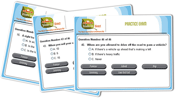 Caught Speeding in the San Joaquin Valley?
Got a traffic ticket in Fresno County? Get it removed from your CA DMV driving record when you complete an approved traffic school course online at TrafficSchool.com. All lessons and final exam can be taken online and even get confirmation of the ticket dismissal from your DMV record. It's the smart way to go to traffic school in Sanger.
Online Sanger DMV Help and Other Driving Resources

DrivingLinks.com is a great resource when you need anything related to driving. Whether you are looking for used cars in Sanger, insurance quotes in Fresno County, traffic school in the San Joaquin Valley, or driving safety information for California, Florida, or any other state, DrivingLinks.com has you covered.